In tributes, a message
Aasu lauded his 'democratic and humane' approach towards resolving problems, appearing to send a message to the ruling BJP for crushing protests and dissent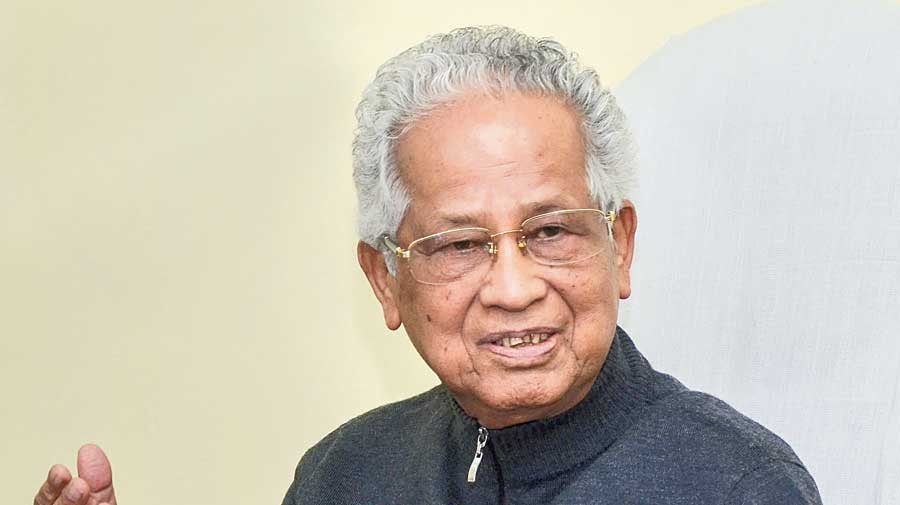 ---
Guwahati
|
Published 26.11.20, 02:12 AM
|
---
The All Assam Students' Union (Aasu), the influential organisation that spearheaded the Assam Agitation against illegal immigrants and a trenchant critic of the erstwhile Congress government, has paid glowing tributes to  Tarun Gogoi, the former chief minister who passed away on Monday. 
Aasu, which was at the forefront of the anti-CAA agitation in Assam last year,  lauded Gogoi's "democratic and humane" approach towards resolving problems, appearing to send a message to the ruling BJP for crushing protests and dissent.
"… We have to admit today that the former chief minister always tried to face each of our protests in a democratic manner.… And we feel our other political leaders need to respect this democratic thought, this is most necessary," Aasu chief adviser Samujjal Kumar Bhattacharjya said in a statement about Gogoi. Bhattacharjya is one of the influential voices who raise Assam's pressing problems.
The Aasu leadership, including president Dipanka Kumar Nath, general secretary Sankor Jyoti Baruah, outgoing general secretary Lurinjyoti Gogoi and Bhattacharjya, in their separate tributes to Gogoi underscored the seasoned politician's democratic and humane manner in handling dissent.
Aasu had been a bitter critic of the Gogoi government. Although Aasu is apolitical, its original leadership had floated the Asom Gana Parishad that is now part of the BJP-led alliance.
The Aasu leadership recalled how three-time chief minister Tarun Gogoi had helped people sleep in peace after the dark days of secret killings when rebels and their relatives were killed at the peak of Ulfa insurgency between 1998 and 2001, how he always tried to protect Assam's interests through dialogue and new initiatives, his efforts to implement the Assam Accord and the NRC, the sealing of the international border with Bangladesh and the flood problem, among others.
Aasu is vehemently opposed to the Citizenship Amendment Act (CAA), which it sees as a threat to the identity and culture of Assam.
Former member of the state minority commission, Allen Brooks, said he stood "100 per cent" with the views of Bhattacharjya and the Aasu leadership with respect to Gogoi's democratic and human values while dealing with complex situations.
"These values are more relevant today when the political atmosphere is becoming suffocating, when dissent is being muzzled. It is these qualities — to rise about pettiness and become accommodative of a different point of view — that are always cherished. Aasu's message today is as much a tribute to the departed leader as it is to the ruling dispensation and every aspiring politician to give space to democratic dissent, views and perspectives," Brooks said.
Lurinjyoti Gogoi, who termed six-time MP Tarun Gogoi as a leader of a national party with a regional outlook, said a "fascist mentality"
was taking root in Assam and that was why there was the need for democratic and human values to deal with dissent.
Lurinjyoti Gogoi referred to the manner in which the anti-CAA protests were curbed, police's detention of artists painting a mural of jailed peasants' leader Akhil Gogoi and its removal last week, the filing of cases against peaceful protesters and mandatory Covid-19 testing for agitators, among others, to point out why a democratic approach was the need of the hour.