Mohilary plea to lift all NDFB cases
According to treaty, non-heinous crime cases shall be withdrawn while heinous crime cases shall be reviewed on case-by-case basis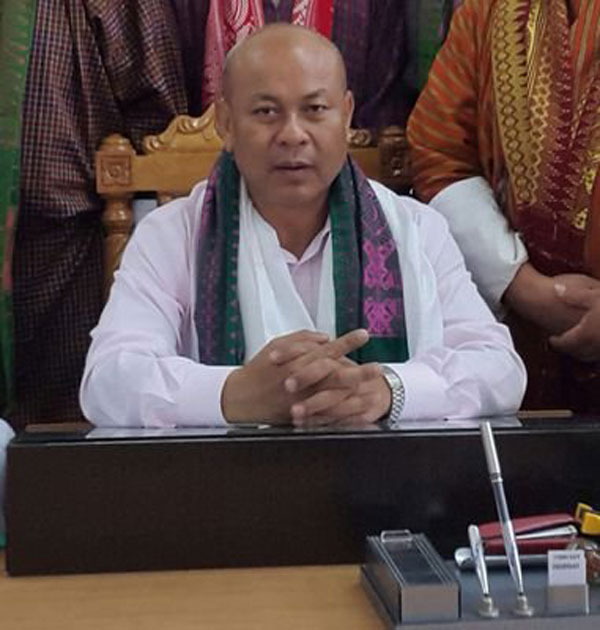 ---
---
Bodoland Territorial Council (BTC) chief Hagrama Mohilary on Friday requested Prime Minister Narendra Modi to withdraw all cases against cadres of all four NDFB factions who have joined the mainstream.
He made the plea from the dais in the presence of Modi, Assam chief minister Sarbananda Sonowal, cabinet minister Himanta Biswa Sarma and All Bodo Students' Union (Absu) and NDFB leaders, among others.
This was the second time that Mohilary made the plea since 1,615 NDFB cadres surrendered with arms before Sonowal in Guwahati on January 30 in accordance with the Bodo Accord signed on January 27. According to the treaty, non-heinous crime cases shall be withdrawn while heinous crime cases shall be reviewed on case-by-case basis.
Delivering the welcome speech at the celebration rally here, Mohilary said, "It is important that the government considers the cases against NDFB cadres who have decided to join the mainstream."
He said the proposed rehabilitation of the cadres was a welcome step and, looking towards the Prime Minister, added, "Like in the case of BLT cadres, the government should also withdraw all the cases of NDFB cadres, heinous or non-heinous." Mohilary was the chief of Bodo Liberation Tigers (BLT) before joining the mainstream in 2003.
Addressing the rally, the Prime Minister said, "I welcome all those who were part of the Bodoland movement and have joined the mainstream. After many decades, with full harmony, the expectations and aspirations of every partner associated with the Bodoland movement has been respected."
"We will not allow the darkness of terrorism to return here. No citizen will die of violence anymore in this region. Mothers whose children have returned from the wilderness are blessing me today. So many families have been reconciled," Modi added.
The four NDFB factions which signed the pact are led by Ranjan Daimari, Gobinda Basumatary, Dhirendra Boro and B. Saoraigwra. Of the surrendered militants, 836 are from the Gobinda Basumatary and Dhirendra Boro factions of NDFB (Progressive), 579 from Ranjan Daimari faction and 200 from Saoraigwra faction. They laid down 178 sophisticated weapons, including AK-series, sniper, Heckler & Koch and SLR rifles, ammunition and explosives.