Guwahati candlelight vigil for Stan Swamy aborted
Many asked why a rally seeking the release of arrested TV anchor Arnab Goswami was allowed in the city on Sunday afternoon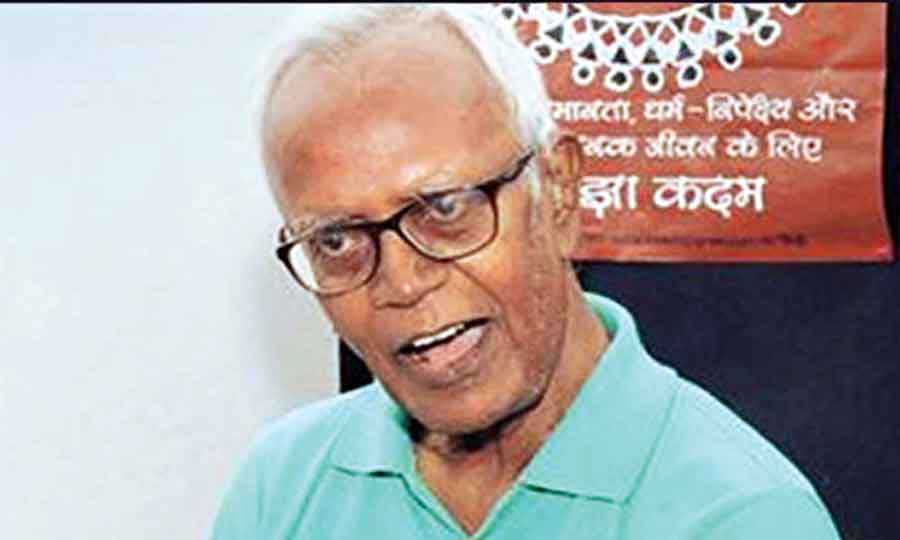 ---
|
Guwahati
|
Published 09.11.20, 01:25 AM
---
A candlelight vigil in the city on Sunday seeking the release of Father Stan Swamy and the 15 other rights activists arrested in the 2018 Bhima Koregaon case had to be called off after the police denied permission.
Northeast Solidarity (NES) had on Thursday sought permission to hold the vigil at Dighali Pukhuri from 4.30pm to 5.30pm on Sunday, demanding the release of the 16 accused "falsely implicated under the UAPA" in the Bhima Koregaon case.
Apart from Swamy, arrested by the National Investigation Agency from Ranchi on October 8, several others among the accused such as Sudha Bhardwaj, Varavara Rao, Gautam Navlakha and Anand Teltumbde were elderly people, the NES said.
NES members are mostly scholars from across the Northeast. The group meets regularly to discuss the changing situation in the country, Father Walter Fernandes, a Guwahati-based member, said.
"The last to be arrested a month ago is the 83-year-old Jesuit Stan Swamy, who had been supporting the tribal communities of Jharkhand and demanding protection of their livelihood. They have been arrested on the false charge of being sympathisers of Naxalites," a statement issued by Father Tom Mangattuthazhe of the NES said.
Father Swamy has filed a plea before the special NIA court in Mumbai seeking a straw and a sipper cup as "I cannot hold a glass as my hands are unsteady due to Parkinson's".
Reacting to the denial of permission for the march, Father Fernandes told The Telegraph the NES had not yet decided its next step.
"We received the order at 4.30 on Saturday denying permission to hold the vigil without assigning any reason and we had no time to find out the reason. We feel it's a part of the government's strategy not to allow any questioning, any appeal or any discussion on any issue," Fr Fernandes, a long-time colleague of Fr Swamy, said.
"We wanted to question the arrest of Stan and so many others through the vigil. We are concerned about the situation where there is no freedom of thought or freedom of expression."
However, many asked why a rally seeking the release of arrested TV anchor Arnab Goswami was allowed in Guwahati on Sunday afternoon.
Images of the rally were tweeted by cabinet minister Himanta Biswa Sarma, who wrote: "Hundreds of people led by film stars, singers, cultural activists, academics… under Xocheton Nagarik Mancha joined a march to Rajiv Bhawan in Ghy as symbolic protest against @INCIndia in #Maharashtra. They demand immediate release of #ArnabGoswami."
City DCP (security and intelligence) Bedanta Rajkhowa confirmed the denial of permission to the NES to organise the vigil.
Rajkhowa told this newspaper that permission had been denied because protests in the city can be held only at Chachal.
"Dighali Pukhuri is not a protest site. There is a high court order against holding protests there. If anyone tries to hold a protest or rally without permission, it will be stopped," he said.
"Even the rally seeking the release of Arnab Goswami was stopped because there was no permission. They wanted to march to Rajiv Bhawan but were turned away."