Graphic overhaul for folktale
Bezbaroa's classic turned into comic book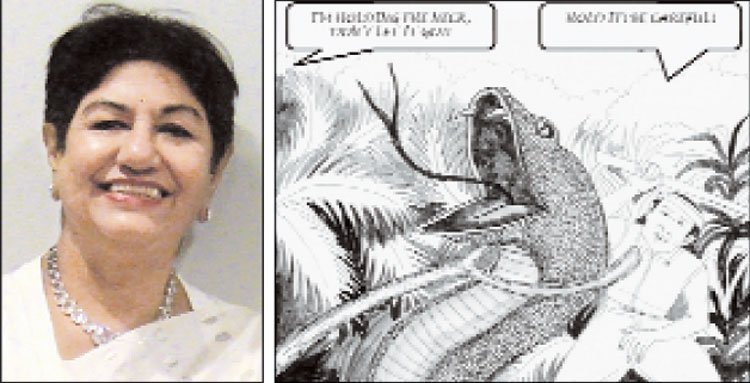 Deepali Mahanta Kayal and her graphic art
File picture
---
Guwahati
|
Published 16.02.19, 12:49 PM
|
---
For Deepali Mahanta Kayal, a sexagenarian and a contemporary visual artist and a doctor, comic books have been a good friend from her childhood.
Kayal's passion for comics has led to write a comic book in English, Champavati: A folk tale from Magical Assam, which was originally based on one of the characters in Laxminath Bezbaroa's Burhi Aair Xadhu (old granny's stories).
Bezbaroa's Champavati is about the eponymous character being married off to a large snake. It focuses on magic and mysticism surrounding Assam's cultural aspects.
Kayal's Champavati comic was published by Amazon in the United States of America last autumn and is yet to be made available in India. With the black and white description and the typical comic book blurbs, Kayal's attempt at retelling the story, which was written by Bezbaroa in the early 20th century, introduces the immortal folklore of Assam to a completely different set of readers in a different country.
For Kayal, who is engaged in her comic book initiative for the last few years, her 100-page Champavati comic book was also an attempt to create awareness about Assam's rich folklore, which according to her is fast fading because of lack of participation of the people in their own culture. She also said though people are interested in knowing their culture, there are not many avenues that nurture such interests.
It is not just Champavati that Kayal has her focus on, as currently she is continuing her comic endeavour on Burhi aru Xiyal (The old lady and the Jackal) another Bezbaroa's iconic character from Burhi Aair Xadhu.
"Assam has a rich folklore history. We are losing our distinct rustic flavour and our storytelling trait. What Bezbaroa had penned more than 100 years ago is still relevant. But it looks like people have lost touch with our folklore culture. So I decided to introduce the folklore characters in a comic book format and introduce it to a different audience in a foreign country," Kayal said.
Kayal who has had her visual artworks exhibited at some of the prominent art galleries in the United States of America also said it was
during one of her exhibitions in the US that one of the visitors showed interest in one of her paintings which incidentally was on Champavati being married off to a large snake.
"That painting generated much interest and visitors at the exhibition were quite intrigued by the story. We have so much to offer to the world in terms of our folklore," Kayal said.