Gauhati University's show of unity
MDA's allies express unhappiness, ask for support as protest continues to rock neighbouring Assam over bill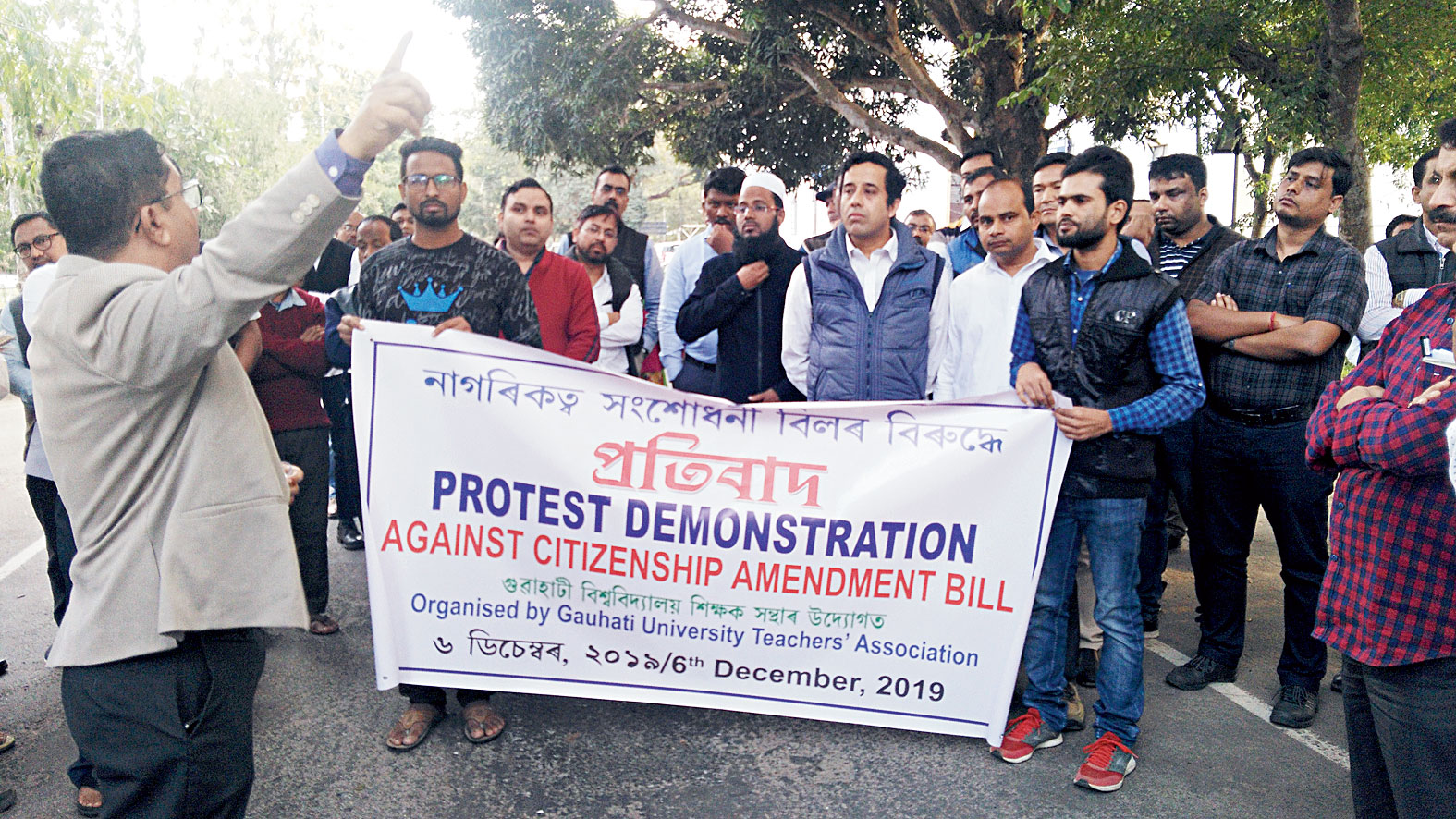 ---
|
Guwahati
|
Published 06.12.19, 07:40 PM
---
The Gauhati University Teachers' Association staged a protest on the university premises on Friday evening, demanding the scrapping of the Citizenship (Amendment) Bill.
Gauhati University professor of the department of political science, Akhil Ranjan Dutta, said the BJP-led NDA government has been trying to disrupt peace and tranquillity in the Northeast by imposing the bill.
"The BJP has been taking advantage of the majority it has in both Houses of Parliament. Thereby, the BJP has entirely violated the very essence of the citizenship act," Dutta said.
He alleged that the BJP has brought the controversial bill to spread hatred among the people of Assam on religious as well as communal lines at a time when the people of Assam, irrespective of caste, community and religion, were building a consensus on the Assam Accord. "The BJP-led central government has been playing with the emotions and sentiments of the people of Assam," he said.
Dutta asserted that the people of Assam have no problem with the Citizenship (Amendment) Bill. "However, we strongly condemn and criticise the process of implementing it on religious lines," Dutta said.
Stating that the BJP, in its election manifesto, had committed to formulate the Assam Accord in letter and spirit, Dutta said, "The BJP has turned back on its own commitment after gaining power. Now, every move of the BJP is against the greater interest of the people of Assam."
Stressing that Gauhati University is not only for the students, but also for the people, Dutta said, "The teachers and students of Gauhati University will always extend solidarity and be a part of the sufferings of the people of Assam when necessary."
He added that the BJP has been conspiring against the citizens to hide the economic downslide by turning the attention of the masses to some controversial issues.