From Russia, with love and a helping hand
Moscow band aids Akshar forum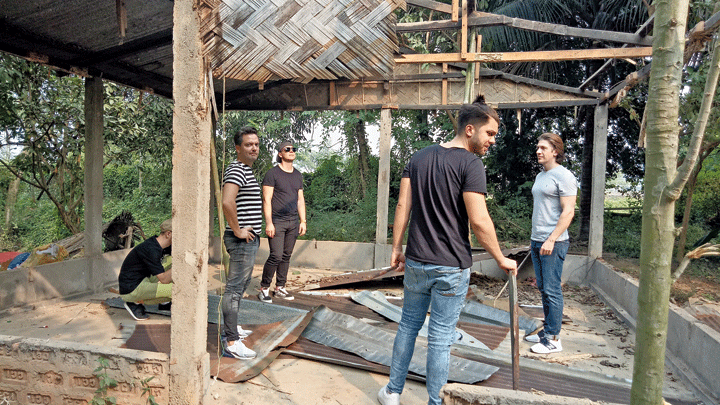 Kvatro members at the entertainment centre at Akshar Forum near Guwahati.
Picture by Ali Fauz Hassan
---
Guwahati
|
Published 19.11.19, 08:09 PM
|
---
Music can uplift moods and sometimes lives too, through a helping hand all the way from Moscow.
Russian band Kvatro on Tuesday helped to rebuild an entertainment centre at Akshar Forum, the city school that accepts used plastic bags and bottles as fees from underprivileged students.
The Moscow-based band, comprising professional musicians and singers Leonid Ovrutskiy, Anton Sergeev, Danila Karzanov and Anton Boglevskiy, is well-known in the crossover genre, playing classical, jazz and retro music to audiences in Russia, Europe, America and now India. They have released 12 albums in their 15-year career.
Kvatro had come to India to perform a concert, A Day of Moscow, in India in Delhi on Monday. The band wanted to do something meaningful for a school in India and zeroed in on Akshar Forum, a school on the outskirts here, which has been in the news for its novel educational and environment-friendly initiatives.
The 120 students at Akshar bring around 25 used plastic bags and bottles every week to be recycled and turned into plastic bricks that are used in small construction activities on the school premises.
An eight-member team of the band members, photographers and support staff arrived here on Tuesday and lent a hand, both literally and financially, to help rebuild a dilapidated entertainment centre so that the students can showcase their talent in art and music.
The entertainment centre is a structure with a tin roof and bamboo-mat walls, which the band helped to replace with new ones paid for by them.
The band members were excited to see the seven bamboo-and-thatch classrooms of Akshar designed to afford maximum air flow and natural light.
The two Antons, Danila and Leonid, mingled with the students and asked questions related to their studies and the role they were playing in saving the environment. "The band has fallen in love with the school. We have footage of the band members dancing and playing with the students to a new song by Kvatro to be released in December or January. The song is about children and the need to protect them," said manager of the band, Gayane.
"We want to show the world that doing something positive is possible without spending too much time and money," she added.