For first time, Sikkim traps a royal Bengal tiger on camera
The big cat was caught near Goru Jurey at an altitude of 9,583ft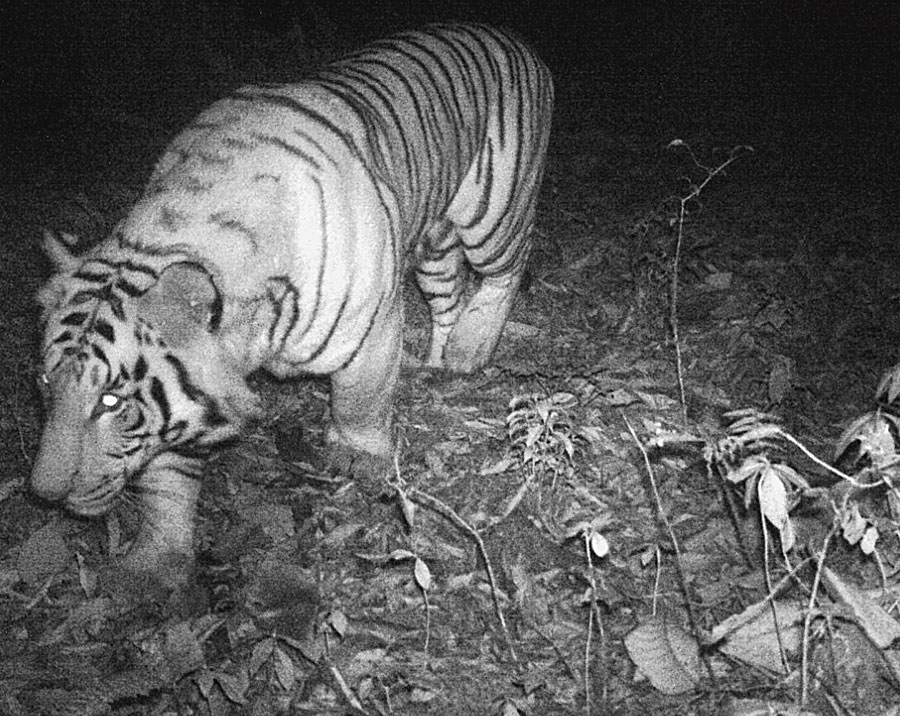 The picture of the royal Bengal tiger captured by a camera trap at the Pangolakha Wildlife Sanctuary.
Source: Pangolakha Wildlife Sanctuary
---
Gangtok
|
Published 07.01.19, 08:23 PM
|
---
The Sikkim forest department has for the first time captured on camera a royal Bengal tiger roaming the Pangolakha Wildlife Sanctuary in East district.
The big cat was caught on camera near Goru Jurey at an altitude of 9,583ft at 6:23pm and again at 7pm on December 6.
"The visual capture of the royal Bengal tiger roaming the forests of Sikkim calls for celebration. The presence of tigers in Sikkim forests is an indication of a healthy eco-system flourishing in our state," said Dechen Lachungpa, the divisional forest officer of East wildlife division.
The forester said there had been oral narratives of tigers freely roaming the forests of Sikkim until the late 1980s, but the first ever picture of the animal could be the concrete base on which a detailed study on migration of tigers to the Himalayan state could be undertaken.
The tiger was captured on camera traps laid by the field forest officers of the North Pangolakha wildlife range in the East wildlife division. "The foresters led by range officer Roshan Tamang spent days positioning camera traps at strategic locations inside the Pangolakha sanctuary and they deserve credit for the visual capture. The cameras were laid with funds provided by the JICA (Japan International Cooperation Agency)-assisted Sikkim Biodiversity Conservation and Forest Management Project," said Lachungpa.
Quoting from her conversation with a retired forest officer with vast knowledge of the Sikkim forests, the DFO said till the late Eighties, tigers were known to migrate to high-altitude forests in Sikkim from neighbouring Neora Valley National Park in Kalimpong district of Bengal.
"At that time, wildlife expert N.D Jayal had remarked that migration of tigers to forests at altitudes of 10,000ft was unusual and attributed it to the big cat developing a taste for yaks," she said.
A tiger had been spotted on the fringes of the Neora Valley park in January 2017. A driver on his way from Pedong to Lava had spotted the tiger near the national park and photographed it.