Farmers in distress during lockdown
Farmers cannot send their produce to Guwahati and other urban areas because of the 21-day lockdown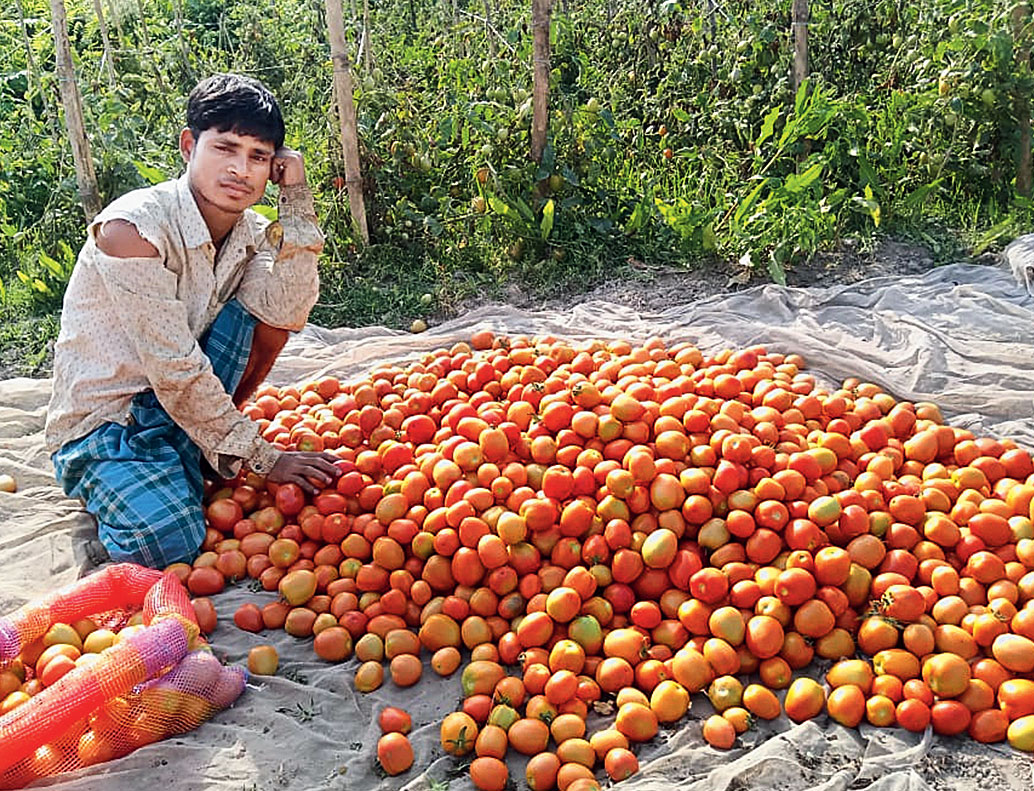 ---
|
Udalguri
|
Published 30.03.20, 10:44 PM
---
The farmers are facing an uphill task trying to sell their agricultural produce as the ongoing lockdown is leading to severe financial loss. A section has managed to sell their produce through middlemen at very low rates.
"We are not even fortunate enough to trace such middlemen. We now feed the cows with our produce," said Saidur Rahman, a farmer of Bechimari in Assam's Darrang district, 76km from Guwahati.
Rahman is not alone. Most farmers cannot send their produce to Guwahati and other urban areas because of the 21-day nationwide lockdown. They claim though the government has assured to make vegetables available, the administration's solution is not working at the ground level.
The economy of Darrang district is basically agrarian where around 85 per cent of the population are engaged in agriculture and allied activities. On an average, they supply 300 to 400 trucks loaded with vegetables to various parts of Assam clocking an annual production of more than 580 tonnes.
On Saturday, the Centre granted relaxation for activities related to agriculture, farming and allied activities to resolve the problems plaguing the farmers. But that has not helped them till date.
"We are feeding cabbages to cows. There are tonnes of tomatoes, cabbages, beans, cucumbers in the fields. We are scared. If those perish, we will have to end our lives," said another farmer Jeherul Haque. "The entire farmer community is looking up to the government to immediately bail us out now," Haque said.
His remarks reflect the community's concern due to the lockdown which is being enforced to prevent the spread of coronavirus. Opening the market is not a solution as very few maintain social distancing which is a must to stay safe.
Rekibuddin Ahmed, a committee member of Alikash vegetable market of Darrang, said now 40 to 50 pick-up vans were ferrying vegetables from the district. "But this is not enough. Still tonnes of vegetables need to ferried out as soon as possible as production has surpassed this time. Moreover, the district also lacks cold storage facilities."
He added: "While some farmers have obtained permission and got vehicle passes, many are deprived. It is that time of the season when the farmers harvest and sell vegetables. The government must facilitate transportation as the vegetables produced in the district are not only sold to Guwahati and Silchar but also to other states such as Mizoram, Uttar Pradesh and Bengal."
Though the district administration officials of Darrang could not be reached for comments, sources in the administration said necessary passes were being issued to farmers to ferry their produce in their vehicles. But what has added to the farmers' woes is lack of proper market linkage.
Farmers in Barpeta said their losses would mount because it is the harvest time for many vegetables like ladies' fingers, cucumbers, bitter gourds, tomatoes, bananas, makois (corn or maize), cotton, chillies, turmeric, onions among others.
"Time and again the government is saying that supply of essential services will not be disrupted. However, the states are not allowing farmers to harvest and go to market yards and are preventing buyers to purchase," said Aftab Ali, 32, of Kalgachia in Barpeta.
He sells bitter gourds by the roadside by hiding from the police.
A wholesaler of Barpeta Road market, one of the biggest wholesale markets in lower Assam, said daily 30-40 tonnes of vegetables were sent to Guwahati. Growers of tomatoes and ladies' fingers in Barpeta are not finding buyers. They sell at Rs 8-10 a kg which used to fetch Rs 50-60 a kg before the lockdown.
The general secretary of the All Assam Minorities Students' Union(AAMSU), Abdur Rahman Biswas, said: "There must be some effort by the government to send the produce of the poor and marginal farmers directly to Guwahati where they get reasonable price for their produce. It is essential to end the existing illegal 'middlemen culture' which is allegedly controlling the entire trade of green vegetables."
"Assam being an agriculture-based state, a large number of people depend on farming for their livelihood. As people are not allowed to move out due to the countrywide lockdown, it has become very difficult for the farmer community in Assam to procure fertilisers and pesticides," Hafiz Ahmed, president of the Char Chapori Sahitya Parishad, the apex literary body of the sar areas, said. This was also pointed out by Barpeta MP Abdul Khaleque to the Assam chief secretary recently.
Khaleque said: "Due to closure of markets during this period of lockdown, the farmers are going through a difficult time as they have not been able to sell vegetables and foodgrain. On one hand, people are finding it hard to purchase vegetables, while on the other the farmers are unable to find buyers.'
He also urged the government to buy vegetables and other agricultural products directly from the farmers.