Falcons bring festivity to Meghalaya
Umru, Tyrso pin development hopes on Feathered friends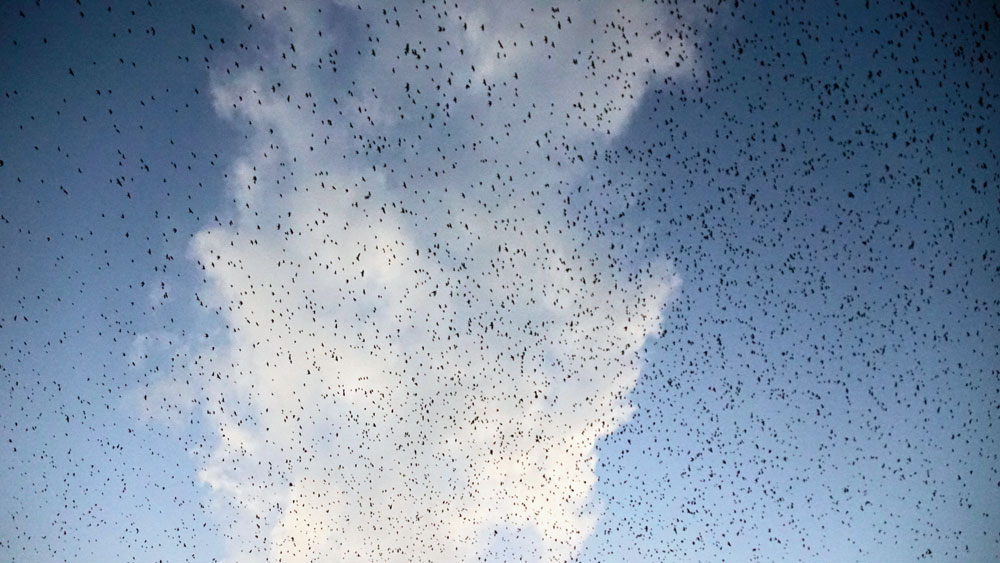 ---
|
Shilong
|
Published 24.10.18, 06:44 PM
---
As the sun set at Umru — a "disputed area" between Meghalaya and Assam under Block II — flocks of Amur falcons took to the skies.
The falcons, which are small raptors of the falcon family, breed in parts of Siberia and northern China before migrating across India and other parts of the world.
It was October 13 when villagers of Umru, in Ri Bhoi-West Karbi Anglong region, witnessed the falcons, a phenomenon which first occurred in 2010. Umru is around 75km from here.
Prior to that, between 1998 and 2009, the falcons would flock Umwang village, another "disputed area" in Block II. But because of human intervention, the falcons shifted their resting place from Umwang to Umru.
On Tuesday evening, a group of villagers and journalists was witness to an overcrowded sky as the falcons returned to look for the insect, locally known as kber, before retiring atop bamboo plantations, which are prevalent in the area.
As the sky got darker, the chirping falcons increased in numbers. This annual sight caught the imagination of a group of people from neighbouring Tyrso village who started an Amur Falcon Festival in 2015 in a bid to popularise the area and to attract visitors.
Through the Tyrso Valley Wildlife Protection Society, the Amur Falcon Festival will enter its fourth year this time. The festival will be held on
November 7 and 8 as the falcons are expected to return from Umru on November 21.
Society chairman Jro Shadap said preparations are on for the festival, which has witnessed an increased number of visitors since 2015.
But the villagers are mindful not disturb to the falcons. Those who either ensnare or kill them are heavily penalised — a sum of Rs 25,000 awaits as fine for violators.
"In the earlier years, people used to ensnare or kill the falcons. But we have been educating the people from time to time. Now, we do not have such incidents anymore," Shadap said.
A youth from Umru said the villagers themselves patrol the area from the time the falcons arrive till they depart to ensure nobody harms them.
The festival had brought benefits for Tyrso village as well.
During the tenure of Mukul Sangma as the chief minister, a 9km road was sanctioned besides a training centre and a homestay. The organisers expect that chief minister Conrad K. Sangma, who is likely to grace the festival, will also present some development projects in the area.
In fact, the road from Liarbang village up to the point before reaching Tyrso is in a dilapidated condition. The kutcha road from Tyrso to Umru is even worse. If the roads are not repaired or blacktopped, the losers would be the villagers.
Soaring in the skies, the falcons have brought much hope in the people. Now, they expect the government to chip in with projects especially in the road sector.