Duliajan student unions on warpath over ST tag
The student leaders said they had to stage the sit-in to protest as they have been deprived of their ST status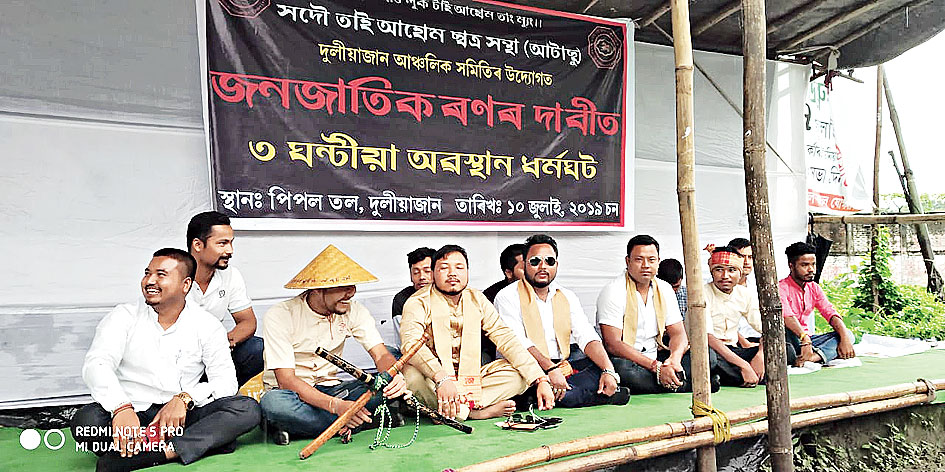 All Tai Ahom Students' Union members at the sit-in in Duliajan in Doomdooma on Wednesday.
Pictures by Pradip Kumar Neog and Manoj Kumar Ojha
---
Duliajan
|
Published 10.07.19, 05:40 PM
|
---
Two student unions in two Upper Assam towns, separated by a little over 40km, held protests to demand Scheduled Tribe status for their own communities and several others.
Activists of the Duliajan unit of the All Tai Ahom Students' Union staged a three-hour sit-in on Wednesday from 9am in Duliajan near Pepoltol Tiniali in Dibrugarh district, demanding Scheduled Tribe status for the people of their community along with five others — Muttocks, Morans, Chutias, tea tribes and Koch Rajbongshis.
Protesters raised slogans against the BJP governments at the state and the Centre. Atasu's Duliajan unit president Arup Phukan and its secretary Rupam Gogoi said the BJP has forgotten is promises made during is campaign in the Lok Sabha election to the people of these communities.
The student leaders said they had to stage the sit-in to protest as they have been deprived of their ST status.
The union sent a memorandum to Assam chief minister Sarbananda Sonowal through an official of Duliajan police station. In the memorandum they clearly said the two governments should take them seriously and give them ST status or face largescale agitation.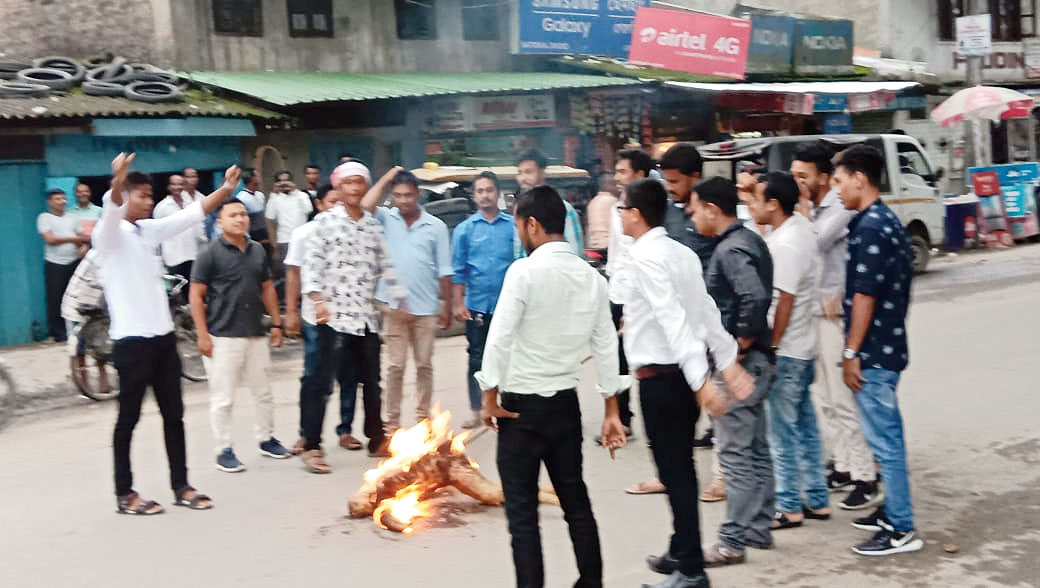 In Doomdooma, the All Assam Chutia Students' Union (AACSU) on Wednesday demanded Scheduled Tribe status for Koch Rajbongshis, Tai Ahoms, Chutias, Muttocks, Morans and the state's 36 tea tribes.
They were speaking during the first district executive meeting of the union at Doomdooma Press Club.
Samiran Bora, executive president, central committee of the union, said, "The union has been demanding ST status, preservation of ancient monuments, a building at Sadiya subdivision in Tinsukia district, construction of a Sati Sadhani statue, and registration of the population of Chutia people living in Tinsukia, among others."
Later, they burnt an effigy of Union tribal affairs minister Arjun Munda for allegedly commenting against granting of ST status to the six communities of Assam in Parliament.
The union also threatened to launch a massive agitation if the government did not grant ST status to the six communities soon.