Draft NRC add list triggers concern
Appeal to uphold flag of humanity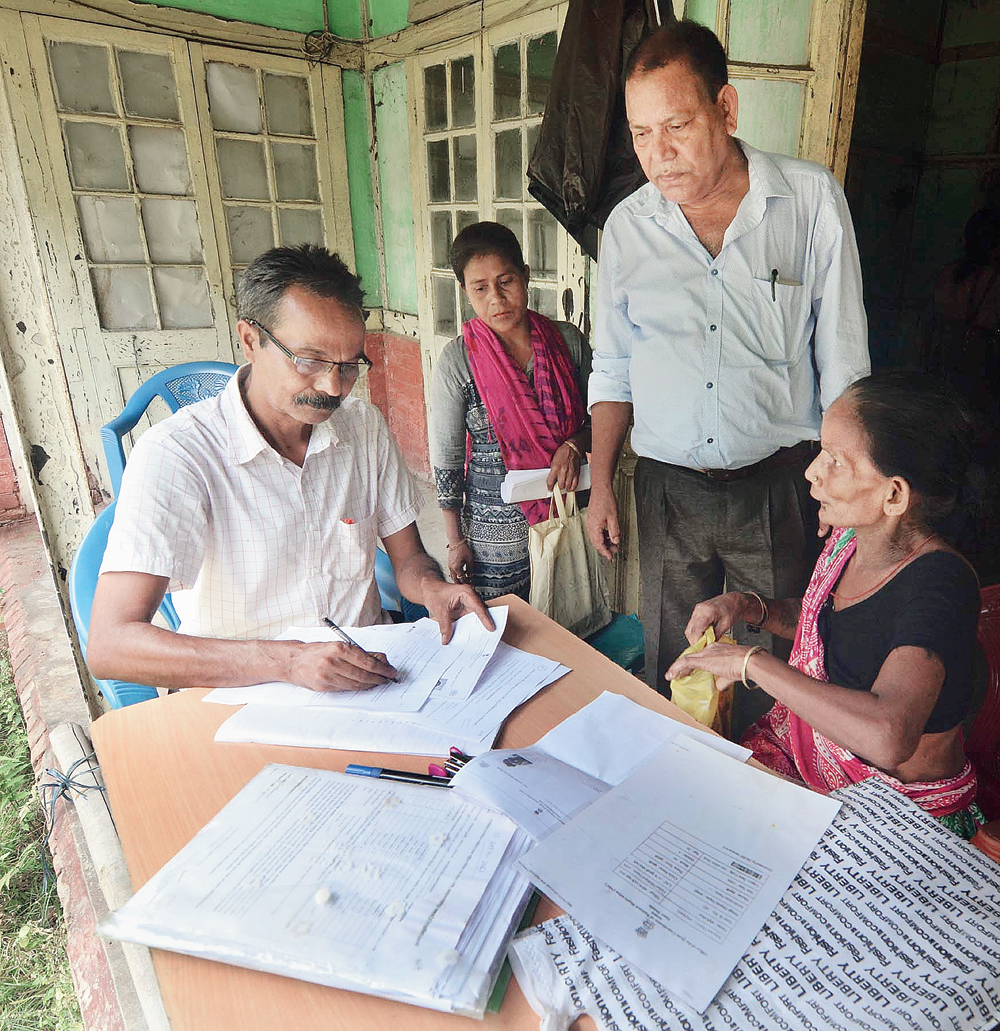 Applicants get their documents verified at an NRC Seva Kendra in Guwahati on Wednesday
Picture by UB Photos
---
Guwahati
|
Published 26.06.19, 06:44 PM
|
---
Nearly 40 writers, academicians, journalists, social activists and others have signed an appeal comparing Assam's detention centres to Nazi concentration camps and how a section of the state's population is facing a harrowing time proving their citizenship in India.
They have highlighted how the deaths of people in proving their citizenship is "rendering the burial of democracy and humanity in Assam", and how these factors are hurting Assam's democratic fabric.
The appeal has been issued by the Forum for Social Harmony, a pan-Assam-based social collective working towards the sustenance of democratic systems in Assamese society, creating social consciousness about citizenship rights. It works towards solidifying unity and harmony among people from different ethnic and religious groups in the state.
Among the 40 plus writers, one signatory is Sahitya Akademi awardee Arupa Patangia Kalita.
She said that though she supported the NRC as a means to bring relief and "end the relentless insults to those always at the crosshairs of suspicion of being foreigners", she felt it was time that the state government came out with a policy to address the issue of those who will be excluded from the NRC.
Patangia Kalita strongly objected to the concept of detention camps, citing that the inhuman conditions for the detainees only pulled down Assam's stature in the world.
"I oppose the Citizenship (Amendment) Bill. I don't want India to be a Hindu Rashtra. There has been too much politics played out in the name of foreigners. I support NRC as it could solve the foreigners issue and will help some people to get rid of suspicion. But I would like to know what the stand of the government will be on people who will be excluded. How will the government deal with the issue of stateless people? It is because of the detention camps that we cannot raise our heads to the world. I oppose detention camps. We cannot keep people lodged in detention camps forever," she added.
The appeal says a section of the state's population has been pushed towards unlimited sufferings in the name of citizenship. Several have died and others have been stressed to the point of losing their mental equilibrium.
It also says that some people, based on their ethnic and religious identities, have been made objects of suspicion, leaving none and not sparing even the descendants of freedom fighters or Kargil war veterans.
"Through the appeal, we demand that the detention centres stop functioning and the detainees are released. For a unified and democratic Assam, we have to stand united and hold the flag of humanity as strong as ever. We also suspect that there is a conspiracy to derail the NRC process. We also demand an immediate stop to 'fake' NRC objections where the objectors do not appear. We will make the appeal public," said Har Kumar Goswami of the Forum for Social Harmony.