Dispur fumbles on tea workers' arrears
Assam labour minister fails to specify a time frame on the clearing of arrears of Barak Valley tea garden workers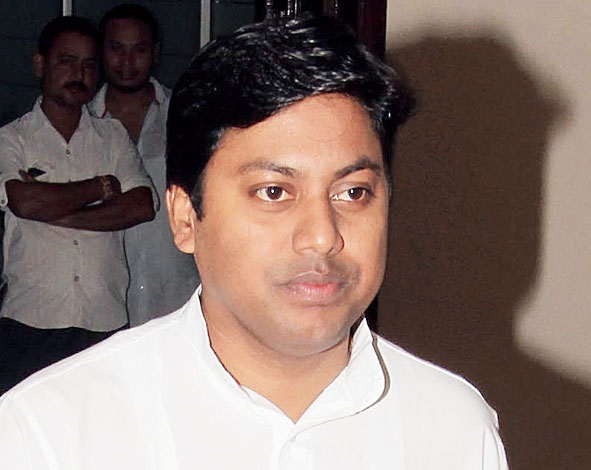 Pallab Lochan Das
The Telegraph picture
---
Guwahati
|
Published 07.02.19, 09:55 AM
|
---
Assam labour and tea tribes welfare minister Pallab Lochan Das failed to specify a time frame in the Assembly on Wednesday on clearing of arrears of tea garden workers in Barak Valley.
Congress Lakhipur MLA Rajdeep Goala had sought an answer from the labour minister during question hour on arrears of tea garden workers.
"No specific time period for payment of arrears has been mentioned in the government notification published on July 3, 2018. Generally a government notification becomes effective from the date of its publication/issue. Therefore, arrears are required to be paid as soon as such notification is issued," Das said.
"To expedite the payment of arrears, field officers have been directed to take up the matter with the gardens concerned," he added.
Das said 33 garden managements in the Barak Valley are paying a daily wage of Rs 130 while 22 are giving Rs 115. He said the payment of arrears at Rs 30 per day with effect from March 3, 2018 to July 31, 2018 has yet to be made by all the gardens.
Rs 30 is the interim hike fixed by the state government till the garden managements implement the minimum daily wage.
Goala also told the Assembly that the accumulated arrears would be around Rs 1,000 crore and asked whether the garden workers would be paid interest on the arrears.
Das blamed the erstwhile Congress government and tea garden managements for the problem, claiming that it was during the Congress tenure that the practice of arrears developed among tea garden managements.
"The problem of arrears is not because of us. It is because of non-payment by tea garden managements. The practice was taught to the tea garden managements by the earlier government," said Das, who was a Congress MLA before joining the BJP.