Didi dares Modi to arrest Himanta
Mamata was addressing an election rally in lower Assam's Dhubri district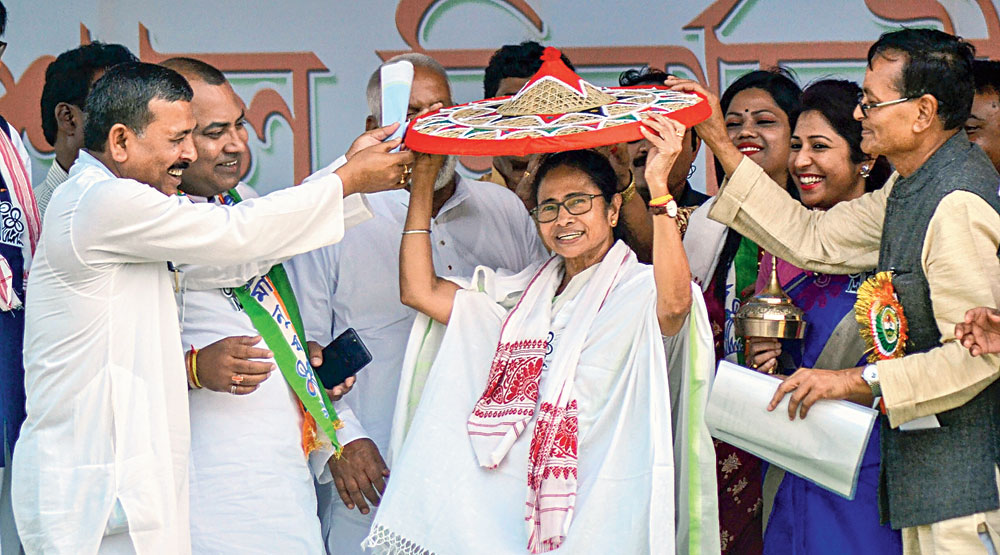 Bengal chief minister and Trinamul chief Mamata Banerjee being felicitated in Dhubri on Friday
Picture by Kulendu Kalita
---
Guwahati
|
Published 05.04.19, 07:04 PM
|
---
Bengal chief minister and All India Trinamool Congress chief Mamata Banerjee on Friday again dared Prime Minister Narendra Modi to arrest Assam cabinet minister Himanta Biswa Sarma for his alleged involvement in the multi-crore rupee Saradha deposit-collection scam.
Addressing an election rally in lower Assam's Dhubri district, Mamata talked about Sarma's alleged involvement in the scam and asked Modi what action he has taken against Sarma.
Flagging a piece of paper, Mamata said, "Saradha owner (Sudipta Sen) has said in this document that he has paid Himanta Kumar Biswa Sarma Rs 3 crore. Modi babu have you arrested him? Have you taken any action?" she asked and added that she was ready for a challenge on her claim.
In an apparent reference to Sarma, Mamata had said in a meeting in Calcutta in February, "I have enough evidence against the Assam deputy chief minister. I dare Prime Minister Narendra Modi and BJP president Amit Shah to have him arrested. The CBI has already questioned him before."
The next day, Sarma had accused Mamata of running a "frivolous and baseless campaign" against him by dragging his name into the Saradha scam.
Mamata arrived at Dhubri around 1.30pm and after an around 35-minute speech left for Naxalbari in Bengal. Around 3,000 people attended Mamata's rally at the Dhubri stadium.
Mamata began her speech saying that she understands Assamese but cannot speak the language. She extended Bihu wishes to the audience and talked about a few songs of Bhupen Hazarika. "I love Bhupen Hazarika's songs very much. I know the song manuhe manuhor babe by heart," she said.
The Trinamul has fielded candidates in nine of the 14 constituencies of Assam. In Dhubri, it has put up Nurul Islam Choudhury who is up against AIUDF chief and sitting MP Badruddin Ajmal. Mamata said the Trinamul will win Assam in the days to come. "We are fighting in nine constituencies. This is the beginning," she added.
Mamata also talked about the update of National Register of Citizens (NRC) in Assam. She said she was pained when the names of 40 lakh people were left out of the complete draft NRC. She told the audience how within two days of publication of the draft she had sent a delegation to Assam and how it was not allowed to go outside the airport in Silchar. She also talked about killing of five Bengali-speaking people in Upper Assam's Tinsukia district and housing children in detention camps.
Additional reporting by Kulendu Kalita in Boko