GMCH, BBCI shut doors till Sunday
GMCH is the state's biggest Covid-19 designated hospital while the BBCI is a premier cancer care centre of the region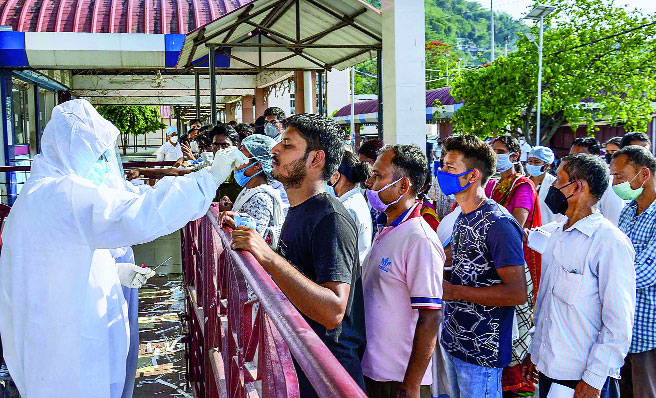 ---
|
Guwahati
|
Published 08.05.20, 10:41 PM
---
Guwahati: Covid-19 has hit two leading hospitals of the Northeast — Gauhati Medical College and Hospital and the B. Barooah Cancer Institute here. Both had to shut their doors to new patients till May 10 after a medical student in GMCH and a relative of a support staff of BBCI tested positive on Thursday night.
The city-based GMCH is the state's biggest Covid-designated hospital while the BBCI is a premier cancer care centre of the region.
At GMCH, a post-graduate student of medicine who was on Covid-screening duty since May 4, tested positive on Thursday night while a 16-year-old girl, a relative of a support staff of BBCI, tested positive after her death.
Assam health minister Himanta Biswa Sarma said, "The impact of the developments is quite big. Over 386 people, including GMCH's superintendent, many doctors and support staff, have been quarantined. Their samples have been collected and the reports are expected within 24 hours. The source of the virus needs to be investigated and that is why GMCH will not admit any new patient for the next three days."
Sarma said swab tests of about 1,500 others, including about 700 patients, nurses and attendants, would also be done and the health department was in touch with laboratories in Delhi and Calcutta so that they could get the test results at the earliest. If no laboratory outside the state can help with speedy results, then it may take some days before taking a call on future steps, he added.
Tracing of contacts and travel history of the patients and their relatives is also under way.
Sarma said the infected student was using personal protection equipment (PPE) while screening patients. However, he was slightly unwell since April 27 but was on Covid-screening duty from May 4. "GMCH's hostel 1, where the infected student was a boarder, and hostel 5, where he visited regularly, have been declared containment zones. The residential colony inside BBCI campus where the cleaner and her family live has been declared a containment zone too. At least 12 from the cancer hospital, including a doctor, have been quarantined," he said.
The closure of the hospitals have adversely affected the families and attendants of admitted patients. Many were seen waiting outside the hospital gates to meet their ailing family members and relatives.
"It has become so difficult for us. First, the lockdown has restricted our movement to reach the hospital and when we reach, we find it closed," said Nikhil Baruah, son of a cancer patient from Goalpara.
Sarma said, "I have discussed the matter with the doctors and staff of BBCI to understand their concerns. I have asked them to ensure smooth functioning of cancer treatment while, at the same time, containing the spread of the virus. I have assured them of all government support."
BBCI director Amal Chandra Kataki told The Telegraph, "Usually we treat patients with radiotherapy five days a week from Monday to Friday. In any case treatment does not take place on Saturday and Sunday. From Monday, we will start treating those who are already undergoing treatment but the outpatient service (OPD) will take some time to function as we are short of staff now." He said 20 staffers, including a doctor, have been quarantined.