Two Assam districts hope to come out of red
Green zone beckons Nalbari, Golaghat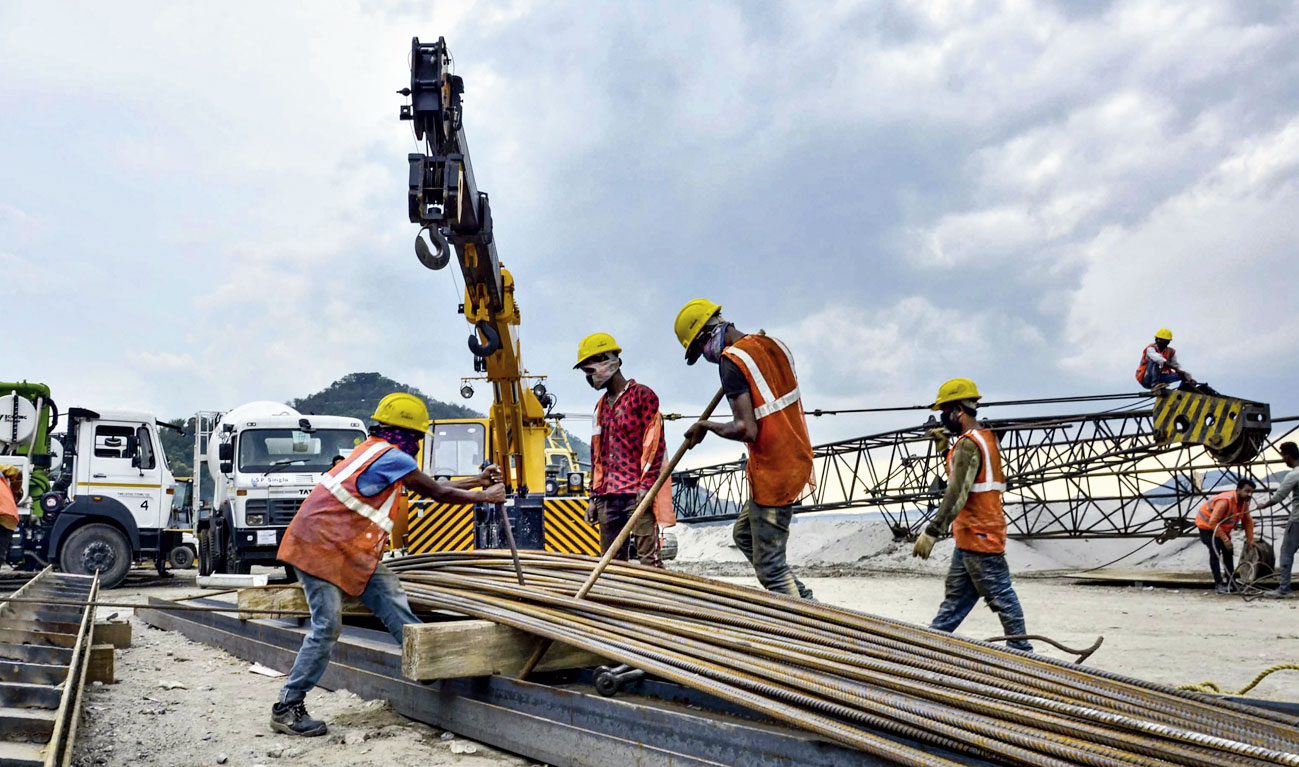 Labourers work at a bridge construction site along the Brahmaputra in Guwahati on Wednesday during the lockdown.
(PTI)
---
Guwahati
|
Published 29.04.20, 06:51 PM
|
---
Two Assam districts, Nalbari and Golaghat, are likely to come out of the red zone as they have not reported any Covid-19 case in the past 14 days.
At present, Assam has five red zone districts — Dhubri, Goalpara, Nalbari, Morigaon and Golaghat. The state government is strictly implementing lockdown in these districts while relaxing it slightly, like reopening of standalone shops, in the rural areas of green zone districts.
Assam health minister Himanta Biswa Sarma said, "As no Covid-19 positive case has been reported from Nalbari and Golaghat in the past 14 days, they may come out of the red zone tag within two to three days."
Sarma said the containment zone tag of Spanish Garden, a luxury apartment building in the city where a resident had tested positive, will be lifted on Thursday. He said the results of rapid tests conducted on the other residents of the apartment were found to be negative.
Sarma said the state government was taking the case of the 16-year-old girl in Bongaigaon district of lower Assam, who had tested positive on Tuesday, "very seriously" as this was the first time that a Covid-19 case had been found in a person in home quarantine. The girl had come into contact with a Covid patient 36 days ago.
"We have asked the Bongaigaon deputy commissioner to observe the case minutely," Sarma said, adding that he would visit Bongaigaon along with minister of state for heath Pijush Hazarika on Thursday to take stock of the situation.
Of the 37 positive cases in Assam, one died, 29 have been discharged and seven are undergoing treatment in government hospitals. Two patients will be released any time as four successive tests have found them to be Covid negative, Sarma said.
In Hailakandi, 1,663 persons who have completed 28-day mandatory home quarantine have been discharged, joint director of health services Dr Ramesh Chandra Dwivedy said on Wednesday. Only 130 people are now under home quarantine, including 60 isolated during the day and five of a family discharged on Tuesday. Algapur had the highest number of home quarantine persons (565), followed by Katlicherra (546), Lala (465) and Kalinagar (217), as on Tuesday.
Altogether 59 swab samples were sent for retesting for the second time in the district on Wednesday while 43 samples were sent for the third time. Twenty-four samples tested negative during the day. Altogether 239 swab samples have tested negative while one person has died in the district so far. Of the 76 people who called helpline 104 for medicines in the district, 45 received it at their homes on Tuesday.
Sarma said in the past 24 hours 10 Assamese people living in Delhi, including seven CRPF personnel, had tested positive, compounding the state health department's concern about a second wave of transmission when lakhs of Assamese people stranded or working in other states return home.
Sarma said 850 patients stuck in other states because of the lockdown have been given Rs 25,000 each, Rs 2,000 each has been given to 2.15 lakh people working outside the state and 52 persons stranded abroad have been given $1,000 each.
Dispur has formed an advisory committee, comprising cancer specialist Tapan Saikia and other doctors like Sarbeswar Saharia, Umesh Sarma, Numal Bora, Ilias Ali and Subhas Khanna, to suggest how to spend the Rs 107 crore given by the people to Assam Arogya Nidhi. "Based on their suggestions, we will spend the money in public interest," he said.
The government had considered setting up five temporary hospitals to treat Covid-19 patients with the money but the decision was cancelled as the outbreak of the disease in the state was not as big as it had feared.
Sarma said the government has requested the civil aviation ministry to provide planes to bring back patients from Assam who have completed their treatment in other states but are unable to return because of the lockdown.
Additional reporting by Satananda Bhattacharjee in Hailakandi