Himanta Biswa Sarma spies hope in rate of Assam's Covid-19 patients recovery
Assam has seven active cases out of 35 positive cases detected, till the filing of this report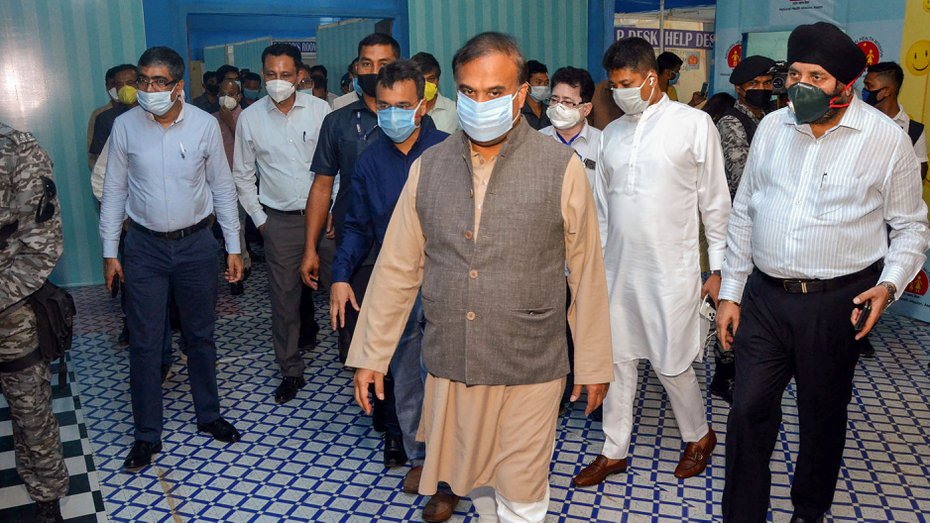 Assam State Finance Minister Himanta Biswa Sarma reviews a quarantine centre setup for COVID-19 patients during the nationwide lockdown, at Sarusojoi Sports Complex, in Guwahati on Monday.
(PTI)
---
Guwahati
|
Published 26.04.20, 06:54 PM
|
---
The recovery rate of coronavirus patients in Assam on Sunday went up to 77 per cent with the discharge of eight more Covid-19 persons on Sunday.
Assam has seven active cases out of 35 positive cases detected, till the filing of this report. Till Sunday, 27 Covid-19 patients have been discharged, while one died.
On Sunday, four were discharged from Swahid Kushal Konwar Civil Hospital in Golaghat and four others from Mahendra Mohan Choudhury Hospital in the city. All of them, who had earlier tested positive, subsequently tested negative, said state health minister Himanta Biswa Sarma.
"With a 77 per cent recovery rate in Assam, we hope a few more patients, who are responding well to treatment, will be discharged by April 30. It's a significant improvement for the state," Sarma said.
In Golaghat, deputy commissioner Bibhash Chandra Modi felicitated the recovered patients with gamosa and a packet of sweets. They will have to stay at a facility quarantine centre under observation for another 14 days.
However, the condition of the first Covid-19 patient of the state, who hails from south Assam's Karimganj district, remained unchanged. The patient, undergoing treatment in Silchar Medical College and Hospital, continues to test "positive". He is a cancer patient and diabetic.
Karimganj joint director of health services Anup Daityari said all the family members of the patient had tested negative and they were put under special home observation.
Sarma observed that with no fresh cases reported since Thursday, the state has possibly broken the chain of the outbreak to a large extent. "The Nizamuddin incident has passed around 40 days back. It seems like we have managed to contain those affected from it. What came as a major success that almost all the cases, excluding the Guwahati one, were detected among inmates of the quarantine facilities. It means that the virus did not succeed in community transmission," he said.
The state government also began a random test drive on Sunday to detect possible community spread of the virus.
"We just can't sit back by believing that we are doing well but also need to prove it factually. That's why the random swab tests have been conducted on 150 people in Dhubri district. The results will be out on Monday and it will give us enough insight whether the virus has affected people outside quarantine," the minister said.
From policemen to nurses to traders, the health department collected swab samples of 150 people in Dhubri district on Sunday and sent them testing at Barpeta Medical College and Hospital.
Assam has so far tested 7,616 samples, of which 209 reports are awaited. According to the minister, the state has 2.70 lakh PPE kits, 52,000 N95 masks and 46 lakh triple-layer masks.
On the inter-district one-way conditional travel in the state, Sarma said the government was also considering allowing a round-trip for many in need.
According to the government directive, stranded people will be allowed to make a one-way trip back to their native places on Saturday, Sunday and Monday, following the home ministry guidelines. While private vehicle owners were asked to avail e-passes from their respective district administrations, others were provided with Assam State Transport Corporation (ASTC) buses.
Till Sunday, over 29,000 people had availed the facility. The government helpline had received over one lakh such travel requests.
He said, "Though initially, we rejected around 34,559 requests who wanted permission for a round-trip, we have decided they will be allowed to take such a trip with permission between April 28 and 30."
Most of such requests were from people who wanted to fetch their family members from a different district in their personal vehicles. However, those who have already availed the one-way trip will not be considered for a round-trip.
Sarma also appealed to houseowners and landlords to charge only 50 per cent of the monthly rent for April, keeping in mind the financial crisis of all.
Additional reporting by Satananda Bhattacharjee in Hailakandi and Sanjoy Hazarika in Bokakhat