Doctor accorded warm welcome in Manipur
Locals overcome fear, appreciate medic for treating Covid-19 patient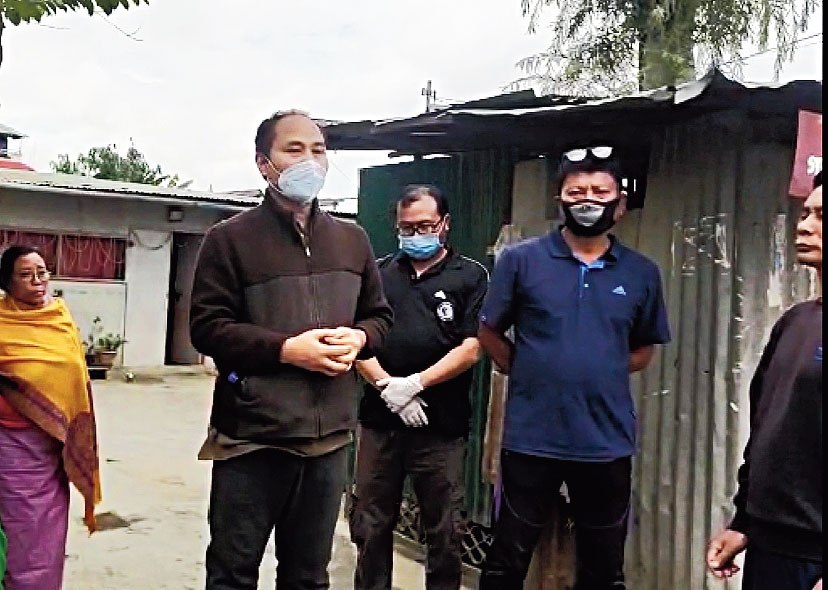 ---
|
Imphal
|
Published 29.04.20, 07:05 PM
---
Manipur showed the way when its residents accorded a hero's welcome to Dr Tharoijam Uthan Singh, a part of the team of doctors who treated Manipur's first Covid-19 patient, when he returned home on Wednesday.
The appreciation was a heartwarming scenario compared to the reports of manhandling, shunning and stigmatisation of doctors and nurses coming in from various parts of the country as people fear that these frontline Covid warriors would spread the infection.
Dr Uthan Singh, 39, who works in the department of medicine, JNIMS Hospital, had stayed in the isolated staff room of the hospital, as did his team, ever since the 23-year-old girl was admitted on March 20. After the patient was discharged on April 12, having tested negative thrice in subsequent tests, the doctor quarantined himself in the hospital. Only after he tested negative twice after his 14 day-quarantine did he return home to Soibam Leikai in Imphal East district. The citizens' club and residents of the locality welcomed him and thanked him for his dedicated service to his profession. Dr Uthan Singh appreciated the gesture.
The director of JNIMS Hospital, professor Th. Bhimo, said Uthan Singh was a dedicated doctor who refused to go home until the patient was cured and he had completed his quarantine.
The scene that unfolded at Soibam Leikai was in total contrast to the public psyche that prevailed in the wake of the detection of the first positive case in Manipur. People were initially so scared that they barricaded their localities and closeted themselves. They maintained social distance on Wednesday too but the air had cleared and there was warmth all around.