Board to conduct quality check on auction teas
Gardens are operating with 50% workforce while gardens have always been maintaining social distance norm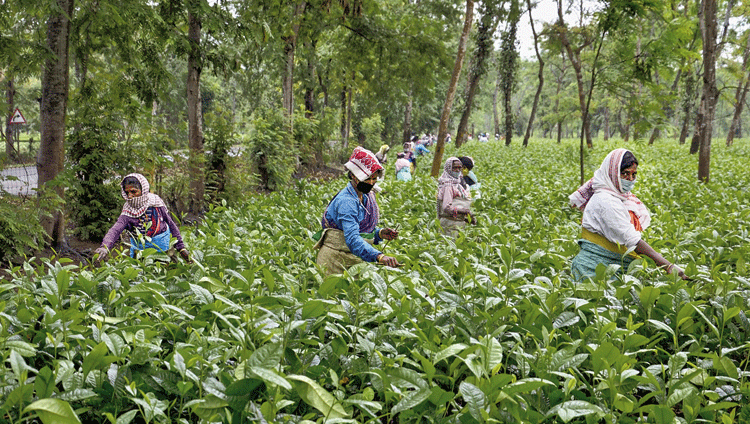 ---
|
Guwahati
|
Published 18.04.20, 07:27 PM
---
Tea Board India has asked producers to produce quality teas, compliant to Food Safety and Standards Authority of India (FSSAI) norms, so they can get better prices to minimise losses incurred during the lockdown.
The board, in a circular, has asked all producer associations to follow FSSAI norms so that the sellers are able to realise better prices to minimise the losses.
The industry has expressed concern that the lockdown has hit them hard with losses to the tune of more than Rs 1,200 crore. The tea industry has been going through an economic crisis over the last few years as tea prices have remained stagnant and costs have continued to increase, both for inputs and wages.
"Added to this, Covid-19 will have a huge negative impact on the financial condition of the industry," the Consultative Committee of Plantation Associations (CCPA), the largest apex body of tea associations in India, said recently. The first flush has been hit.
Production of made teas has started in almost all tea-growing areas with certain restrictions and maintaining social distancing norms.
In Assam, gardens are operating with 50 per cent workforce while gardens have always been maintaining social distance norm of a metre.
A Tea Board official said if producers see this as a challenge and produce quality teas, then there is a strong possibility that the market will look up. The board says teas failing to adhere to FSSAI parameters may not be allowed in the auctions, depending on the extent of violations by the producers.
The Guwahati Tea Auction Buyers' Association had welcomed the tea board advisory for making quality tea in the past as there have been instances of poor quality tea being offered in the auctions.
"Now all the manufacturers will obey Tea Board advice to make quality tea, which will help them in giving remunerative prices," association secretary Dinesh Bihani said.
He said the Guwahati Tea Auction Centre on Saturday took a good step for new sellers who want to sell their teas but could not submit the required documents owing to the lockdown. "For those sellers, GTAC has given them an opportunity with provisional licence only with a request letter along with GTAC fee. This facility is only available for those registered with the Calcutta Tea Auction Centre."