Sualkuchi silk route runs into difficulties
Pandemic shuts down looms in assam weavers' community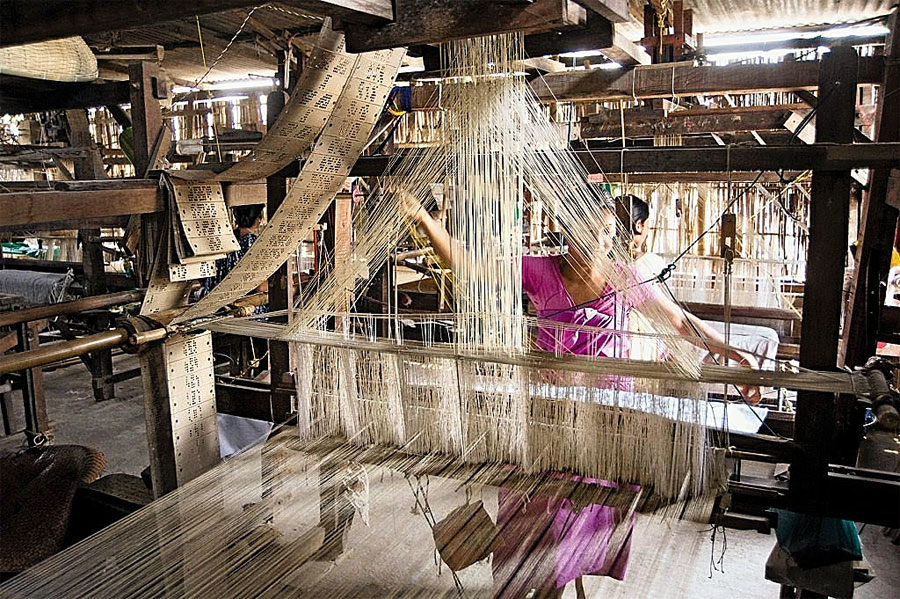 ---
|
Guwahati
|
Published 08.05.20, 10:38 PM
---
The weavers of Sualkuchi have been trying to weave a different destiny for themselves but the Covid-19 pandemic has torn apart the fabric of the small community.

With narrow lanes that open onto built roads, Sualkuchi has been known and admired for its silk weaving, especially for the eri, muga and paat silk varieties.
Popularly known as the Manchester of the East, located about 35km from Guwahati, in Kamrup district, looms are a common feature in homes here.
Mekhela sadors, saris and gamosas all are produced on the town's handlooms, using cardboard cards punched with intricate designs.
Its proximity to the state capital is an advantage, as it adds to its accessibility.
But like other artisan communities in the country, Sualkuchi has not been able to remain indifferent and is swayed by the strong winds of the pandemic .
It has severely affected the silk industry in Assam which is reported to have incurred losses to the tune of approximately Rs 100 crore.
Over 20,000 weavers and workers of Sualkuchi are facing uncertainties due to the novel coronavirus pandemic and the nationwide lockdown to curb the spread of the virus.
Anamai Kalita, a female weaver of Sualkuchi, said, "The Assamese Rongali Bihu season in the months of April to May is the peak season for sale and the weavers, workers, owners, and traders of the silk industry wait for this season every year, but this year, due to the lockdown, we could not sell our products."
According to the Sualkuchi Tat Silpa Unnayan Samiti, a local body of the weavers, the novel coronavirus outbreak has brought the 7,200-odd active looms to a standstill for about a month now.
Nihar Ranjan Kalita, a member, said their income has dried up.
"Most of our items are ready but the absence of the Bihu market has not only dried up income but has made making ends meet a difficult proposition for thousands of weaver families," he added.
Sualkuchi has a rich textile tradition that also embodies Assam's colourful cultural heritage.
The industry, which is believed to be established in the 11th century, was revived in the 17th century by the Ahom kings.
It enjoyed the patronage of the rulers, who especially favoured muga, the most expensive variety of silk.