Dispur ultimatum to Delhi event returnees
Come for test or face legal action: Cops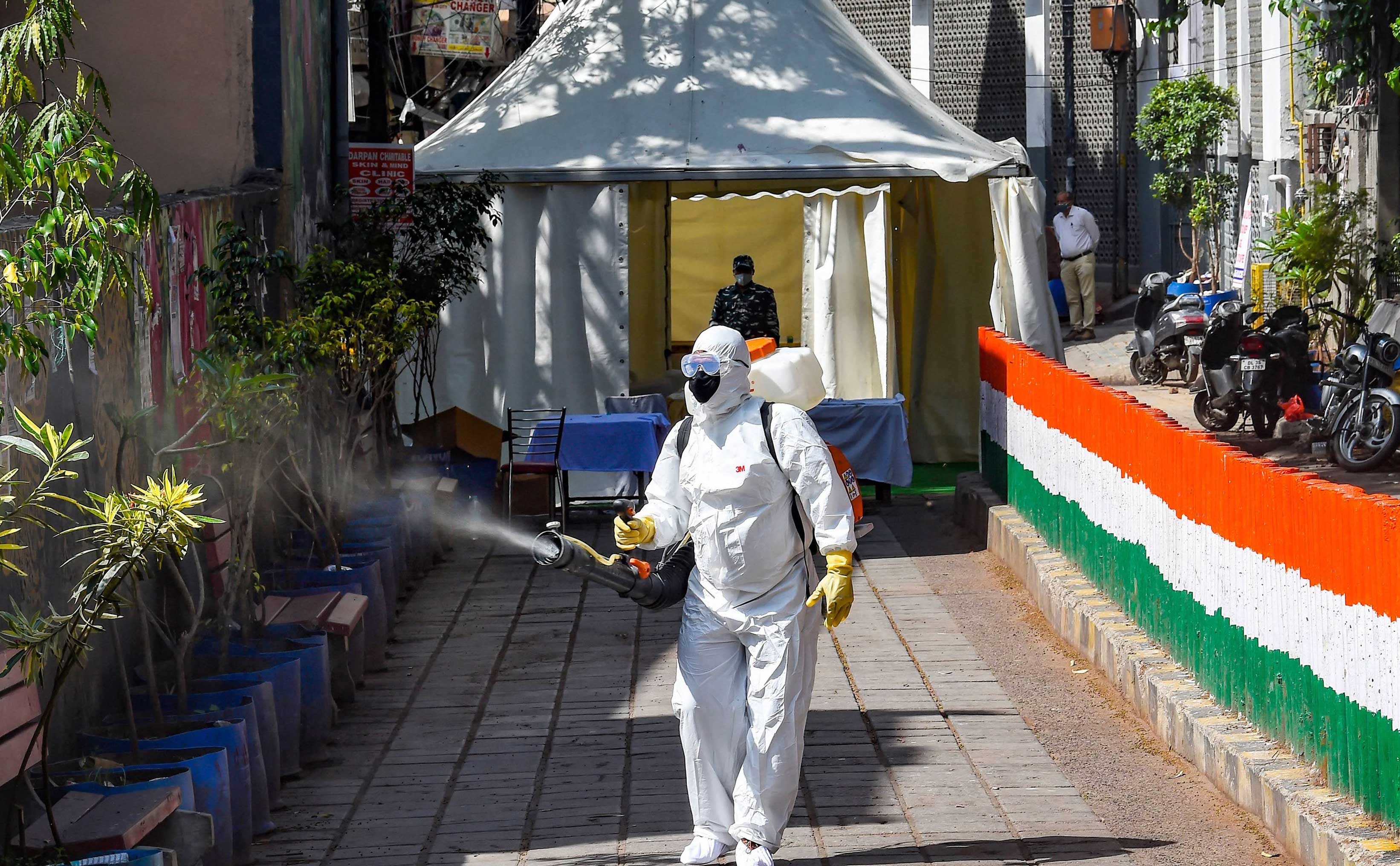 A health worker sanitises an area near Nizamuddin mosque in New Delhi.
PTI
---
Guwahati
|
Published 06.04.20, 06:32 PM
|
---
Tablighi Jamaat attendees who are abstaining from Covid-19 screening despite repeated appeals will be booked under the Disaster Management Act, Assam health minister Himanta Biswa Sarma said on Monday.
Assam police also issued a "final appeal" to those who came to Assam after attending the Nizamuddin Markaz or have a history of recent travel to a Covid-19-affected state or country "to present themselves at the nearest hospital or public health centre by 6am on April 7, 2020 or call helpline 104 to inform the authorities of their presence and condition".
The police appeal said if such persons fail to report themselves, strict action would be taken against them, those sheltering them and those having knowledge of such travel history, but hiding it, under IPC provisions and Disaster Management Act 2005. The police have formed a special task force to analyse the contact details of those who attended the event.
Of the 26 Covid-19 positive cases in the state so far, 25 have links to the religious congregation held near Nizamuddin in New Delhi last month. It has since been declared a Covid-19 hotspot.
Around 617 people from the state who attended the event are estimated to have returned but the state health department is yet to collect blood samples of over a hundred among them. They are allegedly abstaining from the screening and have gone into hiding.
Sarma said, "It's a matter of relief that not a single positive case was reported today. But, at the same time, it's very unfortunate that despite repeated appeals, many are still hiding, posing a threat to the nation. If they don't come out and identify themselves tonight, they will be booked for wilful disobedience under the Disaster Management Act." He, however, said they would be treated first.
He said 491 blood samples of the Nizamuddin returnees have been collected while 126 are still to be collected.
The health department has so far tested around 2,000 blood samples, of which 1,809 reported negative, 26 positive and the results of 165 are awaited. "The state labs can run 5,000 tests in a day. But the worry is the availability of the personal protective equipment (PPE) for health care workers. We have 3,941 PPE kits, over 36,000 N95 masks and over 7.28 lakh three-layer masks. We can manage for now and are expecting more to reach Assam soon," he said.
Sarma said at least 75,981 people under 14-day quarantine will be released on April 9 but would be kept under observation. "If this batch of people comes out healthy, the state will be much relieved," said Sarma, who during the day also paid a visit to Spanish Garden residential society here, where the city's lone Covid-19 positive case was found, and inspected the preventive measures taken.
The government also appealed to private health workers to add muscle to the state's fight against the virus.
A senior Tablighi Jamaat member from Assam, Mirel Kuddus, who is in quarantine at Sarusajai here since April 4, appealed through a video message to all those who have been avoiding check-up to get it done. "Do not fear. It is important for one's own well-being and others. It is our duty to cooperate with the administration. The arrangements at the quarantine centre are very good," he said.
In Kokrajhar district, the administration appealed to leaders of different religions to spread awareness about the social distancing norm to combat Covid-19. Kokrajhar deputy commissioner Partha Pratim Mazumdar urged the leaders during a meeting to advise their followers against holding any congregations and adopt the practice of "Stay at home, pray at home". They assured him of their support.
Governor Jagdish Mukhi also took stock of the situation in a meeting with chief secretary Kumar Sanjay Krishna, director-general of police Bhaskar Jyoti Mahanta and senior officials at Raj Bhavan. He observed that there were no positive cases till March 30 and that the Tablighi Jamaat attendees had reportedly marked the onset of coronavirus in the state.
Mahanta informed Mukhi that the police have established a contact-tracing cell under a superintendent of police-rank officer and are also taking strict action against lockdown violators to ensure that people remain indoors and adhere to the protocol of social distancing.
Till Monday, state police had arrested 1,174 people in 499 cases. Around 4,700 vehicles were detained and penalty over Rs 17 lakh been realised. Another nine people were arrested for misleading posts on social media too.
Additional reporting by Rinoy Basumatary in Kokrajhar