Congress will hardly get 40 LS seats: Himanta
Sarma said instead of giving sops like the Congress, the BJP believed in giving gold during a girl's marriage to reduce her parents' worry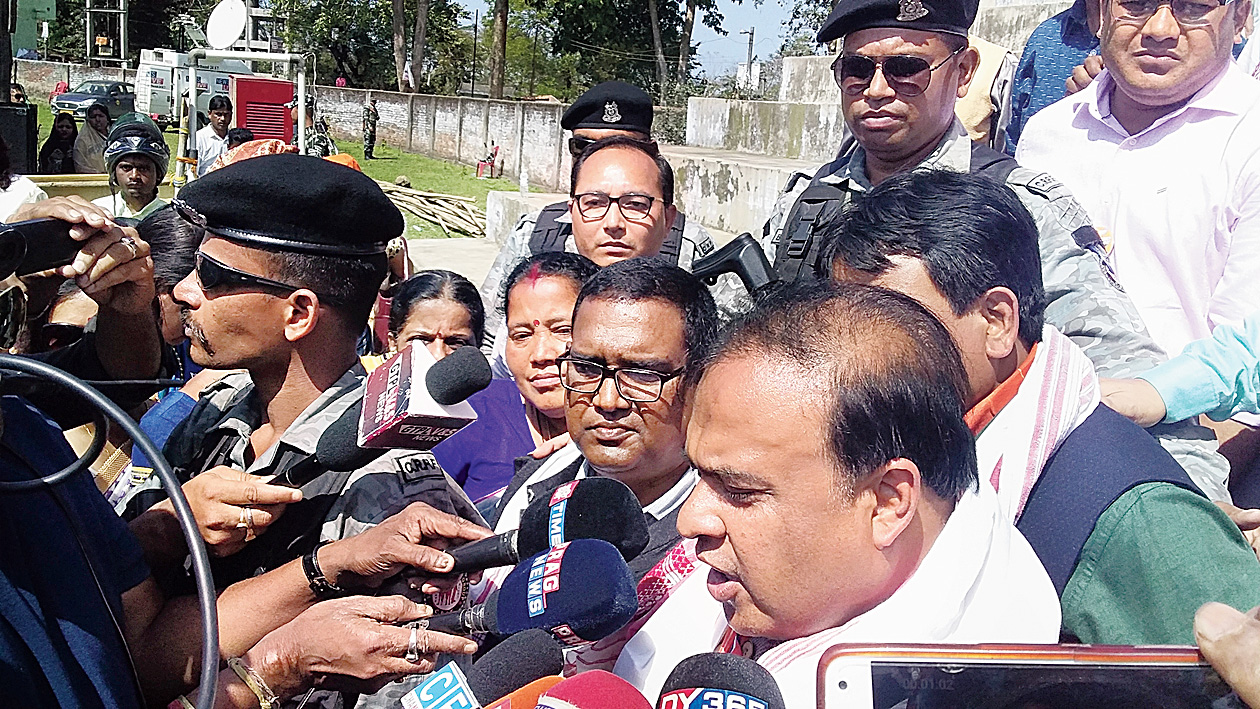 Himanta Biswa Sarma in Doomdooma on Saturday.
Manoj Kumar Ojha
---
Doomdooma
|
Published 06.04.19, 06:59 PM
|
---
Senior Assam minister and convener of the North East Democratic Alliance (Neda), Himanta Biswa Sarma, on Saturday predicted that the Congress "would not get even 40 seats" in the Lok Sabha elections.
Speaking at an election rally here, Sarma said, "If the we take the photos of Rahul and Modi to a lower primary school child and ask, 'Baba, tumi kak prodhanmontri bonabo khuja, tente he kobo je aami Narendra Modi dangariyak prodhanmontri hisabe bisaru. (Child, whom do you want to make PM? He will answer that I want to make Narendra Modi the Prime Minister). You, the people of Doomdooma, know that terrorist Ajmal Kasab had entered Mumbai through the sea and had killed many innocent people. At that time, the Congress was in power in Delhi. But they did not retaliate even when all Indians wanted to avenge the attack. On the other hand, when Jaish-e-Mohammad attacked and killed 40 CRPF personnel in Pulwama, Modi ensured that the Indian Air Force bombed the terrorist camps at Balakot. Modi did what the Congress could not. On one side, Modi is fighting bravely with Pakistan and on the other side, he and his party have been loving and kind to our people."
"What was the Congress politics? Give away dhoti, lungi, aathuwa (mosquito net) and huta (thread) for free. We say that these things are needed but we will make sure our boys and girls will get decent jobs after higher education and they will purchase these necessary things on their own and take their mothers on pilgrimage," he said.
"Under the Modi government, cooking gas cylinders were given under Ujjwala scheme, 95 lakh homes got electricity under Soubhagya scheme and good quality homes were constructed under the Pradhan Mantri Awas Yojana. Modi has vowed that in 2022 when India would step into its 75th year of Independence, nobody will live in kutcha ghar, everybody will have a pucca house. We want to fulfil the dream of Modi. From Silchar to Saurashtra and from Kanyakumari to Kashmir, we should vote to make Modi our Prime Minister again," the minister said.
Sarma also spoke of the schemes launched by the BJP-led state government for the tea community. Punya Prabha Deori, a resident of Sonapur, said, "Aako aibar Modi sarkar (We want Modi government again). Everything has not changed, but we want to give him another opportunity."
Nearly 2,000 people had waited since 8am for Sarma, who arrived at 12.10pm.
Addressing another rally at Jagduar tea estate in Jorhat district, Sarma said the BJP-led government in the state had cleared xatra lands from encroachment as well as land near Kaziranga National Park, which had led to decline in rhino poaching.
Sarma alleged, "Former chief minister Tarun Gogoi's son Gaurav, who is contesting from Kaliabor, needed the votes of illegal migrants who populated four of the Assembly constituencies under it. Hence, the AIUDF and the Congress have become allies."
He said the BJP has chosen Tapan Gogoi as its candidate for Jorhat Lok Sabha seat as he had won the Sonari Assembly seat in 2016. "However, Congress candidate Sushanta Borgohain had lost to the BJP's Kushal Dowari from Thowra in 2016," he added.
Referring to the 26/11 terror attacks in Mumbai, Sarma said he had hoped that former chief minister Gogoi and the Congress government at the Centre would take stern steps to oust Bangladeshis but nothing happened. "On the other hand, the Modi-led government at the Centre gave a fitting reply after 45 jawans were killed in Jammu and Kashmir," he said.
Sarma said instead of giving sops like the Congress, the BJP believed in giving gold during a girl's marriage to reduce her parents' worry.
Doomdooma, which falls under Lakhimpur Lok Sabha seat, and Jorhat will vote on April 11.