Congress must for Front: Tarun Gogoi
AASU had alleged that all existing political parties failed to solve the problem of illegal migrants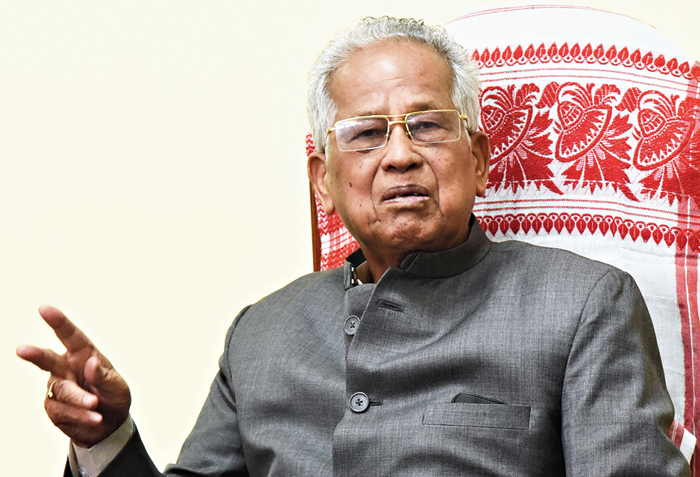 Tarun Gogoi speaks in Guwahati on Tuesday
Picture by UB Photos
---
Guwahati
|
Published 31.12.19, 07:34 PM
|
---
Former Assam chief minister Tarun Gogoi on Tuesday said an optional political front is impossible in Assam without the Congress on board.
Gogoi's comment came following the recent ideas pitched by the All Assam Students' Union (AASU) leaders about the necessity of an optional political front in the state to replace all political parties, including the Congress.
The leaders of AASU, which has been spearheading an anti-Citizenship Amendment Act (CAA) protest in the state, alleged that all existing political parties failed to solve the problem of illegal migrants.
"Without us there cannot be an optional political front in Assam. We will be in it," Gogoi said. He, however, clarified that the optional political front is only an idea thus far.
The former Assam chief minister said the Congress alone will come to power in 2021 as the "BJP's bad days have arrived. One state after another is slipping out of its hands."
Gogoi alleged that the BJP is trying to rule the country with an ideology akin to Muhammad Ali Jinnah's two-nation theory. "You are trying to create an India which will be ruled by an ideology similar to Jinnah's two-nation theory. The only difference is that while Jinnah was for Muslims you are for the Hindus," he added.
Gogoi blamed the Centre for the ongoing anti-CAA protests. "The BJP is forcing people to take the path of protest. Scrap the Act and all protests will disappear at once. But the BJP does not want to do that."
Gogoi said the positive side of the anti-CAA protest in the country is that people from different religions have joined hands.
"The Act was primarily aimed at giving citizenship to the Hindus. But the Hindus of India have stood against it to guard the secular character of the country," he added.
The veteran Congress leader demanded that the Assam government order a judicial inquiry into the killing of five persons in suspected police firing during the anti-CAA protests recently.
He said the "real face of chief minister Sarbananda Sonowal" was exposed before the people of Assam this year. "People had thought that Sonowal was a saint and champion of their causes. Last month's happenings proved that he can do anything for power."
The Lok Sabha passed the Citizenship Amendment Bill (CAB) on December 9 and the Rajya Sabha on December 11. Through this Act, persecuted non-Muslim minorities from three neighbouring Islamic countries will get Indian citizenship if they entered India before December 31, 2014.