Citizenship bill has people's seal: Kalita
No workers in Cong anymore: Leader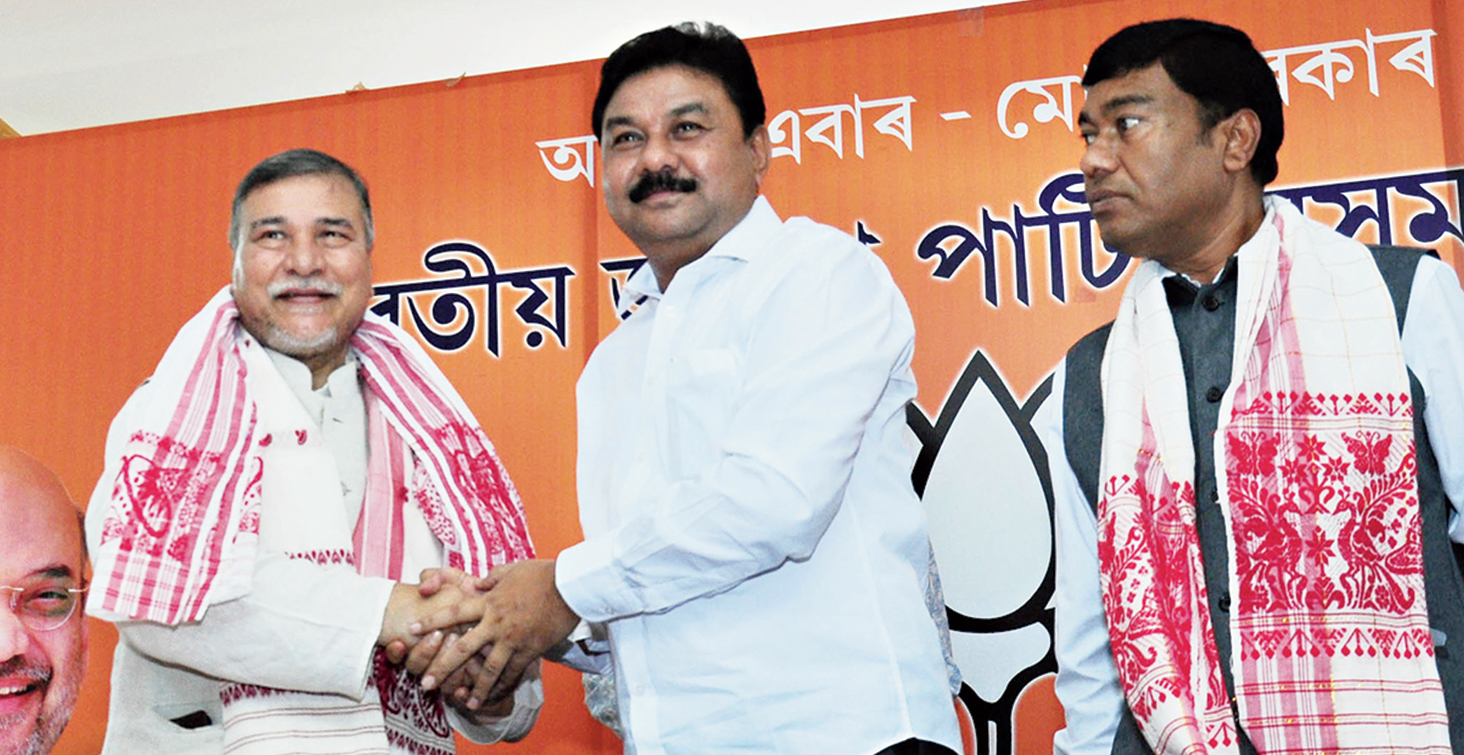 ---
|
Guwahati
|
Published 18.08.19, 07:58 PM
---
Former Congress veteran Bhubaneswar Kalita, who had played a key role against the Citizenship (Amendment) Bill in Parliament last year, on Sunday said the people of Assam have given their seal to the bill in the last Lok Sabha elections.
In the 2019 Lok Sabha elections the BJP, which had pushed for passing the bill in Parliament, won in nine of the 14 seats in the state. The Congress, which had taken a stand against the bill, won only in three seats.
"The people of Assam gave the answer in the last Lok Sabha elections that they had accepted the bill. After that, I do not think it is right to discuss the issue," Kalita, who has recently joined the BJP, said while interacting with the media here.
He was flanked by the BJP's state unit president Ranjeet Kumar Dass, Union minister Rameswar Teli and two Assam ministers Himanta Biswa Sarma and Bhabesh Kalita.
Kalita, who resigned from the Rajya Sabha on August 5, was a strong voice against the bill that triggered a series of protests across Assam and other states of the Northeast. He was also one of the members of the Rajendra Agrawal-led joint parliamentary committee on the bill.
After Kalita joined the BJP on August 9, many had raised the question what would be his stand now on the bill which promises Indian citizenship to a few non-Muslim communities who had entered the country till December 2014 without valid documents on the ground of religious persecution.
BJP president and Union home minister Amit Shah has vowed to pass the bill in Parliament.
Kalita criticised the Congress and said: "There was no worker in the Congress while everyone in the BJP is a karyakarta."
He said the situation in the "leaderless" Congress which did not have any direction regarding Article 370 of the Constitution became unbearable for him, forcing him to snap his "over four-decade-long association" with it.
"I was always against Article 370 and had even informed the party about it, but when I was asked to issue a whip to oppose scrapping the article in Parliament, I thought that it would not be right. So, I resigned from the Rajya Sabha and later from the party," Kalita said.
He reposed faith in Prime Minister Narendra Modi and BJP president Amit Shah.