Citizenship Bill cloud on Kaziranga tourist flow
Flow of domestic tourists quite low compared to last year due to anti-citizenship bill protests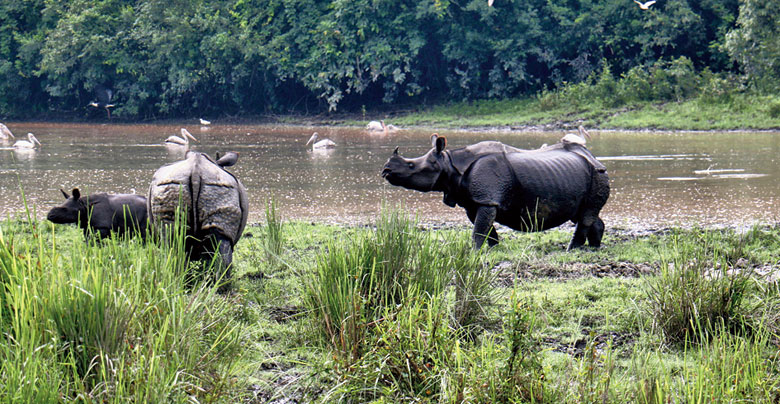 ---
|
Bokakhat
|
Published 02.12.19, 08:46 PM
---
The crowd of tourists that throngs Kaziranga National Park around this time of the year seems unusually thin, with the anti-citizenship bill protests casting a shadow over the holiday season.
The revenue collection at the national park initially showed a rosy picture in the first month of the opening of the park this season, said the park authorities on Monday.
Altogether Rs 96.50 lakh was collected as revenue from 31,450 tourists in November, opposed to Rs 66.5 lakh from 22,300 tourists in November last year.
However, though the revenue collection and number of tourists increased this year, the traders are apprehensive.
Many feel that the anti-citizenship bill protests may have a negative impact on the flow of tourists.
The local businessmen only earn a reasonable amount during the five months when tourists come to the park and that amount is the only source of income for several businessmen in the greater Kaziranga area.
They said this time the flow of domestic tourists to the park was quite low compared to last year.
If the flow of domestic tourists does not increase, the tourist lodges will be adversely affected.
A businessman said the entry of the park at Kohora, which is generally brimming with people at this time of the year, is quite subdued this year.
Park director P. Sivakumar, however, said, "We have seen nothing that can affect the tourist flow to the park."
According to sources, several tourists who reserved rooms in the local guest houses have cancelled their bookings.
Navajyoti Bordoloi, an employee of a tourist lodge at Kaziranga, said this time the flow of tourists is significantly less than last year.
"We got more than 80 per cent of tourists during November 2018 but this time that figure is down to about 70 per cent," Bordoloi said.
"Several bookings have been cancelled at the last minute," he added.
The local residents said the anti-citizenship bill protests, with blockades and protests at several places, may have affected the flow.
"Anticipating the uneasy situation arising from the protests, the tourists may cancel their visit and we may see a decline in the number of tourists," another visitor to Kaziranga said.