Chinese experts skip meet
The Centre has temporarily suspended the e-visa facility for Chinese citizens travelling to India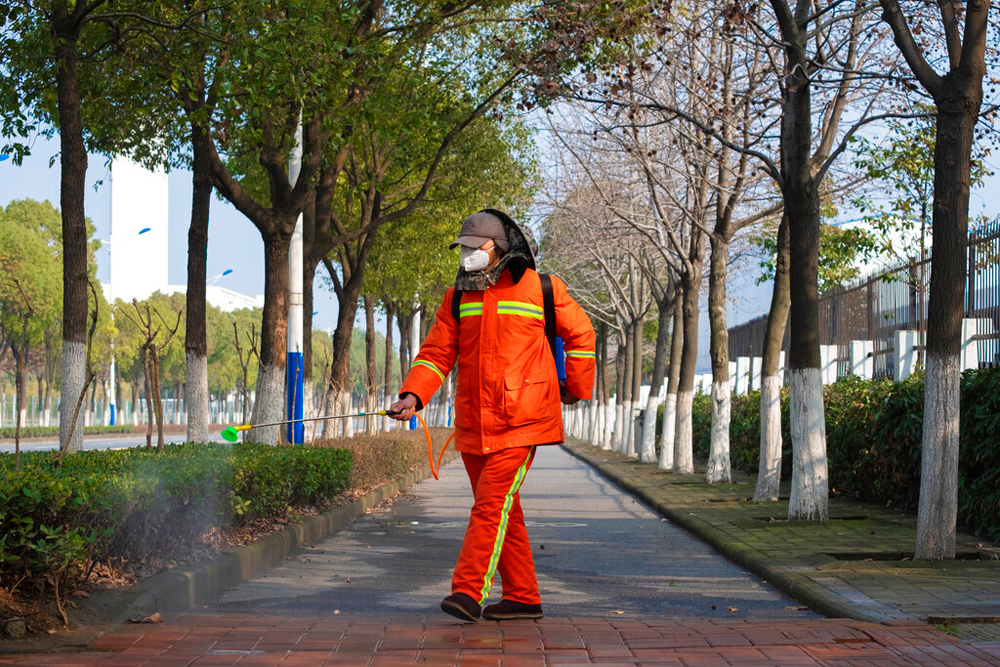 A civic official sprays disinfectant in Wuhan in central China
(AP photo)
---
Guwahati
|
Published 05.02.20, 06:50 PM
|
---
Coronavirus has come in the way of 24 primate experts from China who had confirmed their participation at the three-day Asian Primate Symposium which will start here from Saturday.
The seventh Asian Primate Symposium is being organised by Aaranyak in collaboration with Gauhati University.
The head of primate research and conservation division, Aaranyak, Dilip Chetry, said primatologists from different corners of the world specially across Asia would get a common platform to share their findings, views and ideas regarding diverse primate-related issues through this symposium.
"The 24 primate experts from China will not be attending as India has stopped giving evisa to the Chinese," he said.
The Centre has temporarily suspended the e-visa facility for Chinese citizens travelling to India and foreigners dwelling in the neighbouring country. The government also issued a fresh travel advisory to Indian citizens saying anyone with travel history to China since January 15 can be quarantined.
"This exchanging of thoughts among veteran and budding primatologists will contribute a lot to the field of primatology and will also help in ongoing efforts of conservation and management of non-human primates. As Indians we want to have transboundary collaboration in the conservation of primates in particular and biodiversity in general," Chetry said.
Guwahati has been selected as the organising site for the both the symposium and pre-symposium training keeping in view the rich diversity of primates in Assam in particular and the Northeast in general.
The pre-symposium training on "Training on Field Methods in Primate Conservation Biology" started on Wednesday.
Asia has more than 183 primate species.
Anti-virus steps: Schools in Upper Assam on Wednesday advised their students to wear simple masks, take precautionary measures and stay alert against coronavirus.
"In today's morning assembly we told the children to wash hands frequently, wear masks and consult a doctor immediately if they fall sick. We advise the parents and guardians also to take precautionary measures to ensure that the students remain healthy and their study is not affected," the managing director, Learners' Educational Institutions, Sanjay K Gupta, told this correspondent.
Dozens of schools in Upper Assam have been organising workshops on coronavirus.
"Wearing a mask, a simple one, can also help constantly as a precautionary measure at the time when you are in public places — at markets in particular where the environment is unhygienic. Animals and droplets of blood after slaughtering are suspected sources of outbreak of coronavirus. The virus can also spread in crowded streets, railway platforms, airports, bus stands and passenger shades because we never know if the person coughing or sneezing in front of us is ill or just has an allergy," principal, MDM Public School, Praduman Barua, said.
"To be protected, you should use a new mask for each outing. The simple masks are not all that effective since these do not fit well," a member of a team of doctors monitoring check-ups, said.
An awareness programme was organised on Wednesday at the deputy commissioners' conference.
"All airlines have been asked to announce before landings so that doubtful or suspected passengers can be screened and tested," AAI regional executive director (Northeast) Sanjeev Jindal, said.
Additional reporting by Manoj Kumar Ojha in Doomdooma