BJP wins Tripura bypoll by slim margin
BJP won the Badharghat Assembly constituency byelection by defeating the CPM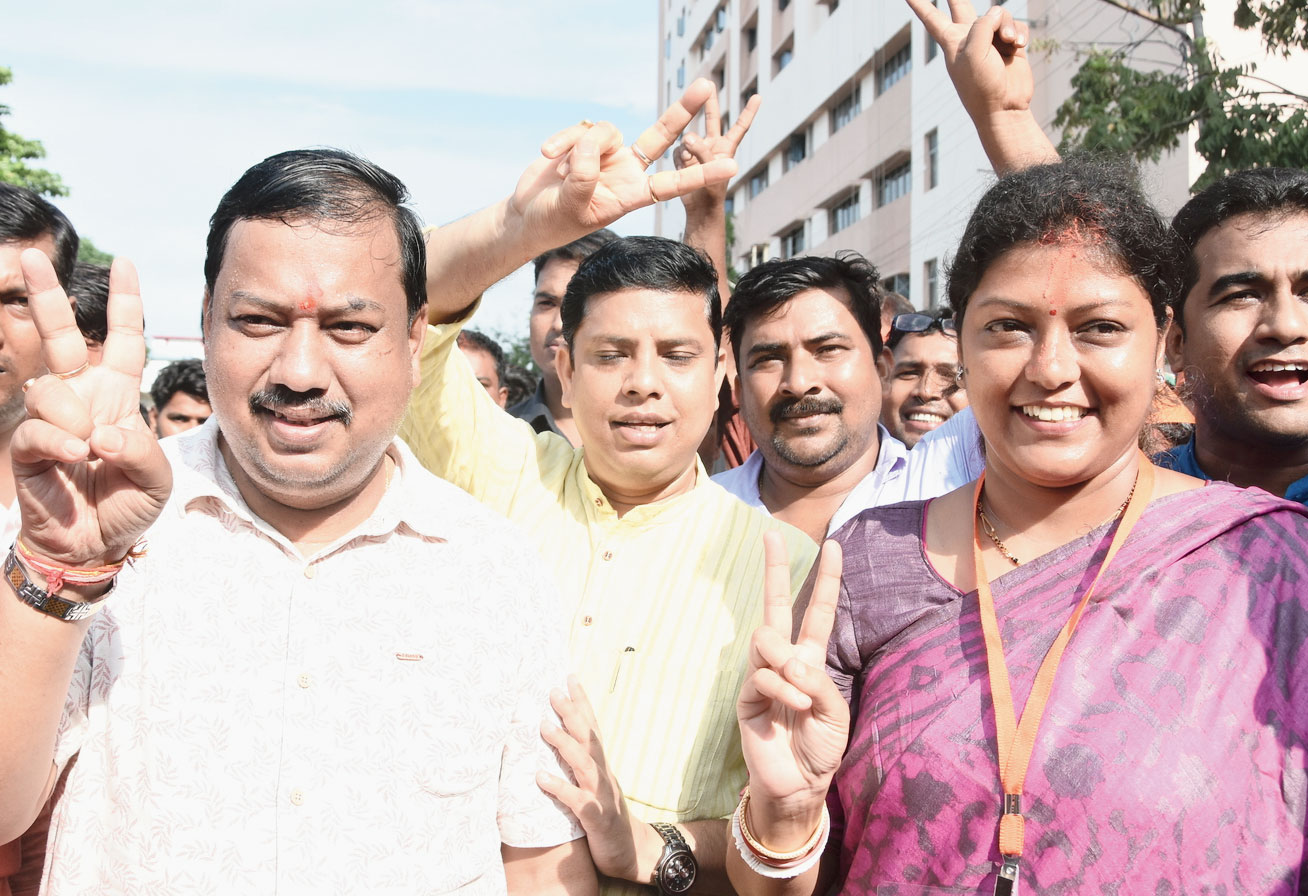 ---
|
Agartala
|
Published 27.09.19, 11:27 PM
---
The BJP won the Badharghat Assembly constituency byelection by defeating the CPM by 5,276 votes on Friday.
The bypoll to the constituency, the largest in Tripura with over 50,000 voters, was necessitated by the death of incumbent Congress-turned-BJP legislator Dilip Sarkar in April.
The vote to the Assembly constituency was held on September 23.
Talking to The Telegraph, returning officer Tarun Debbarma said, "The counting started at 8am. BJP candidate Mimi Majumder won the seat and the counting concluded peacefully."
With this win, the BJP has 36 MLAs, IPFT has eight and CPM 16 in the 60-member Assembly.
Majumder secured with 20,487 votes while CPM candidate Bulti Biswas secured 15,211 votes and Congress candidate Ratan Chandra Das polled 9,105 votes.
However, the voteshare of the BJP has reduced. In the 2018 Assembly elections, Dilip Sarkar had secured 28,561 votes.
The CPM's margin also decreased from 23,113 to 15,211.
Das had also contested the 2018 Assembly elections and could secure only 505 votes. However, this year he secured 9,105 votes, reflecting a rise in the Congress's vote share.
In the Assembly polls, which Sarkar won by securing 28,561 votes, Jharna Das Baidya of the CPM got 23,113 while the Congress candidate Ratan Das was secured only with 505 votes.
The number of voters also decreased this year. A total of 53,040 electors cast their votes last year and this year, the number was 45,918.
The general secretary of BJP, Rajib Bhattacharya, said people have supported the party for the development work in the constituency.
"This is the victory of the people living in that constituency. The BJP will continue to work for the people in a better way," he said.
Congress vice-president Tapas Dey said, "We are unfortunate that we could not win the poll. The BJP is losing ground; they have won the bypoll by a very small margin and they should learn a lesson from it."
With Majumder's win, the strength of Assembly has risen to 60. In the 60-member House, the BJP now has 36 MLAs, IPFT has eight and the CPM 16.
Additional inspector-general of police, Subrata Chakraborty said no untoward incidents were reported and the counting was held peacefully.