BJP, Congress confront each other in Nazira
Saikia & supporters block Himanta convoy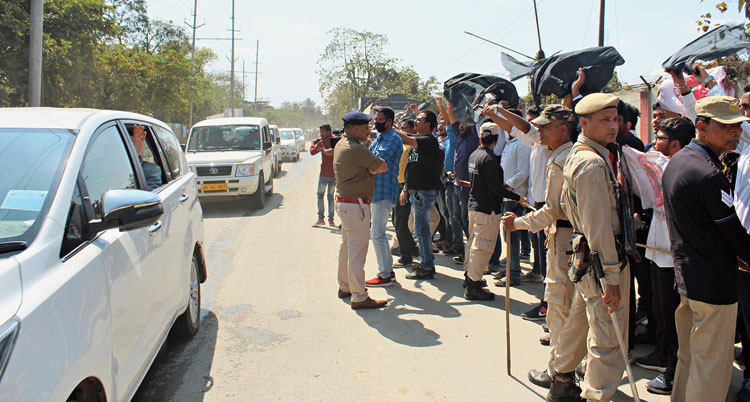 AASU activists show black flags to Himanta Biswa Sarma's convoy in Sivasagar on Friday
Picture by UB Photos
---
Guwahati
|
Published 28.02.20, 07:51 PM
|
---
Congress supporters, led by leader of the Opposition Debabrata Saikia, and BJP supporters, led by cabinet minister Himanta Biswa Sarma, had a confrontation at Nazira in Upper Assam's Sivasagar district on Friday.
The incident took place around noon when Sarma's convoy, accompanied by around a thousand BJP supporters on motorcycles, was stopped by Congress supporters, who shouted "BJP go back".
Sarma waited in his vehicle as the police cleared the way for his convoy.
Sarma, who holds the PWD portfolio, was visiting Nazira Assembly constituency, represented by Saikia, to inspect the condition of roads. The Congress supporters protested against the state government's alleged failure to "repair/maintain the roads under Nazira subdivision."
Videos of the protest show Saikia blocking Sarma's convoy and police personnel pulling him away to clear the way.
This is the first time that any BJP leader has had a direct confrontation with the Congress since the latter launched its statewide anti- Citizenship Amendment Bill protests like "peace" rallies and mass contact initiatives.
Saikia lodged a complaint with the Sivasagar deputy commissioner against organisation of a motorcycle rally without prior permission from the civil administration or police and while class X board examinations are on and against motorcycle riders violating the Motor Vehicle Act by not wearing helmets.
Saikia alleged that the BJP was apathetic towards development of roads in Nazira.
"I had proposed the sanction of Rs 50 crore for development of roads in Nazira but it has not been done," he said.
"The people stopped him (Sarma). He should have got down from his vehicle to know about their grievances but he did not. Moreover, Nazira police have informed me that there was no prior permission for the motorcycle rally," Saikia said.
The BJP claimed that the incident was a manifestation of the Congress's fear of losing Nazira to the BJP in the 2021 election.
"The Congress' fear is evident. That's why the party is behaving like this. Being a sitting MLA, Saikia should have accompanied the minister (Sarma) and shown him where the roads required improvement. Sarma did not go there for a party meeting but to inspect the condition of roads," BJP spokesperson Rupam Goswami said.