At least 26 species of amphibians, 57 species of reptiles, 214 species of birds, and 36 species of mammals are still in this city, said a six-year-study on vertebrate biodiversity here from 2011-16.
The study was conducted by Jayaditya Purkayastha of Help Earth, an NGO, and provides an inventory of terrestrial vertebrate biodiversity in the city limits here.
"The study was conducted to assess the state of urban terrestrial biodiversity of the city. The dynamics of biodiversity change much faster in an urban landscape. The anthropogenic factor plays a vital role in altering the ecosystem in urban areas where the rate of loss of biodiversity and habitat destruction is high. The assessment of biodiversity in urban areas becomes imperative to formulate long-term conservation strategies," he said.
Purkayastha said the city had lost a big chunk of its biodiversity, but it was difficult to specify how much because they did not have data to compare with the current status.
The study was published in the current Journal of Threatened Taxa. The method of visual-encounter survey employing randomised walks was used and an active search method was employed specifically for herpetofaunal survey.
A terrestrial vertebrate is any organism that possesses a spinal column or vertebra and lives predominantly on land.
Altogether 26 species of amphibians representing seven families were encountered. Among these, a single species is vulnerable, four species were deemed data deficient and 21 species were of least concern (according to IUCN rules).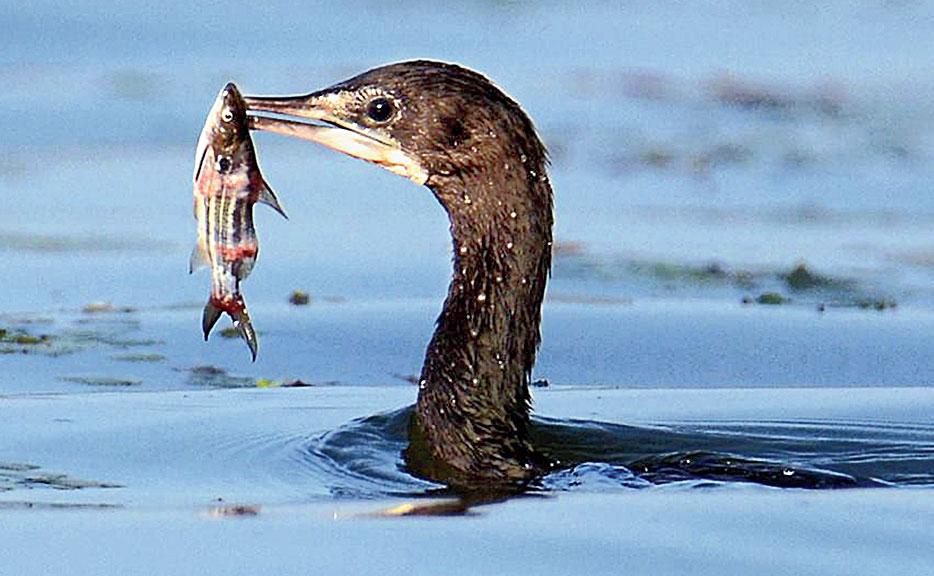 Little cormorant Jayaditya Purkayastha
Of these, 11 species are included in Schedule IV of the Indian Wildlife Protection Act, 1972 and the rest were non-scheduled species.
Among reptiles, a total of 53 species of reptiles representing 11 families were encountered from the city during the study.
Among these, a single species is extinct in the wild (black soft-shell turtle), two species are endangered, five are vulnerable, 31 species are not evaluated and 14 species are of least concern.
"The conservation status of about 60 per cent of the reptilian fauna recorded from the city is yet to be evaluated, creating conservation concerns. Of all the turtles mentioned here, most are found in temple ponds of Ugratara and Kamakhya. Though protected by law, unorganised turtle trade for flesh and as pets continues within the city," he said.
The study recommended expediting afforestation efforts but said the selection of plant species is important.
"Artificial living space, more specifically for birds, has to be created by installing nesting boxes. Not only shall it help the birds but also help generate interest among the masses regarding the conservation of urban biodiversity," he said.
Purkayastha added that the children's urban biodiversity tour is another important aspect that would help create awareness and conserve the biodiversity of the city.
"These tours can be a part of school ecological club programmes and be conducted through the district administration. We can only save things we love and only love things that we have seen. Thus these tours shall serve the purpose of conservation in the long run," he added.