Big cat cheer in Dibang in Arunachal at 3,630m
11 tigers camera-trapped in study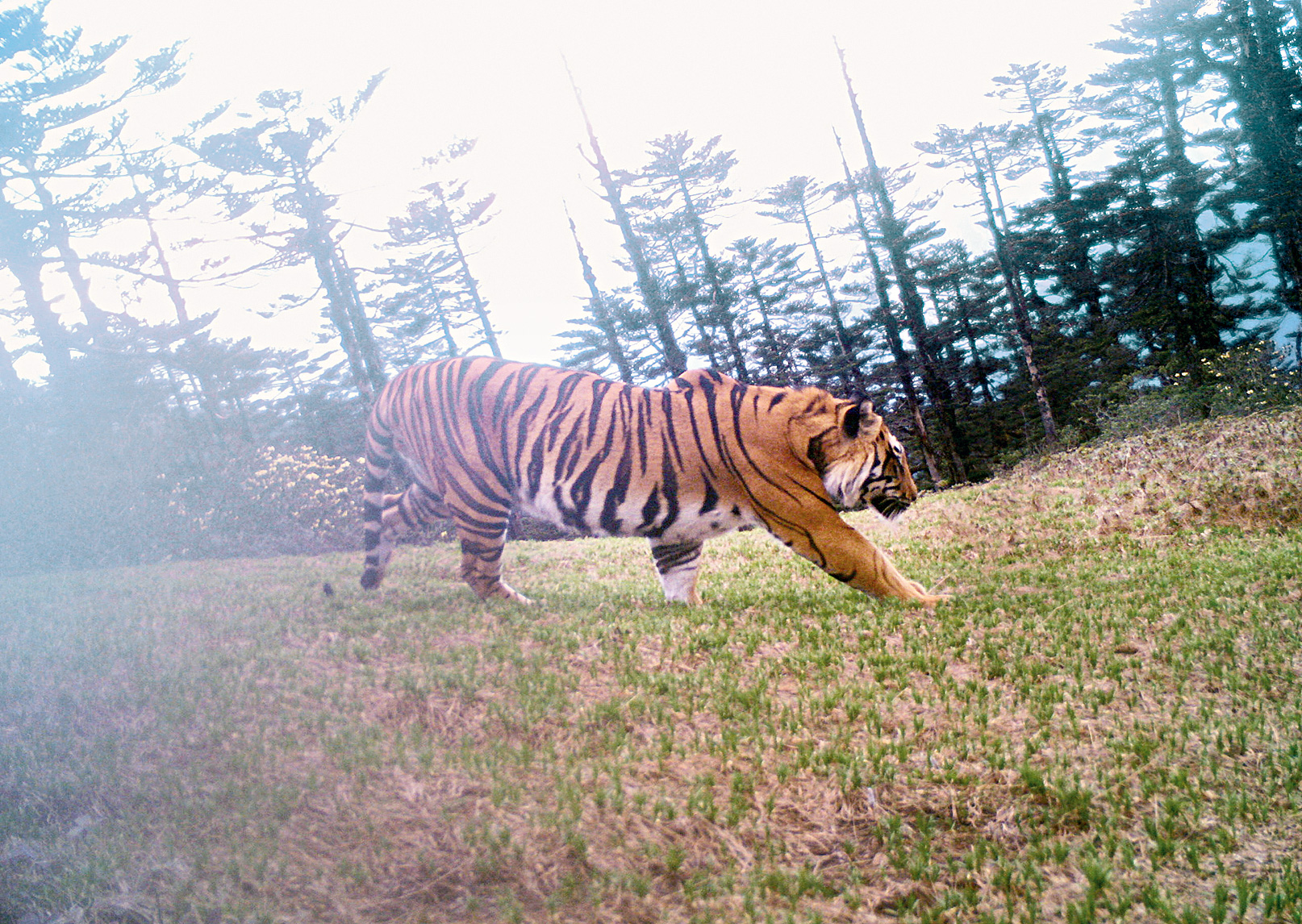 ---
|
Guwahati
|
Published 27.11.18, 06:47 PM
---
Wildlife lovers have a lot to roar about after tigers were camera-trapped at Dibang Valley in Arunachal Pradesh at a height of 3,630m, the highest range in the Indian part of Eastern Himalayas for big cats to be found.
Aisho Sharma Adhikari-Mayum, a research scholar, and G.V. Gopi, a scientist with Wildlife Institute of India, have released the first photographic record of tiger presence at higher elevations of Mishmi hills in the eastern Himalayan biodiversity hotspot.
The study (2015-17) was carried out by the duo in Dibang Wildlife Sanctuary and Mishmi hills to strengthen the ecological baseline information on tigers, co-predators and prey ecology.
As part of this study, camera traps were laid to monitor wildlife in and outside the sanctuary area. A total of 108 camera traps were deployed in a 336 square km area inside and around the protected area.
Two male tigers were captured on lens in Mishmi hills at 3,246m on May 29 and January 14 in 2017. One of the males was recaptured on camera at 3,630m on June 7, 2017.
The study says a total of 42 left-sided photographs of tigers recorded.
After further image processing, 11 tigers, including two cubs, were identified. The study has been published in the current issue of Journal of Threatened Taxa.
"Our study provides photographic evidence for the presence of tigers in the eastern Himalayas at 3,630m, within the biodiversity hotspot," Gopi said.
"The immediate priority must be to ensure that the newly discovered population is protected and monitored to identify potential genetic uniqueness. Other promising areas should be surveyed to identify possible tiger presence. There is an urgent need for monitoring the tiger population in the northeastern hills range by assessing the functionality of corridors connecting local populations," he said.
Dibang wildlife sanctuary covers an area of 4,149 sq km. It partially falls within the Dihang-Dibang biosphere reserve and mostly extends over Mishmi hills. The northern and eastern parts of the sanctuary are surrounded by China. The altitude ranges from 1,800–5,000m, and the area receives an annual rainfall of 2,500mm.
The vegetation is broadly classified as temperate broad-leaved, temperate conifer and alpine forests.