At Nagaon rally, they're talkin' about a revolution
Neherubali rally on Wednesday seemed to be the 2nd largest cultural protest in the state against the CAA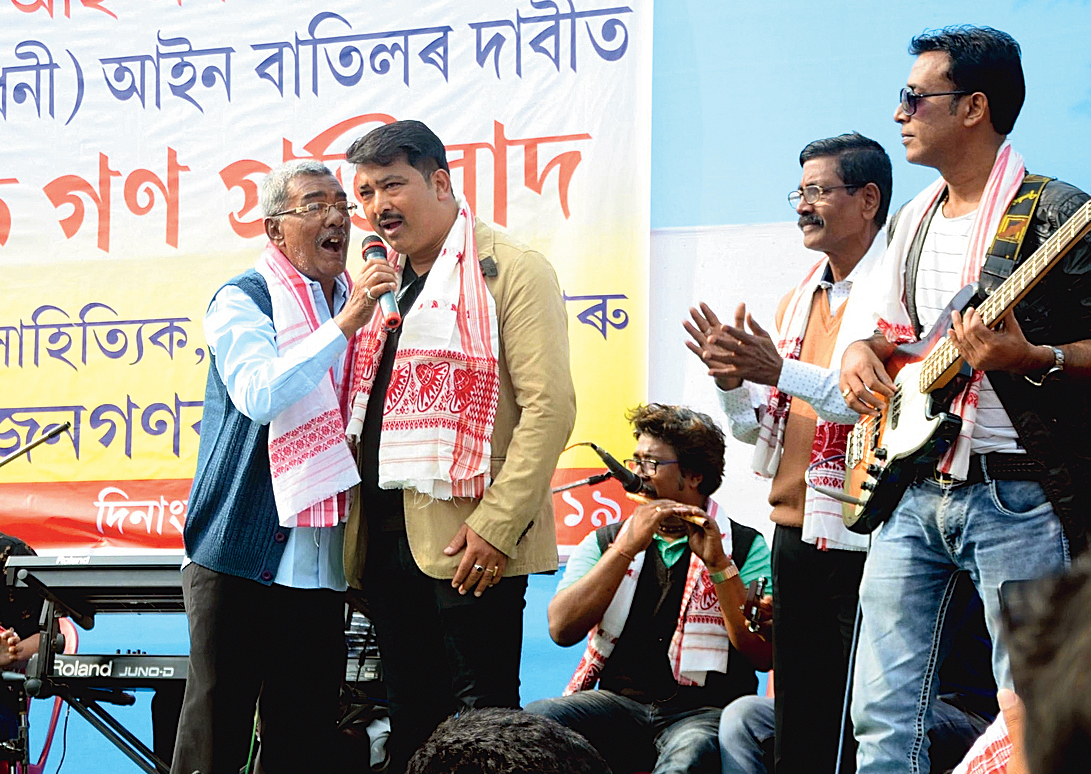 Singers Surjya Das and Krishna Moni Nath perform at the rally in Nagaon on Wednesday.
Picture by UB Photos
---
Nagaon
|
Published 18.12.19, 10:34 PM
|
---
It was déjà vu for Surjya Das. The 65-year-old singer's poor health couldn't deter him from addressing a rally of over 20,000 protesters on Wednesday at the Neherubali ground; he had done the same 36 years ago.
Das sang a self-composed song on Assam's critical situation. He is a most popular cultural icon of the 80s who penned inspiring songs on social change during the Assam Agitation and formation of the Asom Gana Parishad in 1985.
A wave of nostalgia gripped the singer as he said, "Neherubali, at the heart of this central Assam town, was the place from where the district-level agitation was controlled" between 1983 and 1985.
"This is not the time of addressing a gathering. We must organise ourselves to save the nation. We must honour the gamosas in our hands," he said.
After Chandmari, the Neherubali rally on Wednesday seemed to be the second largest cultural protest in the state against the Citizenship (Amendment) Act, 2019.
"Singer Zubeen Garg promised to visit the rally here but he had to cancel his visit at the eleventh hour because of his sudden programme in New Delhi," said artiste Guna Sarma.
The second half of the cultural protest witnessed participation of more people as singer Mahendra Hazarika took the stage around 2pm.
"We must continue our struggle in a democratic manner. Our struggle should continue for long period of time," Hazarika said after singing two popular songs of music maestro Bhupen Hazarika. The protesters sang along as he belted out Ami Asomiya Nohou Dukhiya.
Renowned Bihu singer Krishna Moni Nath was another prominent face at the rally.
Activists from various organisations such as the Asom Jatiyatabadi Yuba Chatra Parishad, All Assam Students Union and the Karmachari Parishad, among others, joined the five-hour rally that ended around 4pm.
"Our struggle for our state and its people will continue until the citizenship act is withdrawn. This is the tip of the iceberg. The protests will be intensified in a democratic manner in the days to come," said singer Biplob Hazarika.
"Prime Minister Narendra Modi always supports cleanliness and hygiene. We hope Modi will prove that his mind is clean too," said a Karmachari Parishad leader at the rally.