Assam Public Works (APW) gives list to Clause 6 panel
It said these communities are 'indigenous Assamese' and eligible for constitutional safeguards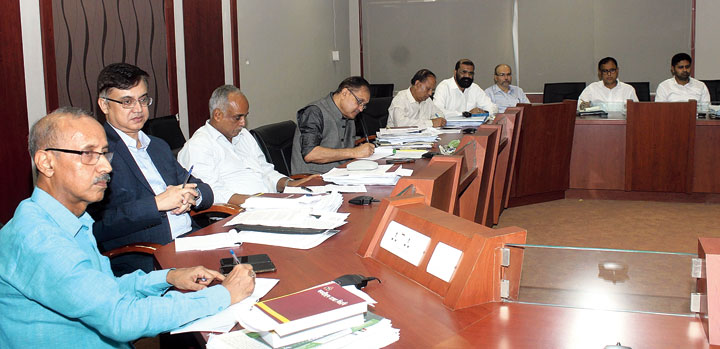 ---
Guwahati
|
Published 29.10.19, 06:44 PM
|
---
Assam Public Works (APW) on Tuesday submitted a list of 48 communities of the state to the high-powered committee on Clause 6 of the Assam Accord.
It said these communities are "indigenous Assamese" and eligible for constitutional safeguards under the clause.APW, the original petitioner in the NRC-related case in the Supreme Court, was among the eight organisations that met the committee at Administrative Staff College on Tuesday with their suggestions on the committee.
APW suggested that some communities be considered as "Assamese". Among them are those who migrated to Assam from Bangladesh and Nepal between January 26, 1950 to March 25, 1971 and are Indian according to law. It, however, said those who entered the state illegally from Bangladesh and Nepal after March 25, 1971 cannot be termed Assamese.
APW's suggestions have come at a time Indigenous Tribal Sahitya Sabha, Assam (ITSSA), a conglomeration of apex literary bodies of eight communities of the state, has been demanding that those who acquired Indian citizenship between 1951 and March 25, 1971 should not be provided with any kind of constitutional safeguards.
An ITSSA delegation also met the committee with their suggestions on Monday. ITSSA president Gubinda Taid said the meeting was held in a cordial atmosphere. The committee will meet Asam Sahitya Sabha and student organisations of various indigenous communities on Wednesday. On November 1, it will meet Krishak Mukti Sangram Samiti, prominent citizens and other leading organisations along with a political party. November 2 has been kept aside to hear the views of political parties.
The committee has so far received over 1,000 suggestions from various organisations and individuals. "So far we have received over 1,000 suggestions," said Dipanka Nath, president of All Assam Students' Union (AASU) and a member of the committee after daylong consultations with eight organisations here.
Based on these suggestions the committee will recommend to the Centre how to implement Clause 6 of the Assam Accord, a long-pending demand of the people of the state. Besides APW and ITSSA, organisations like Asom Jatiyatabadi Yuba Chatra Parishad (AJYCP), a youth organisation, and Sankaradeva Sangha met the committee.
All Assam Minorities Students' Union (AAMSU) alleged that the committee is trying to divide Assamese people into three groups—indigenous, indigenous Assamese and other indigenous people. "We want to ask why this division among the Assamese people. We would urge the Centre to instruct the committee to operate strictly under the provisions of Assam Accord," said Azizur Rahman, adviser of AAMSU.
The Accord uses the term "Assamese."