Assam govt's bar on unvaccinated people from public places
CM Himanta Biswa Sarma said only the fully-vaccinated would be allowed entry into government offices, malls, cinema halls, restaurants, hotels, schools and weddings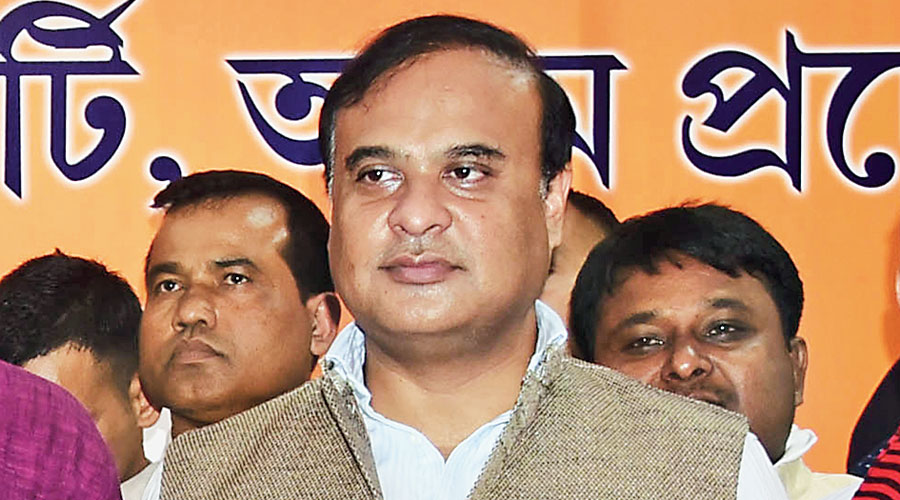 ---
Guwahati
|
Published 08.01.22, 01:13 AM
|
---
The Assam government on Friday announced that unvaccinated people would be barred from public places and transport from January 15 as part of efforts to check the surge in Covid cases, especially in the wake of the fast-spreading omicron variant.
Announcing fresh measures aimed at striking a balance between saving lives and livelihood, Assam chief minister Himanta Biswa Sarma said only the fully-vaccinated would be allowed entry into government offices, malls, cinema halls, restaurants, hotels, schools and weddings. The unvaccinated would also not be allowed to travel by public transport, including city buses.
"If the unvaccinated are allowed, the head of the department or the management of the mall, cinema hall, restaurant, hotel or bus service will have to pay a fine of Rs 25,000 per unvaccinated person. The whole idea behind this move is to ensure that everyone gets vaccinated to minimise the adverse impact of the possible third wave, which is likely to hit the state by January 20, especially in wake of the fast-spreading omicron variant. In a way, there will be total curfew on the unvaccinated except visiting hospitals from January 15. Our assessment is that the peak case load will be higher than the first and second wave," Sarma said.   
The chief minister later tweeted: "Non-vaccinated people shall not be allowed entry in public spaces/places (except hospitals) w.e.f. Jan 15, 2022. People must carry a proof of being fully vaccinated."
From 150 cases on January 1, Covid cases have risen to 844 till Thursday, including nine omicron cases, Sarma said, adding the government after an emergency review meeting on Thursday decided to treat all new Covid cases as suspected omicron cases and start "treatment and precautions" accordingly.
"The rise is owing to a lot of suspected omicron cases entering Assam. What is happening now is that by the time we get the genome sequencing report confirming the omicron variant, the infected person recovers but at the same time also infects others since it is a fast-spreading virus. So we have decided to treat all new cases as omicron and treat it accordingly. If a person tests negative later, we will document it accordingly," he said, adding the government has decided to ramp up testing, vaccination and make wearing masks in public compulsory.
The government is confident that the exercise to vaccinate everybody, at least giving the first dose, will be completed by January 31. 
Some of the measures announced by the state government to check the spike in cases are:
 Curfew to be imposed from 10pm to 6am every day from Saturday.  establishment will not function post 9pm. Earlier, curfew was from 11.30pm
 Covid treatment free only for BPL and serious Covid patients so that there are more hospital beds available for serious patients. Earlier it was free for all.
 Patients will get hospital food if admitted but they can avail food on payment from canteen or get food from home at Covid care centre
 All schools will remain closed till Class V till January 31. Classes IX, X & XI will function on rotation basis. Normal functioning for Class XII
 Fifty per cent of hall to be utilised for wedding/meetings/ functions.