Assam govt appoints home guard who helped in drug operation
35-year-old Borsing Bey had refused a 'huge bribe amount from drug dealers and helped recover drugs valued at Rs 12 crore' in Karbi Anglong district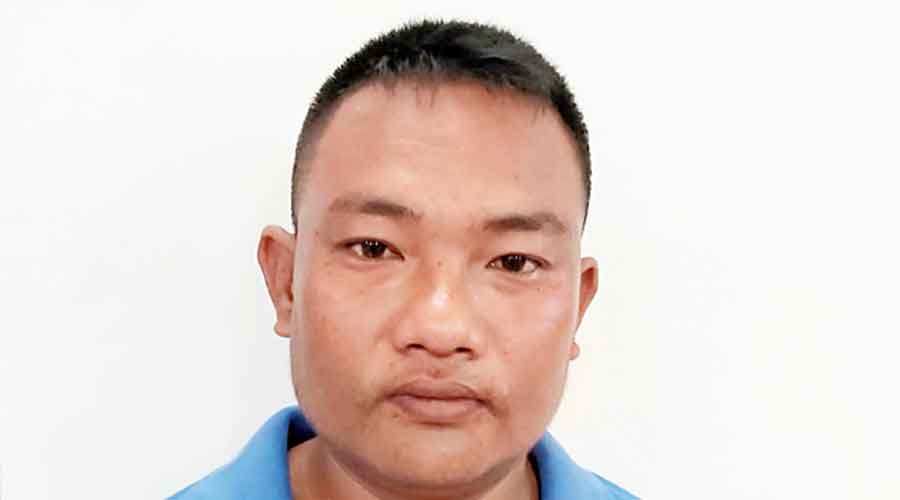 Borsing Bey
Telegraph picture
---
Guwahati
|
Published 26.06.21, 01:22 AM
|
---
The Assam government has appointed 35-year-old home guard Borsing Bey as a police constable, a first in the state, for his exemplary role in the recovery of contraband worth Rs 12 crore on June 21.
The state cabinet on Thursday decided to appoint home guard Bey as a constable in the Assam police for refusing a "huge bribe amount from drug dealers and helped recover drugs valued at Rs 12 crore" in Karbi Anglong district.
The cabinet decision came a day after director-general of police Bhaskar Jyoti Mahanta felicitated Bey and handed him a cheque of Rs 1 lakh for refusing the bribe offered by the peddlers.
The DGP was effusive in his praise for Bey, describing him as the "man Assam can't stop talking about", "the toast of the town" and hoped his "honesty will inspire everyone of us" .
Two women from Chennai and the driver of an Imphal-Dimapur-Guwahati bus were arrested under the Narcotic Drugs and Psychotropic Substances (NDPS) Act during routine checking by Karbi Anglong police at Dillai for alleged possession of 3kg crystal methamphetamine worth Rs 12 crore in the international market.
"The bus driver had pleaded with Bey to let go by offering a substantial cash amount. Bey not only refused but also informed his superior leading to the huge haul. Bey has shown honesty pays. Credit should also go to the state government and our DGP for recognising Bey's exemplary role and conduct," a senior Karbi Anglong police official told The Telegraph.
He said the rewards for Bey will further boost the morale of the force in taking the government's ongoing "zero tolerance" campaign against trafficking of drugs and their consumption to its logical end.
Bey told this newspaper that he was "very, very happy" for the accolades and rewards coming his way and hoped to continue in a similar vein.
Bey hails from Dokmoka, around 90km from Dillai. He joined as a home guard in 2003 and was getting a monthly salary of Rs 9,000. His family includes his wife, a daughter and son who is in Class V. He will draw a salary of around Rs 27,000 a month as a constable.
Home guard is an auxiliary force which assists the police. An official said a home guard is usually employed for six months a year. "Now Bey will have permanent job," he added.
Since May 10, the day the BJP-led government assumed charge for a second time, the police have registered 659 cases, arrested 1,142 people and recovered drugs worth several crores of rupees.
Chief minister Himanta Biswa Sarma tweeted on Thursday that the police have been fighting the drug menace with quiet determination and have made significant progress.
The other cabinet decisions included:
⚫ Empowered deputy commissioners to allot land for government institutions in rural areas on the basis of recommendations of land acquisition committees. Henceforth, no proposal for land allocation in rural areas has to be sent to the revenue department for approval.
⚫ Empowered the principal chief conservator of forests (PCCF) to clear payment of ex-gratia to kin of victims of man-animal conflict on recommendation of the divisional forest officer (DFO). No compensation file needs to be sent to the forest department.
⚫ Oil companies such as OIL and ONGC will have to pay a minimum of Rs 12 lakh per bigha for land acquisition within a 10-km radius of a town. Similarly, for land acquisition outside the 10-km radius of a town, they will have to pay a minimum of Rs 10 lakh per bigha.
⚫ Approved incentives for waiving micro-finance loans availed by women self-help groups.