Assam citizens' group calls for unity
Axom Nagarik Samaj wants govt to arrest culprits behind Tinsukia killings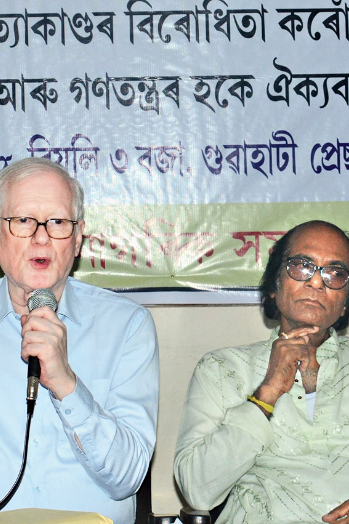 Former Assam DGP and writer Harekrishna Deka speaks at the meeting on Tuesday.
UB Photos
---
Guwahati
|
Published 06.11.18, 07:07 PM
|
---
Participants in a public meeting here on Tuesday linked the killing of five persons in Upper Assam's Tinsukia district last week to the government's alleged attempt to derail the indigenous people's movement against the Citizenship (Amendment) Bill, 2016.
Unidentified men shot dead five persons at Bishoni Mukh Kherbari near Dhola-Sadiya bridge in Tinsukia district on November 1. The attackers are yet to be identified or arrested.
The meeting, organised by citizen group Axom Nagarik Samaj, demanded that the government arrest the culprits and give proper compensation to the families of the victims.
"When the Citizenship (Amendment) Bill, 2016, was presented in Parliament, it was understood it would create a rift between the Assamese and Bengalis. And Assam has witnessed it in the form of the Tinsukia incident," said Hemen Das, a senior Left leader.
The participants said after the Language Movement in 1960-61, there was no conflict between Assamese and Bengalis in the state. They thanked the Bengali people for not getting provoked by the Tinsukia incident or indulging in any violence.
"After the Language Movement, I came to Guwahati in 1962 to study. Assamese people accepted me as one of their own. The relationship between the two communities improved. When the National Register of Citizens update started in the state, both communities hoped a solution would be found to the long-standing foreigners problem," said Sudip Chakraborty, a doctor.
"But we are unfortunate that when the NRC was being updated, the BJP came to power and the exercise took a back seat. Then came the citizenship bill with all the potential of creating a conflict in society based on religion. Many Bengali people have opposed the bill. We do not want a legislation differentiating people based on religion," he said.
"I think the Dhola incident was carried out to provoke the Bengali community which had restrained itself despite many inflammatory statements. I would like to thank the Bengali community for not getting provoked by the incident," said Lakhminath Tamuli, a writer and former bureaucrat. He doubted whether the government would be able to arrest the culprits. The meeting also urged the organisations protesting against the bill to be cautious so their movement does not create fissures among different linguistic and religious communities.
Prominent persons like writer and former director-general of Assam police Harekrishna Deka, writer Mayur Bora, journalists Ajit Kumar Bhuyan and Prashanta Rajguru, activist Paresh Malakar and Gauhati University professor Akhil Ranjan Dutta also spoke on the occasion.