Assam govt's 'free rice for the needy' policy worry farmers
Rice growers asserted that they are being forced to sell their produce at prices far less than the cost of production because of the welfare initiative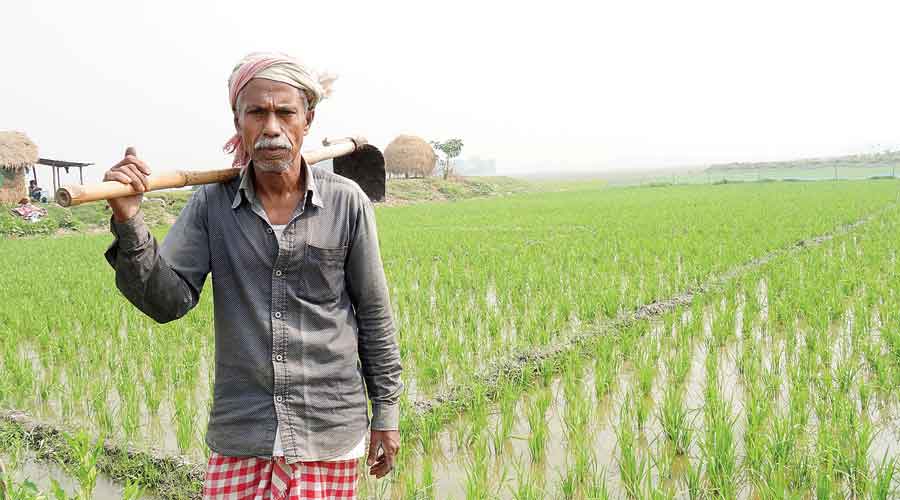 Dimbeswar Saharia in his field at Darrang
Telegraph picture
---
Guwahati
|
Published 30.03.21, 01:33 AM
|
---
Dimbeswar Saharia of Sipajhar and Bonojit Hussain of Nalbari are rice growers belonging to different generations but sharing similar concerns: For how long can they remain invested in paddy at a time the market has continued to remain depressed mainly because of the Assam government's policy of providing free rice to the needy.
Rice growers The Telegraph spoke to asserted that the welfare initiative has resulted in a situation where they are being forced to sell their produce at prices far less than the cost of production. And due to lack of fair price for their labour they are now looking at other options, with some confining themselves to cultivating only one crop or not cultivating at all or going for share cropping. Still others are looking at tea and mustard as viable options.
"Let the poor benefit but the government should also ensure we get the right price or this price freefall will not only kill us but also hit the state's rice production in the long run. We hope the incoming government looks into our problems and takes appropriate steps to rectify the situation. Already 90 per cent farmers in our village have stopped growing boro (summer) rice. We are continuing with sali (winter) rice but not sure for how long," Saharia, 63, of Maroi village in Darrang district said.
Saharia said rice growers were getting around
Rs 1,200 per quintal of paddy when the cost of production was about Rs 1,600-1,700 per quintal. Pranab Saikia and Ajit Borah of Titabar, a rice belt in Jorhat district, and Ainuddin Ahmed of Kharupetia in Darrang district, echoed Saharia.
"There are 80 households in my village of which 20 have already given up on paddy. Since everyone is getting free rice imported from states such as Punjab and Haryana, demand for paddy is less and distress sale is rising. Where is the incentive and encouragement to continue?" Saikia, 55, said.
Hussain, 40, who quit a teaching job in a college to pursue his passion for farming, said low paddy price was a ticking time-bomb that needed to be defused before it was too late.
Rice growers across Assam have been affected, he said, adding that the new government that would assume charge in May after the three-phase elections that started on Saturday would need to go for course correction.
Rice growers, mill owners and officials feel the solution lies in procuring paddy locally on a regular basis and distributing it among the beneficiaries.
Titabar-based Ravinder Kumar Sharma, 81, a pioneer in the milling business, said: "Procuring locally will help both the farmers and millers. I had suggested it to the administration a few years ago. But the procurement process has to be simplified to encourage the participation of local farmers."
He should know. Sharma's family owns the National Rice and Flour Mill and the Madhopur Rice Mill, opened in the 1940s.
Officials said about 1.25 lakh tonnes of free rice were distributed between April-November to 58 lakh families last year under the Pradhan Mantri Garib Kalyan Anna Yojana to tide over the Covid-19 crisis. Each person received 5kg a month.
Although the PMGKAY was stopped, a family eligible under the regular Antyodaya Anna Yojana continues to receive 35kg free rice a month. Then those with annual income less than Rs 1 lakh receive 5kg per person per month under the Priority Households scheme. A ration shop owner said at times a family received as much as 80kg rice a month, leading to a glut.
Hussain's prescription too includes procuring paddy locally, distributing it among the beneficiaries and making up the shortfall by importing. The incoming government should implement the Agricultural Produce Marketing Committee Act, 1972, which would help set up mandis (wholesale markets), modernise the farm sector and ensure immediate payment by government agencies to farmers for their produce, he said.
"It is sad there is no discussion on this pressing issue. Our farmers need a protective regime. They are growing rice because there is this pressure of tradition. We are witnessing such long-drawn-out protests over the three farm laws, but nothing similar is happening in Assam because most don't know about minimum support price (MSP). The real issues of farmers have not been raised by our political parties. The government needs to engage more with farmers. It is high time to be vocal for local," Husain said.  
Figures provided by Hussain reflected the "real" problems. A grower in Assam produced 1,935kg of rice per hectare at a cost of Rs 27,500 in 2019-20, but a farmer in Punjab produced 7,400kg a hectare at an investment of Rs 51,000. Secondly, the Food Corporation of India procured 81.5 per cent of the total produce in Punjab but a paltry 3.1 per cent from Assam.
Assam is self-sufficient in rice with an annual production of 50 lakh metric tonnes from 26 lakh hectares. But growers and millers are not sure for how long, if the situation created by free rice distribution is allowed to drift.