Army starts training Assam police commandos
We want to form specialised groups for anti-hijacking, jungle warfare, raids, ambush and counter-ambush: DGP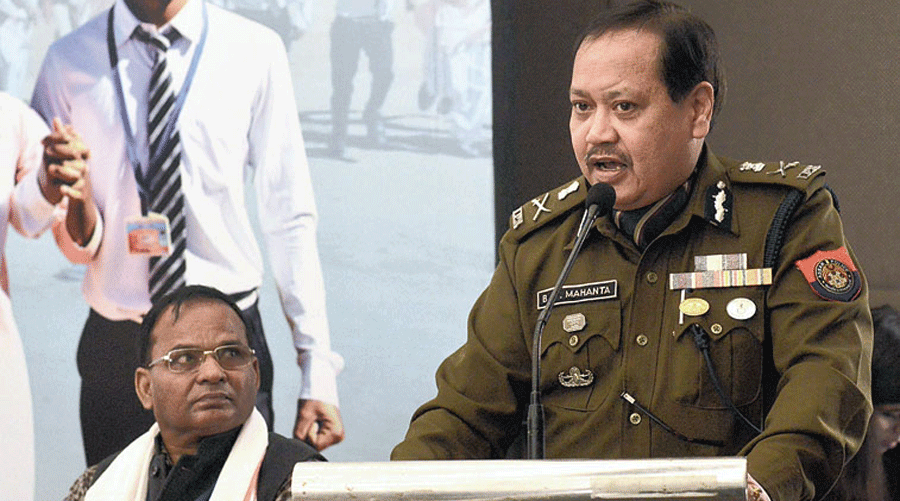 Assam DGP Bhaskar Jyoti Mahanta.
---
Guwahati
|
Published 05.12.22, 02:57 AM
|
---
The army has started training newly recruited commandos of the Assam police, a first-of-its-kind partnership between a state police and the military.
The Assam police had sought the army's help to train its commando recruits with the objective of becoming a "self-reliant" force capable of tackling any situation on its own.
Guwahati-based defence public relations officer, Lt Col Mahendra Rawat, told The Telegraph that the army was training 2,570 police commandos, including 288 female recruits, at seven different locations in the state from November 21.
Lt Col Rawat said the Assam government had taken the step to strengthen the state's overall security mechanism. The recruits undergoing training are from the five newly raised commando battalions.
Lt Col Rawat said: "It is 40- week course divided into two parts — 15 weeks of basic and 25 weeks of advanced commando training. The Assam police have handed over the training from the initial stage, which is a first-of-itskind arrangement anywhere in the country … where police personnel are receiving their basic training under the army."
Assam DGP Bhaskar Jyoti Mahanta and Lieutenant General Dinesh Singh Rana, general officer in command of Gajraj Corps, formally announced the commencement of the Assam police commando training on Friday by addressing the trainees at the Narangi Cantonment here.
Assam police chief Mahanta told The Telegraph they approached the army because commando training required a "higher level of fitness, motivation and a sense of sacrifice".
"We thank the army for accepting our request. We want the state police to become self-reliant so that it can tackle any situation such as counter-insurgency operations on its own… for which we need to provide our personnel the best possible training," he added.
The 40-week training is just the beginning.
"We want to form specialised groups for anti-hijacking, jungle warfare, raid on hideouts, ambush and counter-ambush, urban operations and law and order. These need higher level of fitness and different kind of expertise," Mahanta said.
Army and police personnel have been jointly operating against insurgents in the state since the 90s.
Officials said the Assam police were now getting ready to handle counter-insurgency operations on its own once the Armed Forces (Special Powers) Act was withdrawn from the state.
The law has been withdrawn from 60 per cent of the state, according to chief minister Himanta Biswa Sarma.  
AFSPA gives unbridled powers to the armed forces to search, arrest and shoot in areas designated as disturbed.
Besides army training for the commando recruits, the Assam cabinet had last month decided to recruit 34 retired army officials in the rank of additional superintendent of police (training) on contract to strengthen the training programme of police battalions.
Assam has 38 battalions in all, including the five newly raised commando battalions. Assam's total police strength is around 65,000.