Amid unrest, Yuletide spirit in Mizoram
Mizoram celebrated the centenary of the arrival of Christianity in 1994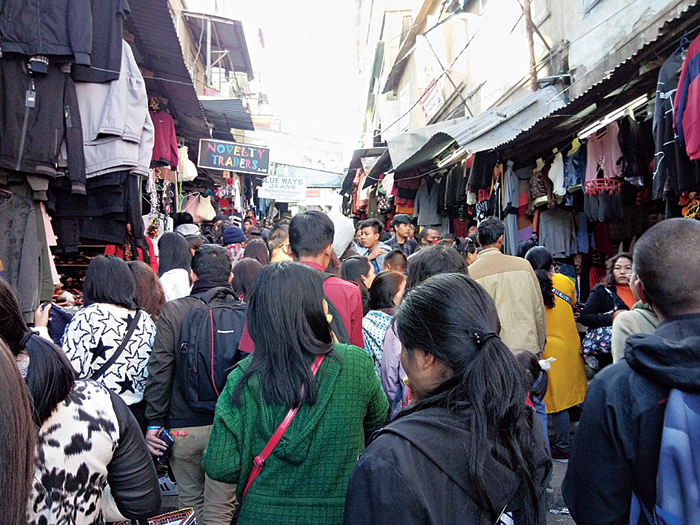 People throng Aizawl main market
Picture by Henry L. Khojol
---
Aizawl
|
Published 22.12.19, 09:04 PM
|
---
While protests against the Citizenship (Amendment) Act, 2019, are engulfing the country, Mizoram soaked in the Yuletide spirit to celebrate the birth of Jesus.
Mizoram celebrated the centenary of the arrival of Christianity in 1994.
Preparations are gaining momentum across the state with churches making arrangements and chalking out programmes for the celebrations and traditional community feasts in every locality.
Youths of different churches are seen organising carol groups to spread the messages of peace and joy.
Christmas trees and wreaths adorn almost every household.
All the churches, missionary schools and institutions are decorated with colourful buntings and lights.
In some villages, Christmas halls were constructed for congregation.
Celebrations will begin on Christmas Eve which is locally known as urlawk zan."
On this night churches hold service and congregate in Christmas halls to sing songs and hymns.
Since the past few weeks, people from different parts of the state thronged markets and shopping malls here and the district headquarters for pre-Christmas shopping.
The state government has announced "no vehicle zone" between Chanmari and Zodin Square here from Monday to Tuesday to restrict vehicular movement.
One of the eyecatchers of this year pre-Christmas celebration is the beauty of the street decorations.
The state government has announced Rs 5 lakh for the best street decoration here as part of its measure to beautify the state capital.
Since several days many NGOs, political parties, churches and groups have been reaching out to the orphanages, jails, correctional homes, rehab centres and hospitals with generous gifts.
The state government has beefed up security and banned firecrackers in view of Christmas and New Year celebrations.
The deputy inspector-general of police (northern range), Lalbiakthanga Khiangte, said all police outposts along the inter-state borders have been put on alert to prevent import of firecrackers, drugs and alcohol to ensure peaceful celebration of Christmas and New Year.
Khiangte said foot and mobile patrolling were being conducted round-the-clock across the state starting from Friday and will continue till January 3.
He added proper security arrangements have been made for the state capital and at least 10 foot patrolling groups have been set up with nine new checkposts and three help desks here.
According to him, police will also carry out random check on liquor, firecrackers and drugs during the festive season.