All Assam Students' Union to skip Clause 6 report meet today
Three AASU leaders belong to the committee constituted by the Centre to suggest how to implement the Clause 6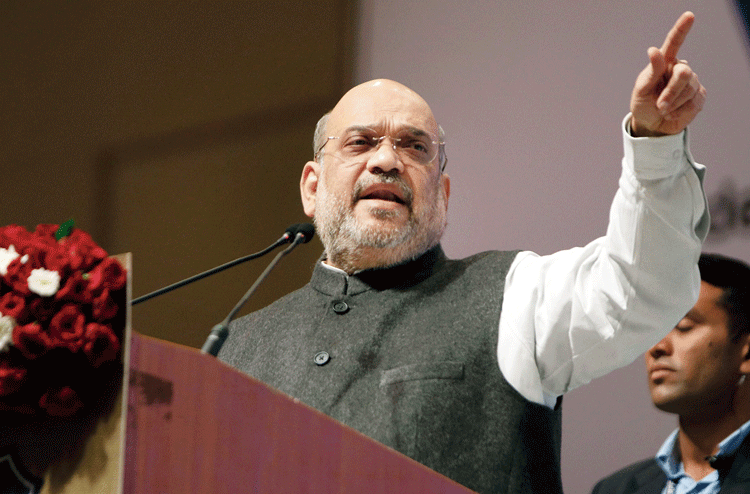 ---
|
Guwahati
|
Published 24.02.20, 06:52 PM
---
The All Assam Students' Union (AASU) will skip Tuesday's event of report submission by the high-powered committee on implementation of the Assam Accord's Clause 6.
Committee chairman Biplab Kumar Sarma told The Telegraph that the meeting would be held at the chief minister's conference hall at Janata Bhawan here at noon. "We received a letter from the government on Sunday about the event," he said.
Three AASU leaders — organisation president Dipanka Kumar Nath, general secretary Lurinjyoti Gogoi and chief adviser Samujjal Kumar Bhattacharjya — belong to the 14-member committee constituted by the Centre in July last year to suggest it how to implement the Clause 6.
Clause 6 envisages constitutional, legislative and administrative measures to safeguard, protect, preserve and promote the cultural, social, linguistic identity and heritage of Assamese people.
AASU sources said they have been skipping events on the Citizenship Amendment Act (CAA) over its conflict of principles with the government. While the BJP-led Centre brought CAA and the party's state leaders support the Act, the AASU has been spearheading a movement against the law.
The AASU leadership had been particularly unhappy with the clearance of the Citizenship (Amendment) Bill (CAB) by the Union cabinet in December last year, hours after it had voiced its opposition to Union home minister Amit Shah in New Delhi.
Although senior officials of the state government said there is no restriction on the chief minister receiving the report, organisations like the Krishak Mukti Sangram Samiti (KMSS) opined that the Centre not receiving the report is tantamount to an insult to the people of Assam. Similarly, Assam PCC president Ripun Bora said the report's non-acceptance by the Centre reflects its unwillingness to implement Clause 6.
Some have suggested that receiving the report by Assam chief minister Sarbananda Sonowal is contrary to the July 15, 2019, notification of the Union home ministry's Northeast division on the high-powered committee's formation that said "the committee will be serviced by the Northeast division of the ministry."
The committee finalised the report on February 10, five days before deadline. Following this, the committee had sent three letters to the Centre, intimating them about the report's completion. However, there has not been any formal communiqué as of now.
Assam finance minister Himanta Biswa Sarma on Saturday said the Centre would go through the report first and if needed, sit for discussions with the committee.
He added that during the visit of Shah to Arunachal Pradesh on February 20, the state had apprised him of the developments regarding the committee report.
There have been reports that the committee recommended 1951 as the cut-off date to define Assamese people, introduction of inner-line permits in Assam and reservation of at least 67 per cent seats in the Assam Assembly as well as in jobs.