Akhil Gogoi in line of fire after KMSS meet
Akhil came with 'only political purpose' to discuss NRC issues at a closed-door meeting with Muslim intellectuals and activists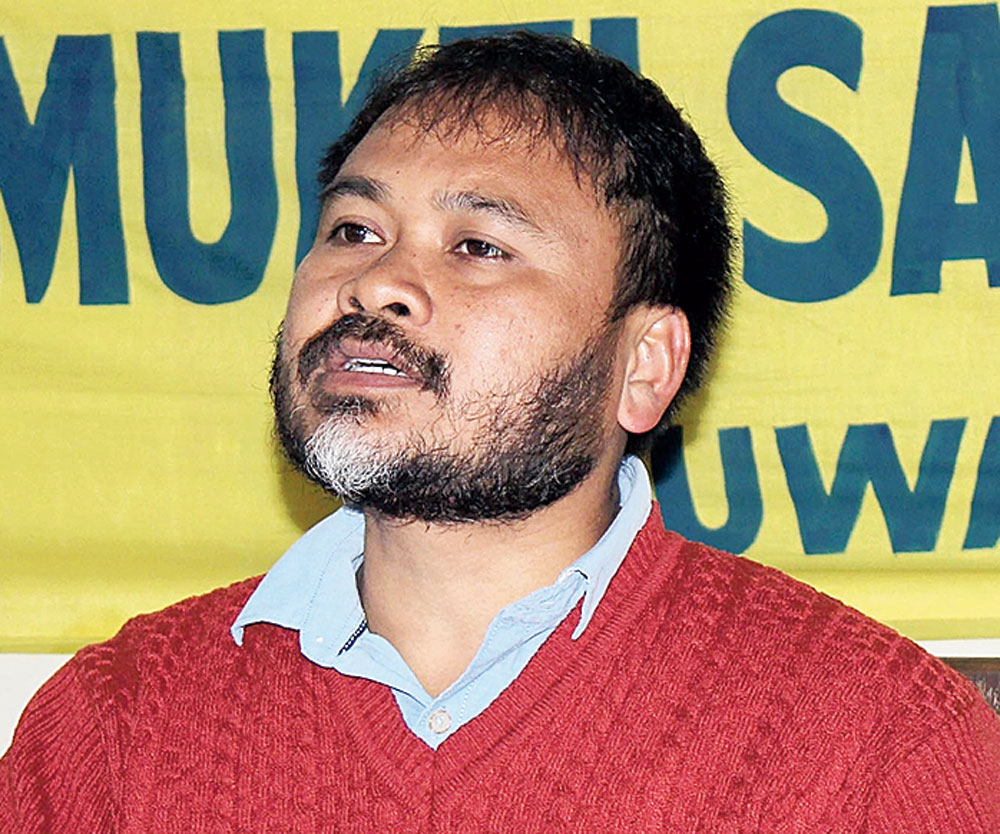 ---
|
Guwahati
|
Published 17.06.19, 11:20 PM
---
Muslim intellectuals and activists, who attended a closed-door meeting with Krishak Mukti Sangram Samiti leader Akhil Gogoi over issues related to National Register of Citizens (NRC) update, detention camps, foreigners and doubtful voters in Assam, on Monday expressed dissatisfaction, saying Akhil had failed to address "real" issues.
Sources said the meeting, called by Akhil on Sunday to hear the community's grievances on citizenship issues, was a futile effort as he "lacked any understanding about the issues and failed to give concrete answers and solutions to the problem of citizenship and how people are being harassed in the name of it".
The sources alleged that Akhil came to the meeting with "only political purpose" and that his effort had a "tinge of vote bank politics". They alleged that his "meek" responses made it clear that the meeting had no real intent. They said his response was quite distressing and made one wonder why had he called the meeting when had no real solutions to offer.
More than 50 influential members of the community had attended the meeting. While some of them wrote about Akhil's "tepid" response on personal blogging sites, some posted questions on Facebook.
A grassroots activist, requesting anonymity, alleged, "He addressed the issues as if talking to infants and toddlers. People are facing horrendous situation. They are being declared foreigners and sent to detention camps. 'Doubtful voters' are uncertain of their status. So many questions were asked but he failed to give a good response. The meeting was totally uncalled for. It was only carried out for political purposes."
Some of the questions posed to Akhil were: What is the KMSS's stand on the procedure of detection of "suspected foreigners" and on fake actions of the border police in arresting a person for being a "foreigner"? What is its role in opposing such actions? What is its stand on people who have submitted documents being excluded from the NRC? What does it have to say about "false NRC objections"?
Another activist said, "I asked him about the KMSS's stand on dispensing justice to people excluded from the NRC and if the KMSS would help to erase the misunderstanding between Miya and caste Assamese people. He couldn't give a satisfactory answer."
A social researcher asked Akhil on Facebook, "In your book Bideshee Samasya Aaru Jatiyo Andolonar Path you suggested a dangerously communal, segregationist and racist solution to please Assamese chauvinism. You wrote that all the constituencies where the minority population is less than 50 per cent should be reserved for the indigenous people (even in local bodies, page no. 210). Why do you want to snatch away our political rights? Why do you want us to be a second class citizen? You also suggested that we (minorities) shouldn't be allowed to purchase land outside their panchayat or municipality area. I have grown up in a low land area. Even before the flood has begun my home is surrounded by water. There is no road to my home. As per your suggestion, even if I acquire financial capacity I wouldn't be able to buy a plot of land next to yours. Why do you want to block the upward mobility of my child? Didn't that suggestion remind you segregation of blacks from the white race?"
Efforts to contact Akhil proved futile.