Ahom-era Sivasagar mesmerises German couple
Globetrotters offer tourism tips, propose to upload progress on website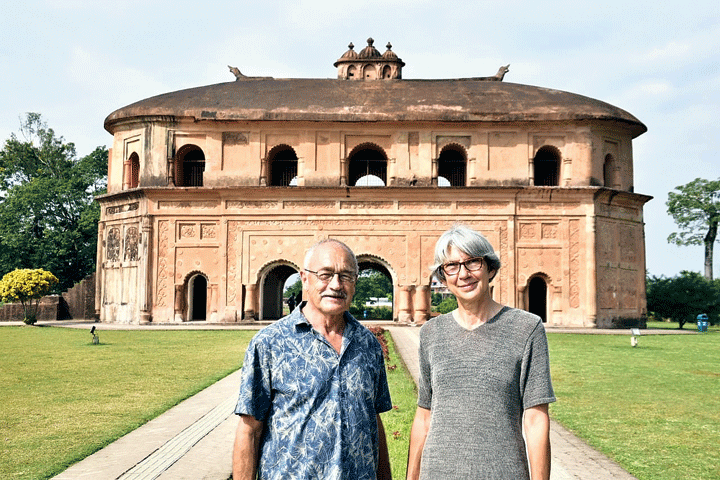 Uwe and Tina Griesbach in Sivasagar.
Picture by Kongkon K. Bora
---
Sivasagar
|
Published 18.11.19, 08:35 PM
|
---
Retired German couple Tina and Uwe Griesbach were "bowled over" by the rich cultural heritage of Sivasagar when they paid an impromptu visit to the Assam district on Sunday.
Young at heart and full of zeal, the septuagenarians have been travelling the world on wheels for over a decade now and have covered more than 150 countries, driving over 6,20,000km since 2007.
Uwe, a civil engineer, had bought his Toyota Land Cruiser 25 years ago when he was posted in Saudi Arabia. They modified the vehicle to their requirement when they embarked on their world tour. It is now solar powered and equipped with a folding rooftop bed and basic amenities like refrigerator, water purifier, sink and food processor. It has been their constant companion in their travels across myriad terrains.
Sivasagar was, in fact, not in their itinerary during their visit to Assam this year. They were in Majuli and enjoying the traditional Raax festival when they came across information about the history and culture of Sivasagar.
"Fascinated by what may be in store, we decided to drive down to Sivasagar only to return spellbound. We were simply bowled over by the rich cultural heritage of the place which was once the proud capital of the erstwhile Ahom kingdom," Tina said during their visit to Pohugarh, an Ahom-era zoo.
Their impression about the Ahom-era archaeological sites was evident as Tina gushed about the magnificence of the Shiva Doul and Vishnu Doul, which she found "very impressive".
"Everything here is well-managed and very tourist-friendly," Uwe said. The presence and maintenance of clean toilets and drinking water facility impressed him, which he admitted was missing in many places in the country.
In the evening, during an informal sitting with Sivasagar deputy commissioner M.S. Lakshmi Priya and some officials, they offered suggestions on promoting tourism in the district and requested updates about the developments from time to time, which, they said, they would happily upload on their website.
They suggested that cultural projects be taken up on a larger platform to increase visibility among global tourists. They also suggested information-sharing through travel magazines and sensitising tour operators to attract more domestic and foreign tourists.
They said they would strongly recommend tourists to visit Sivasagar, whose rich cultural heritage speaks volumes about a glorious by-gone era.
The deputy commissioner also shared her plans on promoting tourism. She said schemes under tea tourism, silk tourism, river tourism, religious tourism, heritage tourism and eco-tourism are on the anvil to put Sivasagar on the global tourism map.