AASU bike rally in Udalguri
The protesters raised slogans and burnt effigies symbolising the Bharatiya Janata Party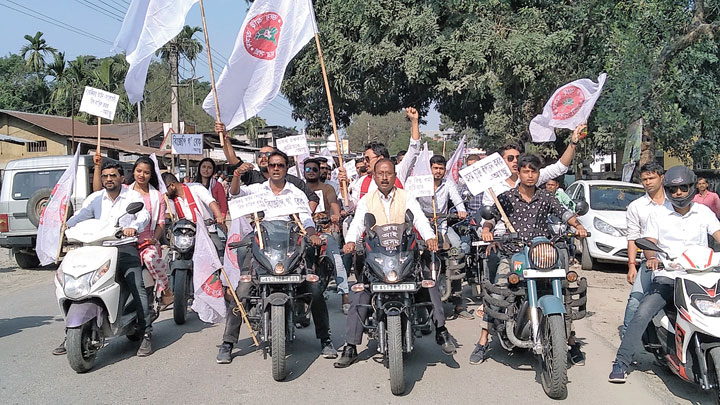 ---
|
Udalguri
|
Published 02.12.19, 08:46 PM
---
The All Assam Students' Union (AASU) and allied organisations took out a motorcycle rally at Tangla town in Udalguri district of Assam on Monday in protest against the Citizenship (Amendment) Bill which the Centre has listed for passage in the winter session of Parliament.
More than one hundred motorcycles were part of the motorcade taken out by the Tangla unit of AASU, All Rabha Students' Union and All Assam Sarania Kachari Students' Union. It started from Tangla HS School playground, passed through the main thoroughfares of Tangla town and culminated at Tangla Charali.
The protesters raised slogans and burnt effigies symbolising the BJP and the party's allies in the Assam government, the Asom Gana Parishad (AGP) and the Bodoland People's Front (BPF). Addressing the gathering, AASU's Tangla unit president Pranjal Deka and the union's central committee assistant general secretary Jayanta Kumar Bhattacharjya said the bill was an attempt to destroy the identity of the indigenous people of the state.
"The bill is a threat to our state and the region. We oppose it tooth and nail and exhort the government to withdraw it immediately," Bhattacharjya said.
"The present BJP government, before coming to power, had promised to oust illegal foreigners irrespective of religion. It has now changed its tune and is attempting to extend citizenship beyond the cut-off date of March 24, 1971, which is not acceptable because Assam is already overburdened with immigrants from Bangladesh, causing serious economic and social stress and an identity crisis that threatens the existence of the indigenous communities of Assam," he added.
Deka said, "We dare the government to bring the bill in Assam. It will see a turmoil of a much larger intensity and magnitude than the Assam Movement during which 855 martyrs sacrificed their lives."