Aam Aadmi Party members demand Akhil Gogoi release
They submitted a memorandum to Assam Assembly Speaker for taking a resolution on not implementing CAA in Assam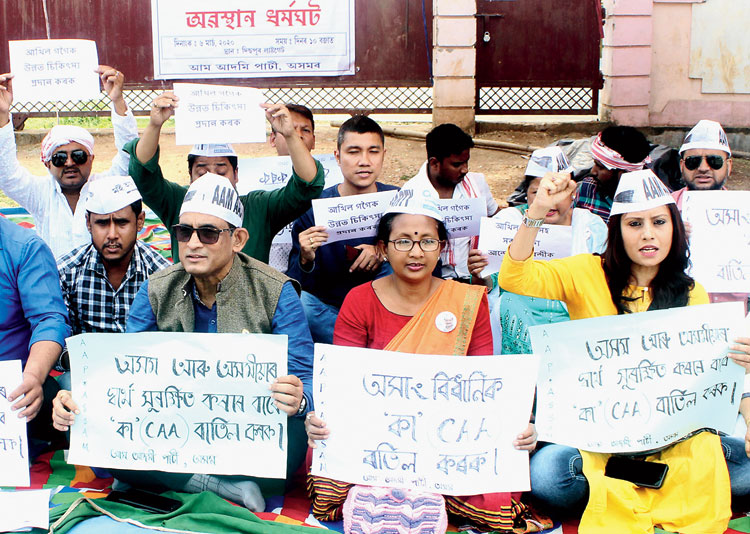 ---
|
Guwahati
|
Published 06.03.20, 07:44 PM
---
The Assam unit of the Aam Aadmi Party staged a three-hour demonstration protest here on Friday demanding the immediate revocation of the Citizenship Amendment Act (CAA) and unconditional release of KMSS leader Akhil Gogoi.
The AAP members also submitted a memorandum to the Speaker of the Assam Assembly for taking a resolution on not implementing the CAA in Assam.
Bhaben Choudhury, the state coordinator of AAP, said, "The CAA has been imposed on the people of Assam forcefully. Every genuine Assamese had opposed the CAA and despite the protests, the BJP-led government had imposed it on us. They could just have kept Assam out of the Act but just for vote-bank politics, a huge part of Assam will have to bear the unwanted burden of the illegal immigrants."
He added that just for the sake of politics they claimed that the tribal belts and some specific parts of the areas will be kept out of the CAA's ambit.
However, it has not been clarified how these people will be given settlement and how the identity of the Assamese will be protected.
He added that AAP has been opposing the controversial CAA ever since the bill came into discussion. "The people of Assam know that the Act has the potential of putting the identity, culture, language and entire community at threat. Everyone who loves Assam has called for the scrapping of the Act and the government will have to listen to this demand," he added.
He said the Act is just another divisive policy of the government to divert the people from the prime issues of the country. He said the government should release Akhil without any conditions as he is locked inside the jail without any "solid evidence".
He claimed that the government is keeping Akhil as part of a conspiracy.
The AAP members here further demanded that the government should take immediate measures to take Akhil to a better medical facility.