644 rebels lay down weapons in Assam
Rebels respond to govt's peace initiative which will ensure their rehabilitation under govt schemes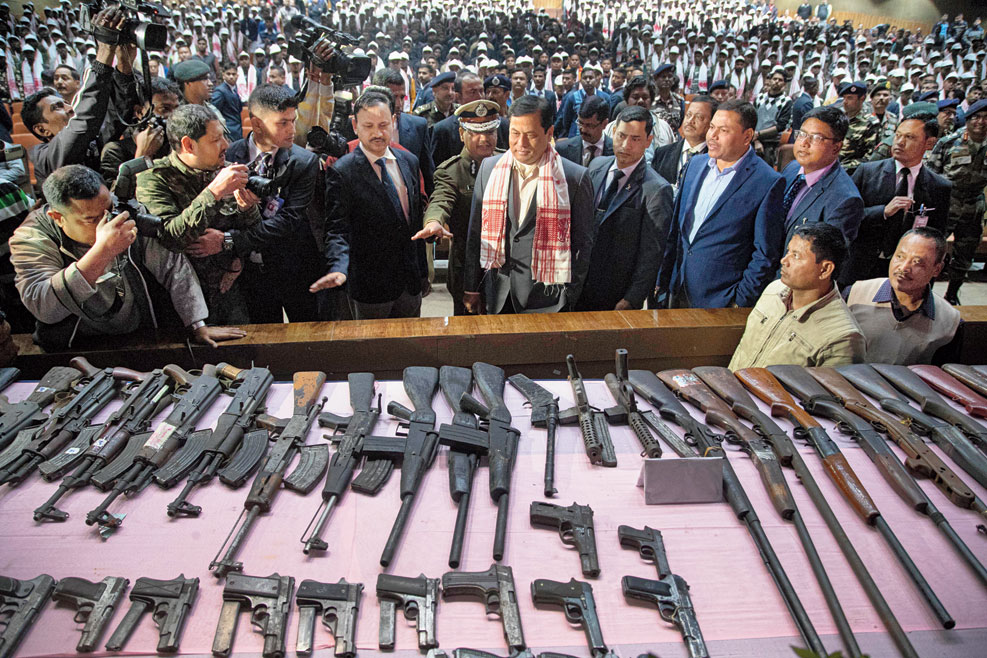 ---
|
Guwahati
|
Published 23.01.20, 10:04 PM
---
Dispur has warned the rebels who laid down arms here on Thursday that they would lose the government's rehabilitation benefits if they indulge in antisocial activities.
Altogether 644 rebels from eight militant groups surrendered and laid down 177 arms, responding to a government's peace initiative which will ensure their rehabilitation under government schemes. The ceremony was the biggest arms-laying ceremony during the BJP's regime in the state since 2016. In 2012, over 1,800 rebels belonging to nine groups had laid down their weapons.
State additional chief secretary (home) Jishnu Barua said, "Both the Centre and the state government have been working to rehabilitate surrendered militants and giving them an opportunity to live a dignified life. But don't get engaged in any criminal activity. Anyone found to be involved in any criminal or antisocial activity will be disqualified from getting such help."
Sources said several surrendered militants have been found to be involved in criminal, even militant, activities in the past. In the 2019 bomb blast by Ulfa (Independent) in the city, the involvement of surrendered Ulfa militant leaders was established. Former Ulfa members were also arrested in the case. Assam police have found many surrendered Ulfa members to be involved in recruiting cadres for Ulfa (I) and have arrested several surrendered militants of the National Democratic Front of Boroland (NDFB) and Karbi outfits on multiple occasions for suspected kidnapping, dacoity and gun-running.
On Thursday, rebels belonging to the Ulfa (I), NDFB, Kamtapur Liberation Organisation (KLO), Rabha National Liberation Front (RNLF), CPI (Maoist), National Santhal Liberation Army (NSLA), Adivasi Dragon Force (ADF) and the National Liberation Front of Bengalis (NLFB) laid down arms before chief minister Sarbananda Sonowal and the top brass of the state home department, Assam police and the Army. Of the 644 rebels who surrendered, there were 301 NLFB, 178 ADF, 87 NSLA, 50 Ulfa (I), 13 RNLF, eight NDFB, six KLO and one CPI (Maoist) cadres.
Sonowal said the rebels had shown their trust in democracy by deciding to give up arms. "Resolution of all problems is possible through discussion and people must keep their faith in the law of the land. Building a terrorism-free Assam is one of the main commitments of the present state government. I urge the surrendered militants to dedicate themselves to nation-building and utilise their potential to bring a positive transformation in society. Peace is a prerequisite for ushering in development and the former militants must contribute towards sustaining peace and harmony in society," he said.
To rehabilitate and provide a dignified livelihood to surrendered militants, Assam police had launched the Swabalamban schemes in 2017 to impart vocational training and entrepreneurship skills to them.
Under the scheme, thousands of surrendered cadres of various militant outfits have received skill training such as organic farming, DTP, cold storage chain, pisciculture, painting and electrician.
Assam director-general of police Bhaskar Jyoti Mahanta said, "We have managed to bring the militants to the mainstream because of the state police's constant efforts. It's a positive sign that these youths have decided to be a part of and build a better society."
Earlier this month, the B. Saoraigwra faction of the NDFB had signed a tripartite suspension of operations (SoO) agreement with the Centre and the state government but no cadre of the militant faction surrendered on Thursday.