503 transgender people in Assam voter list
In 2014, the Election Commission had released data on transgender voters for the first time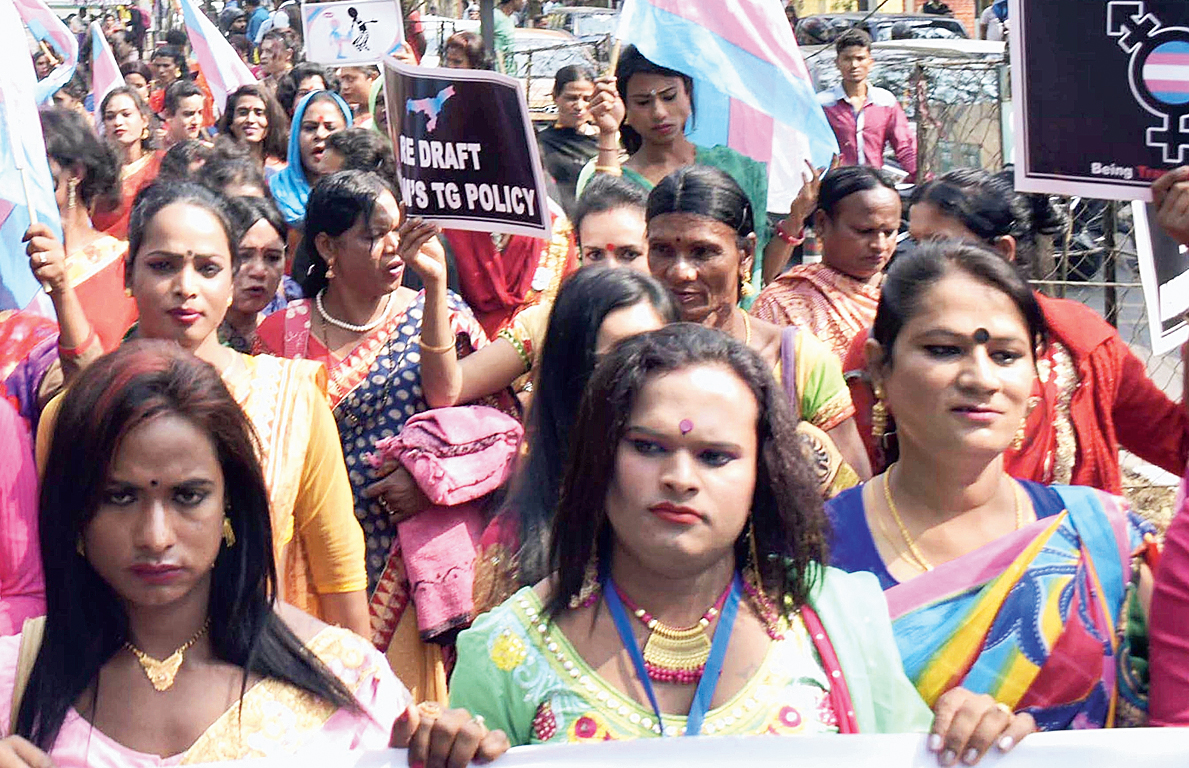 ---
Guwahati
|
Published 11.03.19, 07:28 PM
|
---
A total of 503 voters have been enrolled in the electoral rolls of Assam as transgenders and will be eligible to vote in the three-phase Lok Sabha elections in the state next month.
Compared to 2014, there has been a substantial increase in the number of voters who have declared themselves as transgenders or as belonging to the third gender.
In 2014, the Election Commission for the first time released the data on registration of transgenders as people other than male and female and figures released by the poll panel included 43 from Assam. Before this, transgenders used to enlist themselves either as male or female.
Assam chief electoral officer Mukesh Chandra Sahu on Monday said that of the 2,17,60,604 voters in the state, 1,11,32,782 are male voters, 1,06,27,319 female and 503 of the third gender.
Swati Bidhan Baruah, the founder of the All-Assam Transgender Association, said many transgenders are yet to be included in the voter list as they do not have proper identity documents.
"According to the 2011 census, there are 11,374 transgenders in Assam but only 503 of them are enrolled in the voter list," Baruah said. "Some states like Maharashtra had launched a special campaign to enrol the third gender on the electoral rolls but no such step was taken in Assam."
In Assam, polls to the 14 parliamentary seats will be held in three phases — April 11, 18 and 23.
The chief electoral officer said of the 28,143 polling stations in the state, 1,913 have been identified as critical and 3,663 as hypersensitive.
"The polling stations, which recorded over 90 per cent voting or 75 per cent votes were polled in favour of a particular candidate or had witnessed violence in the past, have been identified as critical," Sahu said.
He said polling stations have been earmarked as hypersensitive on the basis of "perception analysis" and these are the polling stations which may face threat from militant groups or experience communal tension or are located close to the inter-state border.
Sahu said in critical and hypersensitive polling stations central paramilitary forces will be deployed, videography will be done and micro observers appointed to keep an eye on the proceedings and report directly to the general observer.
According to the chief electoral officer, 7,06,489 electors, including 4,04,715 male and 3,01,774 female, in the age group of 18-19 years, will be eligible to vote for the first time.
He said electronically transmitted postal ballot system would also be introduced.
"Under this system, postal ballots will be sent online to around 60,000 service voters of the state, which include armed forces personnel and government officers deployed outside the state on election duty, and the service voters will take a printout, cast their vote and sent it back to the respective returning officer by post," the chief electoral officer said.