2 Mizos in isolation
Mizoram sets up 25-bed quarantine ward, as states keep close watch on borders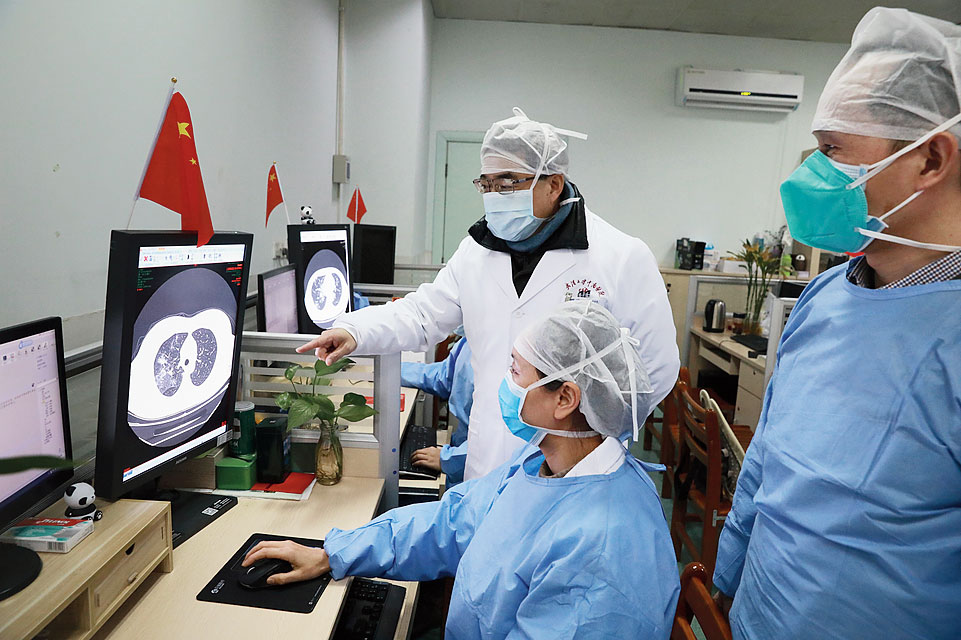 Medical workers inspect the CT scan image of a patient at a hospital in Wuhan, China
(Reuters)
---
Aizawl
|
Published 02.02.20, 07:37 PM
|
---
Mizoram health deputy secretary Lalngura Tlau on Sunday said two persons, who returned from China's Guangdong province early last month, are being kept in house quarantine for 14 days as a precautionary measure.
Though the duo did not show any symptom of coronavirus, he added.
Students from Mizoram, who are studying in a coronavirus-hit China, are free from the deadly virus, the official said. Tlau added that the state government got in touch with the students and confirmed that they did not contact with the virus till date as they live far from Wuhan, the epicentre of the virus. However, he could not ascertain the actual number of Mizo students who are in China.
"The government is in close contact with Mizo students in China. We have created a group in Whatsapp to fetch information fast. As of now none of the students are infected with the disease," Tlau said.
On taking back the students from China, he added that the government has no such plan as the matter is under the Union external ministry's purview.
A Mizo student from China, who arrived in New Delhi, will land at Lengpui airport here on Monday.
Tlau said the student will be screened again at the airport though he has undergone screening at some international airports on his arrival in New Delhi. The official said the government on Thursday set up a screening counter at Lengpui airport and constituted a state-level task force to prevent the spread of the disease in the state.
A medical team has been deployed at the airport to screen and take sample (throat swab) from passengers, Tlau added.
"The Centre directed us to screen the passengers, who returned from China after January 14. We will do regular check on passengers who come from outside," he said.
According to the official, no report of infected patients has been received in Mizoram till date.
The meeting of departments concerned held under the leadership of health minister R. Lalthangliana on Thursday decided to set up screening points along the inter-state and internal borders.
Tlau said the state task force team and chief medical officers in all 11 districts are making massive efforts to prevent the spread of the disease.
The government has created a 25-bed quarantine and isolation ward at Zoram Medical College, 16km from here.
According to latest reports, the death toll due to coronavirus has crossed 300 with over 14,000 infected across the globe.