2 Manipur students hurt in anti-bill protest
Smoke bombs hurled by police to disperse student protesters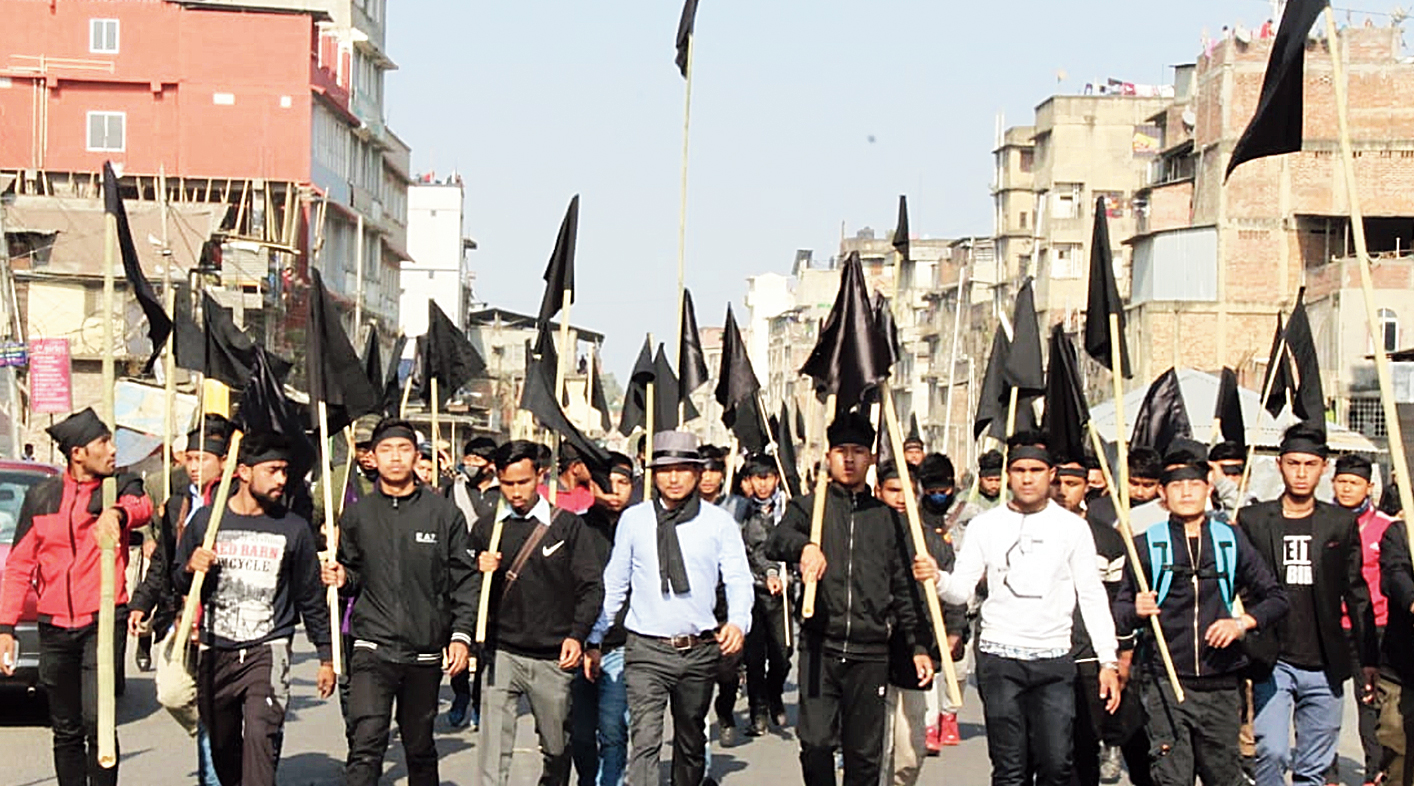 Students protest in Imphal on Monday.
Picture by Ngangbam Indrakanta Singh
---
Imphal
|
Published 11.02.19, 06:48 PM
|
---
Two students were injured at a market here on Monday when Manipur police tried to stop their rally against the Citizenship (Amendment) Bill, 2019.
Six student organisations, comprising the All Manipur Students' Union, Manipur Students' Federation, Democratic Students' Alliance of Manipur, Kangleipak Students' Association, Students' Union of Kangleipak and the Apunba Irreipakki Maheirosing Singpanglup, were taking out the rally with black flags at Khwairamband market when the police hurled smoke bombs to disperse them.
The two students were taken to the Regional Institute of Medical Sciences (RIMS) here where they were treated for minor injuries.
Protests were also staged across the state by people under the umbrella of Manipur People Against Citizenship Amendment Bill, 2016, (a core committee of 72 civil organisations) against the bill.
As a part of the protests, sit-ins were staged and roads blocked here and in other parts of the state. The Khwairamband Ima market here and women markets across the state remained shut. Protesters also demonstrated against Sunday's police action at Ima market in which six women vendors were injured. Ima market women vendors have been staging a round-the-clock sit-in since Saturday morning. Auto-rickshaws took out rallies in Bishnupur district. All the protesters held black flags.
National awardee mushroom farmer Shijagurumayum Ibohal Sharma on Monday declared that he would return his National Best Farmer Award, 2015, in protest against the bill and the police action. Ibohal's decision at Lamphel here comes on the heels of filmmaker Aribam Shyam Sharma returning his Padma Shri recently in protest against the bill.
Ibohal said, "The government is trying to eradicate the indigenous people of the region. We need to oppose the Citizenship (Amendment) Bill, 2019 together. I appeal to my fellow farmers to boycott the BJP in the Lok Sabha elections."
The Manipur PCC staged a sit-in at the gate of Congress Bhawan here. Congress leader and veteran politician Okram Joy condemned the police action at Ima market. "It is unfortunate that chief minister N. Biren Singh speaks as if people are not aware about the bill. We feel the bill will either be passed in the Rajya Sabha or as an ordinance," he said, adding that law-making has never become such a big issue in the country.
The Manipur People's Party (MPP) staged a relay hunger strike here. It declared Tuesday as Doomsday and appealed to the people to protest together with black flags. It urged Opposition parties to vote against the bill if it is tabled in the Rajya Sabha.
The 72-organisation core committee has appealed to the people to take up mass protest by blocking roads in Manipur while the police have appealed against calling bandhs.