17 Dhubri schools washed away
Over 25,000 students may not be able to continue with their studies as the families have lost everything in the floods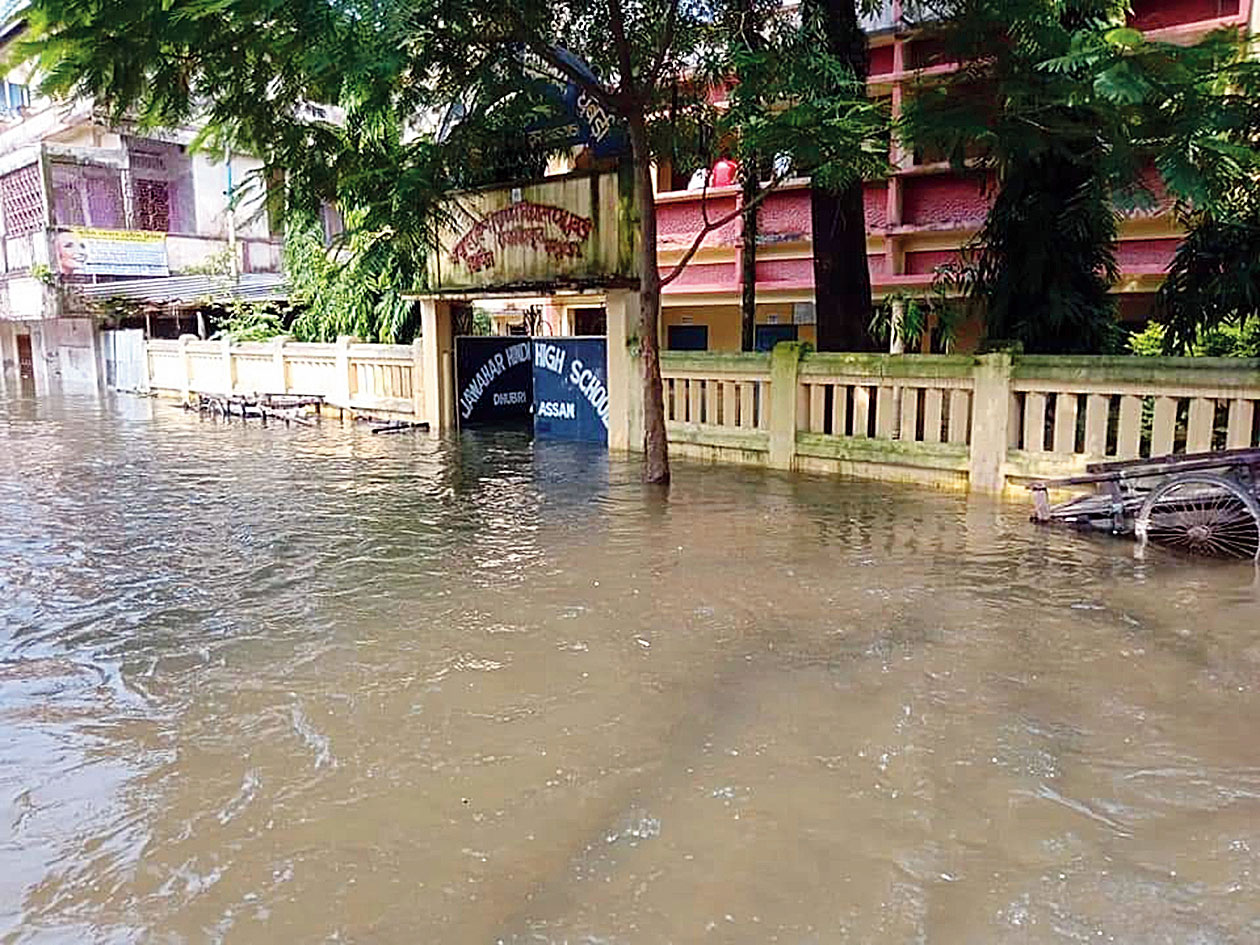 ---
|
Dhubri
|
Published 31.07.19, 07:25 PM
---
The recent floods in Dhubri district have not only ravaged the civic infrastructure, but have also dealt a severe blow to the education system in the district.
Several schools, particularly in the sar and riverine areas, are either damaged or washed away just when summer vacation came to an end on Wednesday.
The district elementary education officer, Dhubri, D.K. Sharma, said, "We do not know the exact number of affected educational institutions yet. The assessments about the damages are under way. According to preliminary assessment and reports, nearly 500 schools have been damaged while 17 schools were completely washed away in floods."
According to the education department's statistics, before floods, a total of 2,017 schools were up and running in Gauripur, Agomani, Golakganj, Bilasipara, Chapar and South Salmara education blocks in Dhubri.
In these 2,017 schools in the district, the number of students enrolled was 296,303 in the current academic year that began in January.
According to assessments by the District Disaster Management Authority (DDMA) in Dhubri, the floods have directly affected nearly 11 lakh people and have claimed 12 lives. More than 70,000 people have taken shelter in 181 relief camps.
District project engineer, Sarva Shiksha Abhiyan (SSA), Rofiqul Houqe said: "We have lost connections with many schools. The education department will hold a meeting soon with the school management authorities to discuss measures for the affected schools and students."
He said a total of 104 schools were converted into relief camps and a few schools were still facing waterlogging problems. "We have prepared a summary sheet amounting Rs 742.32 lakh showing the total sum of tentative costs against damages due to floods. It will be ready to be sent to the government for approval," said Houqe.
Although the exact data of the students enrolled in the destroyed schools was not available, more than 25,000 students may not be able to continue with their studies as the families have lost everything in the floods.
An official of the district elementary education department, Dhubri, said till now no instruction had yet been received from the government regarding opening of the schools.
He said, "We will issue a direction at the local level to the schools' managements to continue classes by making temporary arrangements in safe places."