15 GU students slit wrists
Students from Tezpur University, Cotton University and Dibrugarh University joined the protest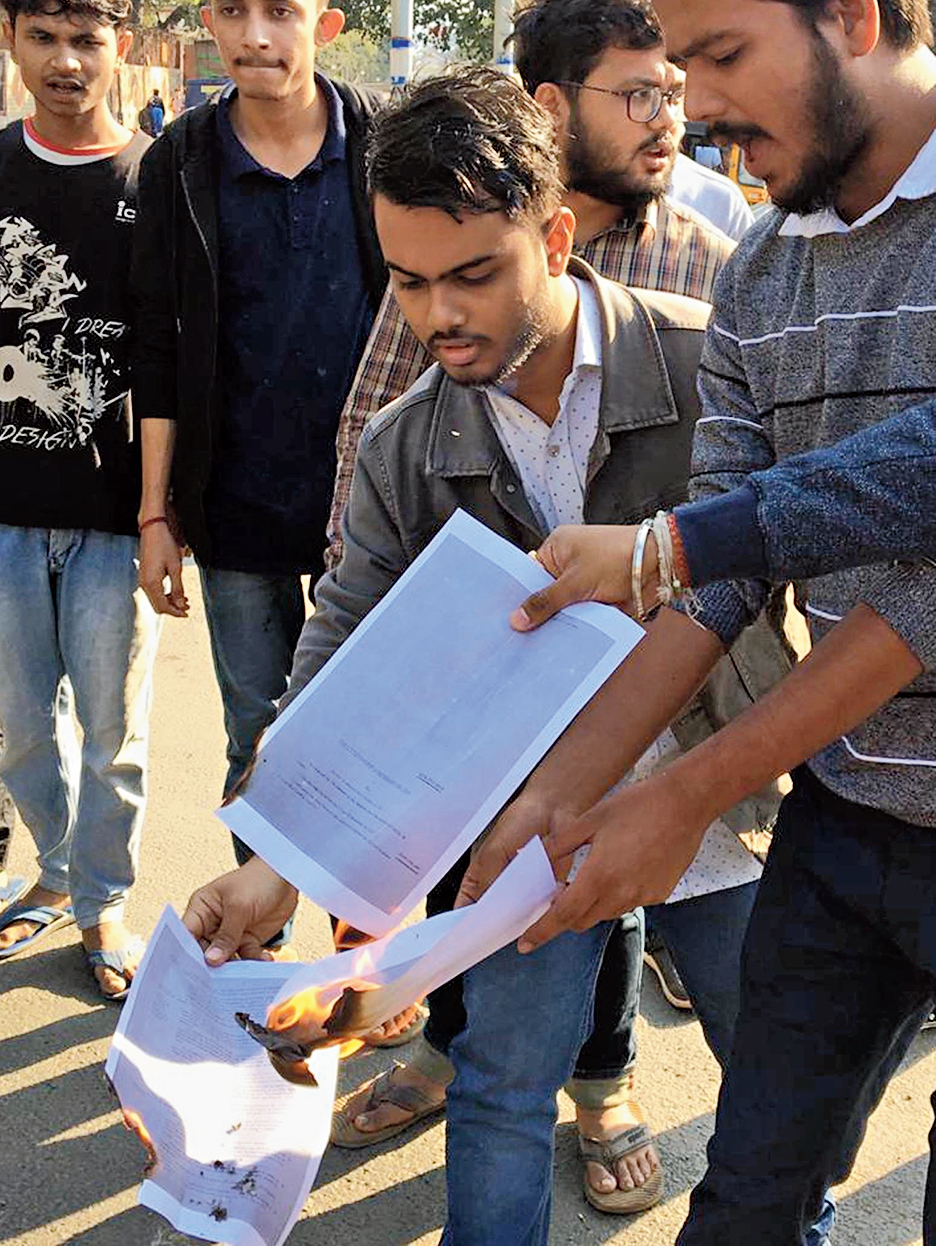 Students burn a photocopy of the bill in Guwahati on Monday.
Picture by UB Photos
---
Guwahati
|
Published 09.12.19, 08:37 PM
|
---
A group of Gauhati University (GU) students on Monday slit their wrists with shaving blades on the campus in protest against the Citizenship (Amendment) Bill.
Over 15 boarders of the university hostels wrote slogans like, "We will write history with our blood…we oppose the CAB", "No CAB…we are going to Saraighat with newfound power" and "We will never accept the CAB" among others in Assamese with their blood on placards.
The citizenship bill, which seeks to "amend the definition of illegal migrant, reduction in the number of years of residency period to obtain Indian citizenship through naturalisation and to empower the central government to cancel the registration of Overseas Citizen of India card in case of any violation", was tabled on Monday in the Lok Sabha.
Over 2,000 students and teachers of the university participated in the Akou Sarighat Loi, a rally, on the campus in the afternoon. Students from the nearby Assam Engineering College joined them.
The protesters raised slogans such as "BJP go back, RSS go back, Narendra Modi murdabad, Withdraw CAB, Assam rejects CAB" and the like.
Students from Tezpur University, Cotton University and Dibrugarh University also joined the protest on the GU campus.
"The people of Assam are upset about the bill which would eventually lead to increased number of illegal migrants in the region. The bill will hit our economy, food and indigenous identity. We want to convey our message to the Assam government through these protests. If we do not protest to save our motherland, what is the value for our education?" asked Partha Pratim, a post-graduate student of GU.
Anurag Kalyan Borgohain, president of the Post-graduate Students Union of Gauhati University, said, "The bill goes against the secular identity of our country as enshrined in our Constitution. People across the Northeast are emotionally connected to their land, language and culture. This bill is a threat to our very identity." Manab Jyoti Kalita, a research scholar of GU, said: "Students of all universities of Assam have come forward to oppose the bill. The Assamese community lacks a political guardian now. We will continue to protest against the bill even if it's passed in Parliament."