11 people arrested for allegedly spreading lies on social media about coronavirus
Assam, Mizoram crack down on fake information swirling over virus on social media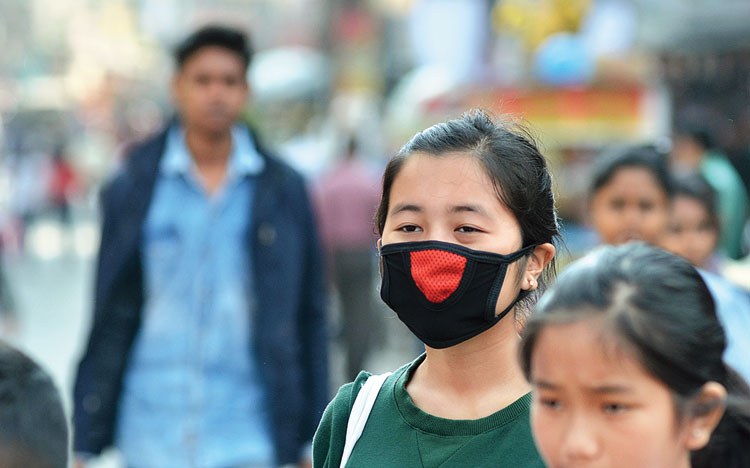 A girl dons a mask as a preventive measure against coronavirus in Guwahati
Picture by UB Photos
---
Aizawl
|
Published 11.03.20, 06:46 PM
|
---
At least 11 people, including a few women, have been arrested for allegedly spreading lies on social media about coronavirus, a senior police officer said on Wednesday.
Mizoram inspector-general of police (headquarters) John Neihlaia said they were arrested on Tuesday evening following a suo moto FIR filed by state police. All the accused have been released on bail on Wednesday, he said.
He said a case has been registered at Vaivakawn police station under Section 505 (1) (b) of the IPC against the 11 accused for spreading fake news on Whatsapp groups.
According to the police officer, a fake news under the headline breaking news, "Suspected patient of coronavirus is being detected at ITI veng in Aizawl. The patient has returned from Singapore and was taken by officials after she refused to be quarantined at Zoram Medical College (ZMC)" and another rumour stating "I have come to learn from my relative working at Aizawl civil hospital that a confirmed coronavirus case was reported in Aizawl. Please be careful" were circulated on Whatsapp groups on Monday evening at a time chief minister was convening a high-level meeting on coronavirus.
The police discovered that the woman, 31, returned from Singapore on March 2 and had underwent screening at Calcutta and Lengpui airports after her arrival, Neihlaia said. He said the woman did not show any symptom of coronavirus.
Border sealed
The Mizoram government on Wednesday formally sealed international borders and inter-state borders barring a few entry and exit points as a precautionary measure to prevent the spread of coronavirus, after a high-level meeting on Monday to discuss the issue.
A notification issued by home secretary Lalbiaksangi said checkposts at Zokhawthar village on the Mizoram-Myanmar border in Champhai district and Kawrpuichhuah along the India-Bangladesh border in Lunglei district will remain open from 9am to 5pm.
The checkpost at Kanhmun on the Mizoram- Tripura border in Mamit district and Khawkawn on the state border with Manipur will also be open between 9am and 5pm, the notification said.
Along the border with Assam, the checkposts will remain open at Vairengte and Bairabi from 6am to 10pm.
"In all other international and inter-state borders and checkposts, district authorities should maintain barricades and have police personnel on duty 24 hours to prevent the entry of people from across the borders," the notification also said.
Screening will be conducted on all goods and passengers. He said makeshift marketplaces in Vairengte, Saiphai and Saipum villages run by locals and traders from Assam have been temporarily banned.
Health department officials said screening is being carried out in border areas and Lengpui airport. Till date no case of coronavirus has been detected, they said.
Department officials also screened a person who returned from Singapore recently and was quarantined at home following a complaint lodged by a leader from undisclosed locality here on Tuesday evening, officials said.
Meeting: In Nagaland, Peren deputy commissioner Sentiwapang Aier on Wednesday said the first meeting of the district task force on coronavirus will be held in his office on Friday.
Kohima deputy commissioner Gregory Thejawelie on Wednesday directed pharmacies and shops to desist from selling surgical masks and hand sanitisers at exorbitant rates. He said defaulters will be booked.