Uzbekistan has felt the footsteps of Alexander the Great, Marco Polo and Genghis Khan, and for centuries it was home to overland trade routes known collectively as the Great Silk Road that linked China with the Middle East and Europe. Within its borders are some of the most ancient and evocative ancient cities in the world. The food — from the ubiquitous national dish plov (a version of pullau or pilaf) to kebabs and a plethora of stunning salads and appetisers — is a constant and consistently delicious. If you have dreamed about seeing the Silk Route, Uzbekistan is the country that ticks all the boxes.
Blue-domed mosques and incredible mosaics in mausoleums and madrasahs define Uzbekistan's cityscape and go back to a time when Silk Road trade through this region made it among the busiest and most important places on earth. This was my fifth trip to Uzbekistan if you count one in 1980 as a student. As with most places, post-Covid, restaurants have closed and opened but what is marvellous about this land of incredible kindness and deep history is that the soul is very much intact as are, of course, the mausoleums, madrasahs and minarets.
I spent five days in Khiva, a walled fortress (Itchan Kala) to the west of the country. It is reportedly 2,500 years old and became a popular resting hub for caravans and merchants crossing the desert. Between the 10th and 14th centuries, it was a crowded, thriving town and a major trading hub on the Silk Road. With history around every corner and over 50 historical monuments, what is most amazing is that ordinary people still live here (about 3,000 of them) so it isn't a museum.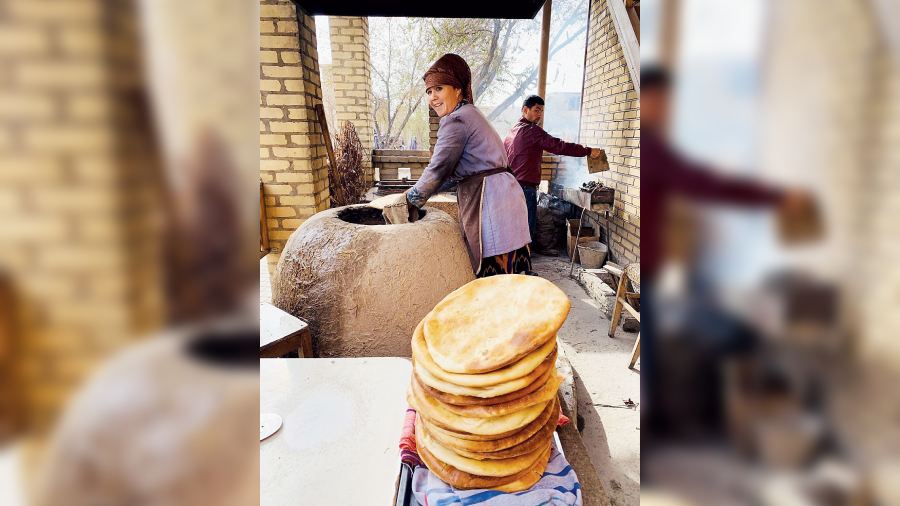 At Mirzo Boshi where the bread is still baked in tandoor ovens
Things to do here are many — take a guided tour of the TashKhauvli and the Pahlavan Mahmud Mausoleum, probably the most photographed place in Khiva with extraordinary light and blue tiles; eat at Mirzo Boshi where the bread is still baked in tandoor ovens outside.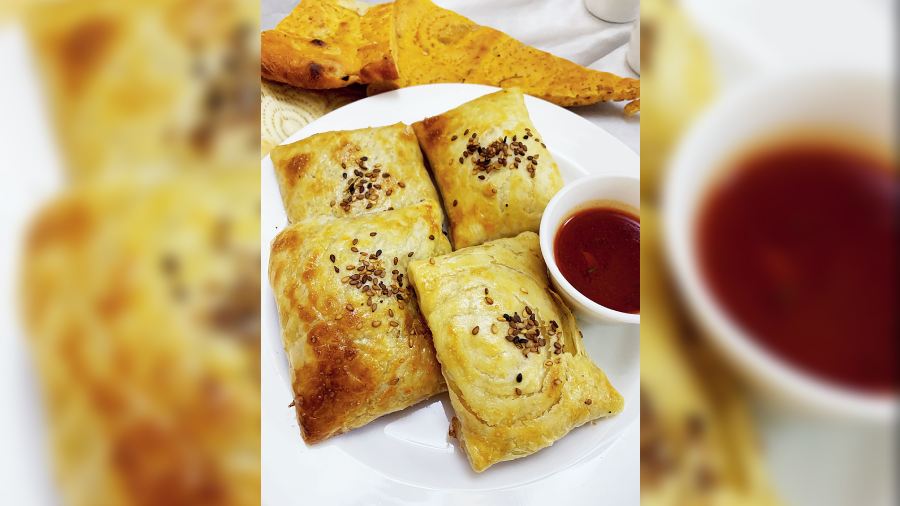 Pumpkin-filled pastries known as somsa
Specialties includes hivitoshi, a green noodle, tukhum barak, dumplings with a stuffing of egg, deep-fried meat-filled pasties called gumma, and if you order in advance, the original dish of pounded raw meat and fat which evolved into steak tartare and appeared on post-war French menus. Soups are fabulous and flavourful (since they do have a seriously cold winter) and vegetarians will not be disappointed with the number of fresh salads, dried fruit and nuts which appear on the table.
Arts and crafts? Oh yes... from carpets to antiques, silk textiles, local ceramics, socks knitted from sheep and camel wool, sheer scarves and fur hats... it really is a dream for the discerning shopper and still at very affordable prices.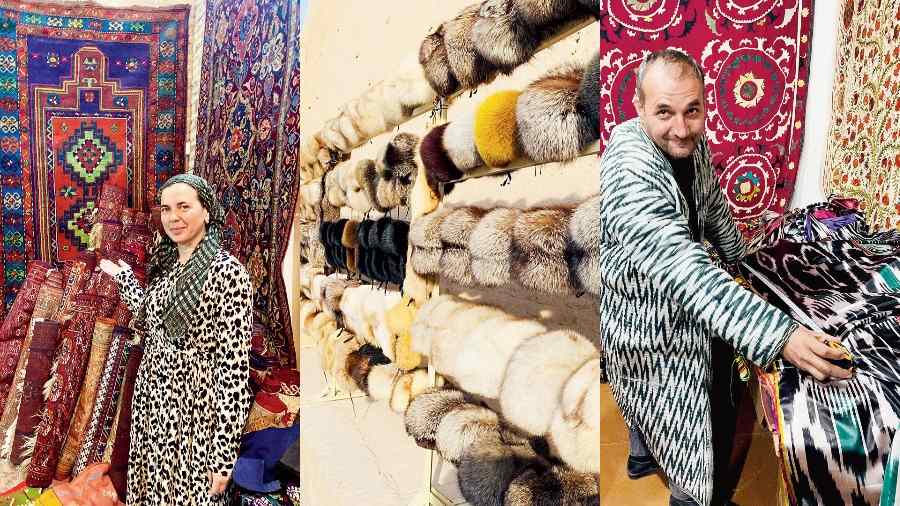 From carpets to antiques, silk textiles, local ceramics, socks knitted from sheep and camel wool, sheer scarves and fur hats...it really is a dream for the discerning shopper and still at very affordable prices
The Lazgi lexicography
On this trip, I was privileged to be invited to the Lazgi Dance Festival, the dance born in Khorezm, one of the regions of modern Uzbekistan in which you have the ancient walled city of Khiva. I really didn't know what Lazgi was and what I was letting myself in for. I had visited Khiva three years ago but it was brief and what I saw was mesmerising so I was keen to accept the invitation although I know little about dance and even less about Lazgi. 
So Lazgi, I discovered, is a dance which absorbs many features of the local environment in which the ancient Khorezmians lived for thousands of years. Amazingly, you can still trace those features in the Lazgi lexicography. These were nomadic peoples with different cultures located south of the Aral Sea. The dance is wrapped in a shroud of legend and myths, which make it truly magical and mysterious and like no other folk dance I have ever seen. The most well-known legend is about God creating a human body that he could not bring to life because the soul did not want to enter the body.  Everything changed when the soul heard an irresistible melody.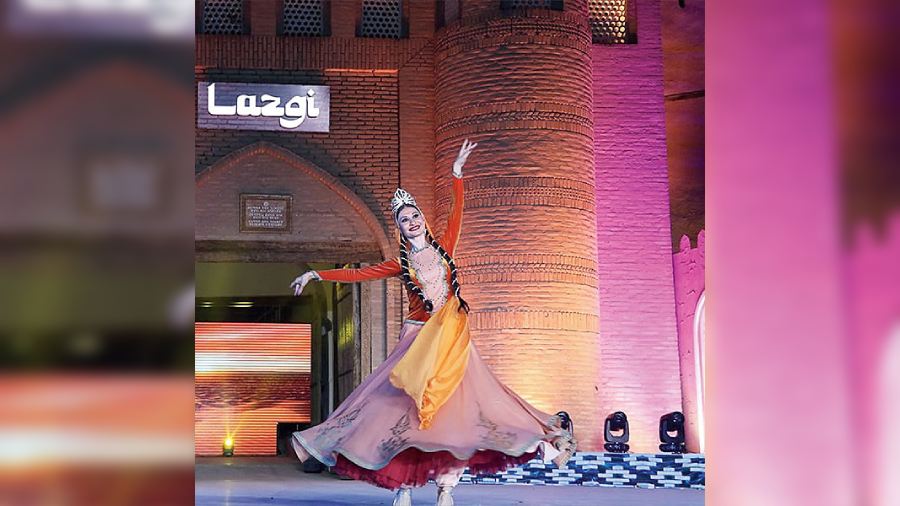 A moment from the Lazgi Dance Festival
Lazgi starts with a slow introduction, followed by a static position with the dancer's arm raised and directed to the sun. The dancer starts moving their fingers and hands, then the arms, shoulders, neck, body and legs, setting the whole body in motion, accompanied by a small tremor (in Uzbek, "titratma") with a combination of turns, inclinations, small passages, squats, jumps and specific movements of the neck , body and shoulders . The rhythm of the dance gradually accelerates, fuelling it with more heat and energy, bringing it at the end to a nearly ecstatic feel of heady energy. It probably helped the ancient Khorezmians to survive the harsh cold winters too!
The festival began with Lazgi performed by various groups from around Uzbekistan and Central Asia and followed each day with marvellous folk and classic dance froms around the world, including a performance of Bharatanatyam. 
It is a week of revelry and amazingly professional performances with dancers who have clearly been practising and performing for months if not years. Predictably, Uzbek's Lazgi dance Dilnoza Artikova bagged the top prize and the Uzbek Ensemble Tumor, the best solo. However, the first prize for a dance group was shared by groups from the hosting nation and Kazakhstan. If you are thinking about visiting the festival, it takes place between April 26 and 29 every year and entrance is free for visitors.
Uzbekistan will soon be on the tourist circuit but thankfully not quite there yet. They have hot summers and cold winters so the best time to visit is actually April or then after the scorching summer heat, in September or October. I have actually been there in November and it was pleasantly chilly and a good excuse to buy a fur hat! Definitely worth a visit. Put it on your bucket list.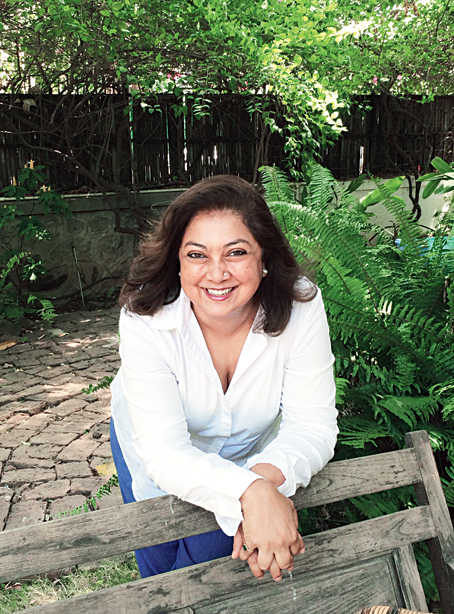 Karen Anand is a culinary consultant, food writer and entrepreneur. In recent times her name has been synonymous with farmers' markets. Follow her on www.facebook.com/karenanand and on Instagram @karen_anand
Pictures: Karen Anand